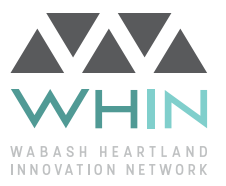 The Wabash Heartland Innovation Network (WHIN) project, funded by the Lilly Endowment, started in 2018. It is a collaborative work in which the WHIN organization, Purdue University, and Ivy Tech Community College are developing, deploying, and demonstrating advanced IoT technologies for agriculture and manufacturing.
The Purdue Ag Team prepared a series of video updates regarding testbeds (research), education, and extension (outreach) for a meeting with WHIN board members and stakeholders on December 4, 2020.
The videos are linked below and give you a glimpse of past and ongoing developments in Purdue labs, at Purdue farms, and throughout the WHIN 10-county region.
View the Purdue Ag-WHIN Updates playlist to see additional project updates from researchers and graduates students recorded during spring 2020.