Soil water content and salinity are critical for the healthy growth of plants. More than two hundred million acres of crops experience drought in the United States, totaling several billion dollars in agricultural profit losses. Researchers at Purdue University have discovered a new mechanism for how plants respond to environmental stresses and leveraged this mechanism to improve tolerance to drought and salinity. The team, led by Gyeong Mee Yoon, associate professor in the Department of Botany and Plant Pathology, published their findings in Nature Communications, titled "Ethylene-triggered subcellular trafficking of CTR1 enhances the response to ethylene gas".
"Our project uncovered the mechanism of how plants rapidly adapt to and recover from stress by modulating the ethylene signaling pathway," says Gyeong Mee Yoon. "A better understanding of these mechanisms could help plants withstand severe conditions like drought and climate extremes."
The plant hormone ethylene plays a significant role in regulating a wide range of plant growth and development, as well as response to environmental stress. For the past thirty years since its discovery, Constitutive Triple Response 1 (CTR1), a protein kinase that resides at the endoplasmic reticulum, has been thought to play a negative role in the ethylene signaling pathway. However, using Arabidopsis as the plant model, a small plant from the mustard family, the researchers observed that when plants are exposed to ethylene gas, CTR1 moves into the nucleus, where it changes from being a negative regulator to a positive regulator for ethylene responses. Within the nucleus, CTR1 enhances the expression of stress-related genes, thus facilitating a plant's ability to adapt to stresses.
"This groundbreaking discovery challenges the existing paradigm of ethylene signaling and alters our understanding of how ethylene interacts with other hormones and environmental stimuli," says Gyeong Mee Yoon.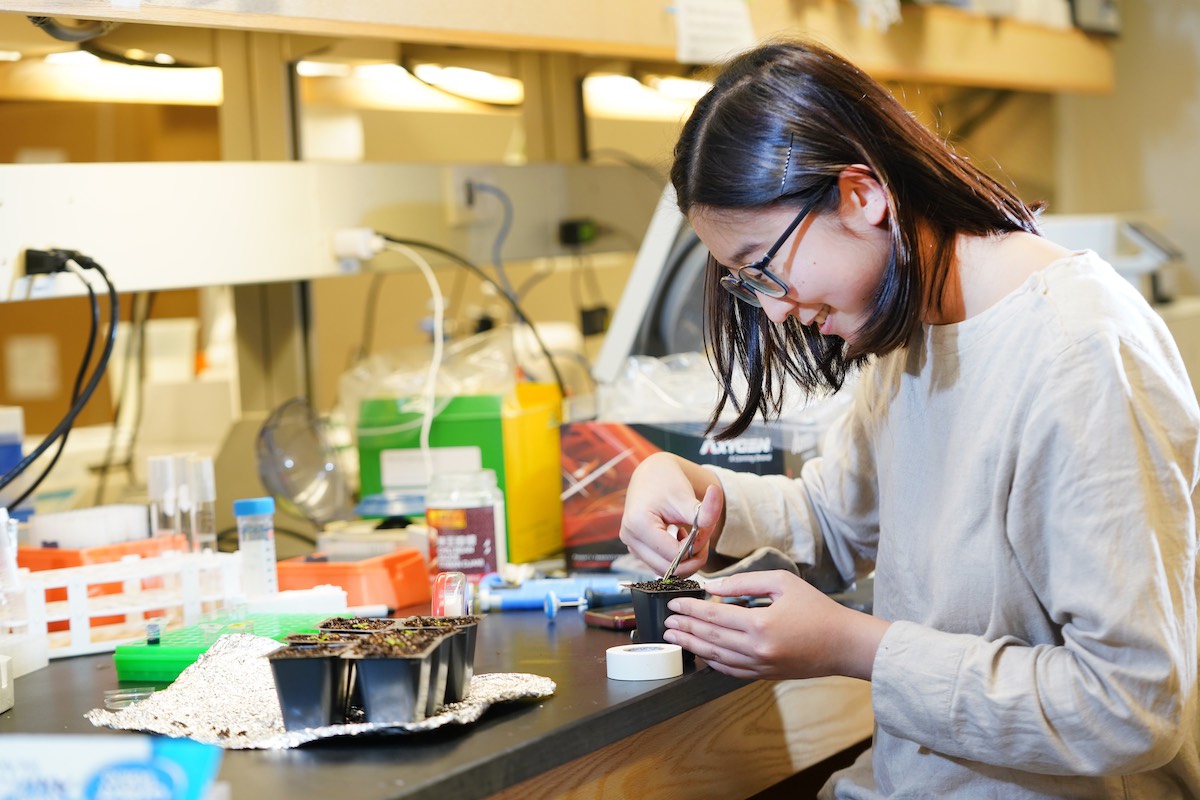 The researchers were also able to artificially increase the amount of CTR1 in the nucleus and observed a significant increase in stress tolerance to drought and soil salinity.
"We obtained a fundamental understanding of how the subcellular localization of CTR1, changes from the endoplasmic reticulum (ER) to the nucleus through our approach within the experiment," said Hye Lin Park, postdoctoral researcher in botany and plant pathology and lead author on the paper.
"Our findings have deepened our understanding of plant biology and provide a path toward developing plants and, in particular, crops tolerance to climate-related stresses," says Gyeong Mee.
For more information visit HERE
All photos by Tom Campbell, Purdue Ag Communications.