From food science to Hershey to a future in research and development
Barbara Montemayor Martinez, a senior in food science with a minor in fermentation sciences, has taken being "a kid in a candy store" to a whole new level. Montemayor spent her summer surrounded by the smell of chocolate and says "Working in Hershey, Pennsylvania was a unique experience.
The Hershey Chocolate Company, established in 1894, produces chocolate bars that remain as delicious and comforting as they were in your childhood. Hershey is also behind many favorite treats that you may not know about such as Twizzlers and Jolly Ranchers, Skinny Pop and Dots Pretzels.
Montemayor, who worked as a chocolate product development intern in Hershey's research and development team, says "The mission of the research and development department at Hershey is to innovate and create new snack and confectionery products, improve existing recipes and develop cutting-edge manufacturing processes to ensure the highest quality and taste experience for consumers."
During her internship, Montemayor spent most of the day in the lab. She engaged in hands-on work as she made chocolate products, as well as did data analysis on those products. Montemayor also went to Mexico and helped out as a technical translator in a product test in a factory there.  
"I was responsible for designing experiments, conducting experiments both at the benchtop and pilot scale, evaluating prototypes, and analyzing experimental data," Montemayor shared. "My favorite aspect of my internship has been the opportunity to gain insights into various facets of the company. Additionally, I had the privilege to volunteer at a bunny shelter and take part in a Rise Against Hunger event, which were both rewarding and enriching experiences."
Montemayor said Hershey was also a great pace to work. Not only does the smell of the fresh chocolate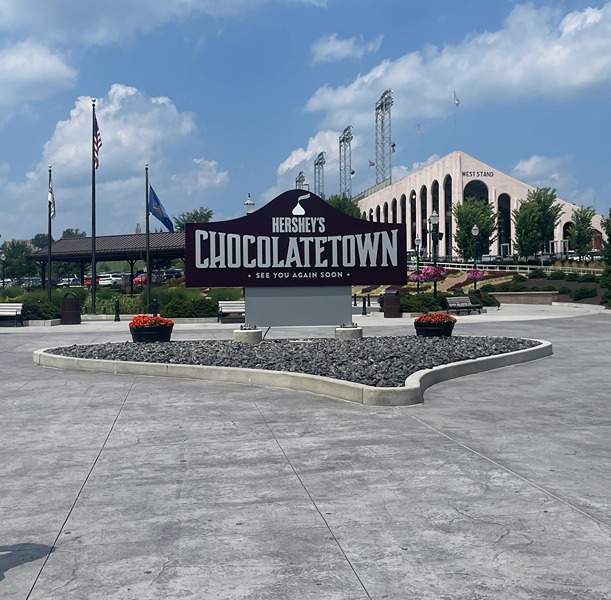 being made at the factory often waft over the town, but also there are several attractions to visit: Hersheypark,  Hershey Story Museum, and Hershey Gardens. 
Working at Hershey as an undergraduate might seem like an unreachable dream, but Hershey sends recruitment agents to look for Purdue students every year at the Food Science Professional Development Days Career Fair. Montemayor first learned about the internship opportunities during a company-hosted information session and then was excited to meet with the representatives when they came to Purdue. 
Montemayor explains that she chose to major in food science because it combines her love of biology and chemistry with opportunities for innovation. 
This internship experience has strongly reaffirmed my passion for working in an industry setting, particularly within research and development. I'm eager to pursue a career where I can continue to contribute to innovation and product development in the food industry."

- Barbara Montemayor Martinez, senior in Food Science