A typical May and June for
Cortney Mycroft, FNR's natural resources lab coordinator and collections curator, would be spent up in the Upper Peninsula of Michigan with students for our department's five-week
summer practicum
. Needless to say, this summer is anything but typical.
Due to COVID-19, summer practicum has been postponed to the fall semester. That means six additional credit hours added to the students' fall semester. Mycroft aimed to help students shift other credits to the summer by creating a two-credit hour botany course this summer. The Plants of Midwest Habitats class, which was modeled after a course that Sally Weeks used to provide for FNR, is taught online by Mycroft with help from graduate assistant researcher
Bee Redfield.
"I love herbaceous plants and this gave me a legitimate excuse to hike around and see the Indiana plants that typically flower when I am in Michigan for summer practicum," Mycroft said.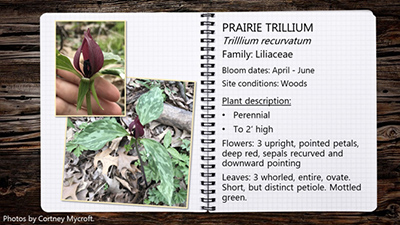 Mycroft typically teaches lab classes focusing mainly on species recognition and memorizing scientific names, and she recognizes that growing a student's recall on species recognition is an essential part of training to become a natural resources profession. With this class, however, she wanted to provide a course that exercised that recognition of individual plants and collective families with an added understanding of the adaptions the plants have developed and the ecological roles that they play.
Teaching a lab-type class online has presented some challenges. Ideally students would be introduced to plants in an outside lab by standing in the habitats in which they are typically found. Standing among the species with which a plant competes for resources helps to spur conversations about the plant's need to compete for resources. Being in a virtual setting, more of these aspects need to be explicitly stated and conversations that would naturally occur in person are more limited.
Being online does have its advantages though. Instead of being limited to Mother Nature's timeline, students can learn about plants that bloomed months ago in addition to being encouraged to explore the plants in bloom right now.
Students are also able to engage with the content at their leisure.
"I think it allowed more students to chose to take this as an online course rather than at a scheduled on- campus time," Mycroft stated. "I hope they are gaining from this format, but my reward comes from watching the students 'get it' in that a-ha moment. I just have to trust that it's happening in this online format."
Redfield, who assists with posting online content and quality assurance for the class, sees the long-term possibilities for a course like this.
"Students can do the field assignments on their own to follow social distancing and still get that 'hands- on' experience," she said. "And, once we created the course, those lectures and discussions can be used over again each semester. So, even though it is a lot of work up front, it is a lasting benefit to the department and our students thereafter.
"Cortney has the ability to make every subject interesting and engages so well with the students in an online context, that I've modeled a lot of my own lecturing on her style. We are so fortunate to have her in FNR."