Never underestimate the impact one small idea can have globally. A simple group project in a college course on climate change morphed into a multi-continental research effort and could make a lasting impact on the future of soil studies in relationship to climate change, specifically in regards to precipitation.
The group project, which originated in a graduate level "Ecology of Drought" class, taught by
Dr. Jeff Dukes
at Purdue and co-taught across four other universities in the United States, evolved into a collaborative effort by researchers from Purdue as well as in Colombia, India and the United Kingdom. The goal of the research was to further understand how soil responds to precipitation changes, an important factor when trying to understand the impacts and future rate of climate change, while setting the table for further studies.
Master's degree student
Akane O. Abbasi
, doctoral student
Maria del Rosario Uribe
and Dukes, professor of forestry and natural resources and biological sciences, were among a group of researchers that recently published their findings on "Soil Responses to Manipulated Precipitation Changes: an assessment of meta-analyses."
The
paper
, which was published in Biogeosciences on July 29, examined how 42 different soil properties and processes responded to experimental increases or decreases in precipitation. Rather than conducting new experimental research,
the group examined conclusions of many previous analyses of the published experimental literature. All in all, the group compiled and compared results in 16 such "meta-analyses" to provide the most complete view of soil responses to changes in precipitation yet assembled.
"Our goal was to comprehensively assess these diverse findings, provide a holistic review of soil responses to precipitation changes, and to identify knowledge gaps," Abbasi said. "We found strong agreement among meta-analyses that belowground carbon and nitrogen cycling accelerate under increased precipitation and slow under decreased precipitation, while bacterial and fungal communities are relatively resistant to decreased precipitation. We also identified soil variables that have been studied less frequently. Our findings clarified the current understanding of soil responses to precipitation changes and provide direction for future research to better understand the impacts of precipitation changes on soil dynamics."
The group's research summarized the impacts of precipitation changes on soil and clarified the areas which need more study in order to reveal mechanisms underlying soil responses to precipitation changes.
Abbasi explains that this data and research will only grow to be more necessary in the future as precipitation changes are projected to intensify.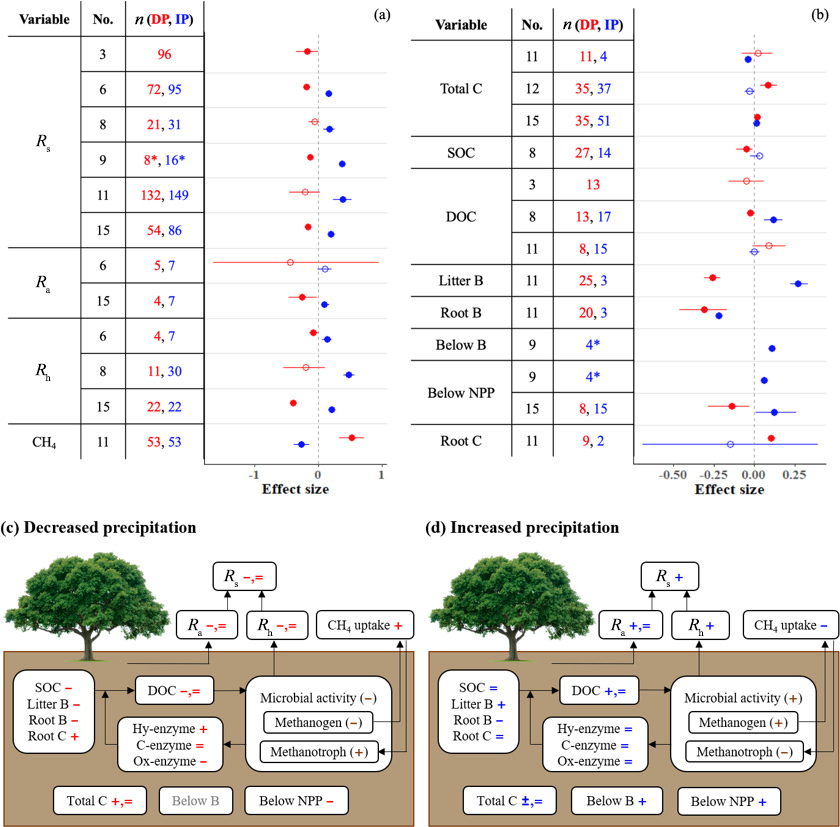 "Understanding the belowground dynamics under altered precipitation can help various sectors prepare for the changes in their soils," Abbasi said of the research implications. "We also summarized soil responses by ecosystems (temperate forests, tropical forests, grassland, etc.), climate, and different types of precipitation changes, for many soil variables, which provides more locally-oriented information based on the stakeholder's community."
Abbasi, Uribe, and Dukes were joined on the project by Purdue colleague
Alejandro Salazar
of the Department of Biological Sciences (now at the Alexander von Humboldt Institute in Bogota, Colombia);
Jianghanyang Li
and Youmi Oh from the Department of Earth and Atmospheric and Planetary Sciences, as well as researchers from the UK Centre for Ecology and Hydrology in Bangor, United Kingdom; and the Department of Botany at the University of Kashmir in Sringar, India.
"It's not too often that class projects wind up making a tangible contribution to the international research community," said Dukes, Director of the Purdue Climate Change Research Center. "It's really gratifying to see this get published; the students did a fantastic job."
The class was a part of the NSF-funded Drought-Net Research Coordination Network. The group's research was funded by Purdue FNR; the Takenaka Scholarship Foundation in Tokyo, Japan; the 529 Colciencias-Fulbright Grant; the Icelandic Research Fund 2016; the POA funds from the Instituto de Investigación de Recursos Biológicos Alexander von Humboldt, Bogotá, Colombia; the Natural Environment Research Council award as part of the UK-SCAPE program delivering National Capability; and the University Grants Commission, India, under Raman Fellowship Program.