A friend and alumnus of the Purdue department of Forestry and Natural Resources has passed away. R. Scott Brundage, 84, who received his bachelor's degree in forestry in 1958 and master's degree in forest management in 1959, died Aug. 8, 2020, in Columbia, Missouri.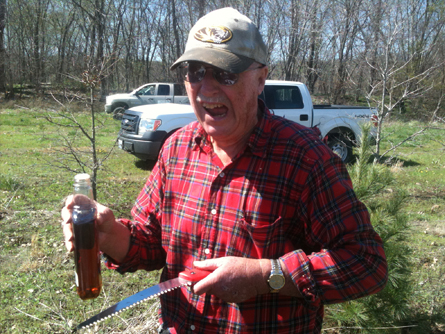 Brundage's ties to FNR and the West Lafayette area ran deep. The son of Purdue Professor Emeritus of Forestry Roy C. Brundage, Scott grew up in West Lafayette and graduated from West Lafayette High School before earning both of his degrees from Purdue.
In 1960, Scott went on to conduct forest surveys for the state of Missouri. He remained involved in the forestry industry for the remainder of his career, acting as a farm forester for the state of Ohio, as a reclamation specialist for Peabody Coal Company and as a consulting forester. He was also heavily involved in the Missouri Consulting Foresters Association and the Walnut Council International.
Personally, Scott and his wife Ginny (Virginia Goben Brundage, married June 4, 1960 in West Lafayette) owned many tree farms, some of which were recognized by the American Tree Farm System program.
In addition to Scott's direct ties to Purdue FNR, the department awards the Roy C. Brundage Memorial Scholarship annually, which was made possible by an endowment established by Scott in memory of his father Roy C. Brundage, who began working at Purdue in 1930. The scholarship is available to students pursuing degrees in forest management or forest products.
"Scott was a force of nature. He lived life energetically, smiled broadly, and laughed heartily," professor of wildlife science Rob Swihart said. "He enjoyed sharing stories from his escapades, usually with embellishment. His enthusiasm for forestry and Purdue (especially its students) was genuine and limitless. Scott was an ardent supporter of the Department of Forestry and Natural Resources and the
Hardwood Tree Improvement and Regeneration Center (HTIRC)
, serving on external advisory councils for both. His life's journey enriched those of us fortunate enough to encounter him along the way."
Memorials may be donated to The Walnut Council Foundation (1007 North 725 West, West Lafayette, IN 47906). Condolences may be left online for the family at www.ParkerMillard.com.