Dr. Jeff Dukes
is in elite company after being elected to the rank of Fellow by the Council of the American Association for the Advancement of Science (AAAS).
Fellows are selected each year by the council for "efforts on behalf of the advancement of science, or its applications, that are scientifically or socially distinguished." According to the AAAS announcement, Dukes is being recognized for "distinguished contributions to community and ecosystem ecology, particularly responses by invasive species, communities and ecosystems to environmental change."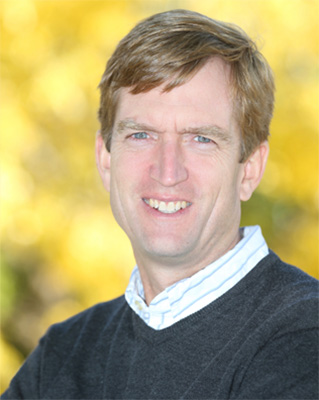 "It's really gratifying to be recognized by my peers in this way," Dukes said. "And it's fun to be recognized by the AAAS in particular, because that society is doing great things for science in this country and around the world."
Dukes is one of eight Purdue faculty/staff members selected as AAAS Fellows in 2020, alongside Mary Catherine Aime (Biological Sciences), John Fitzpatrick (Biological Sciences), Gerhard Klimeck (Engineering), Laura Pyrak-Nolte (Physics), Gintaras Reklaitis (Engineering), J. Paul Robinson (Engineering) and Jin-Rong Xu (Biological Sciences). A total of 489 AAS members were named as Fellows in 2020.
Dukes is the second member of the current Purdue Forestry and Natural Resources faculty to receive the rank of AAAS Fellow, following
Dr. Andrew DeWoody (Biological Sciences) in 2016
. DeWoody was honored for substantive contributions to the fields of wildlife and fisheries genetics, particularly for extending the theory and practice of parentage analysis in molecular ecology and conservation genetics.
Dukes is a professor of forestry and natural resources and biological sciences. He also is the director of the Purdue Center for Climate Change Research and the
Belcher Chair for Environmental Sustainability
. He also serves as an instructor for Purdue FNR's learning community.
"We are enormously proud of Dr. Dukes's election as an AAAS Fellow," FNR Department Head Bob Wagner said. "This is quite an honor. Jeff has made significant contributions to our understanding about the effects of environmental change on ecosystems and we are thrilled to see those contributions recognized in this way."
Dukes recently published a paper titled "No acclimation: instantaneous responses to temperature maintain homeostatic photosynthetic rates under experimental warming across a precipitation gradient in Ulmus americana in the August issue of
AoB Plants
. His Ecology of Drought class also launched a
multi-continental research effort
into the relationship between soil and climate change with regard to precipitation.
In 2016, Dukes helped develop the
first global analysis
of invasive species threats . He also leads the
Indiana Climate Change Impacts Assessment
, which has produced detailed reports about how Indiana's climate might change in the future and the effects that could have on residents, economic sectors and the environment.
The AAAS began electing fellows for meritorious contribution to the advancement of science in 1874. Fellows are acknowledged with a certificate and a blue and gold rosette pin (representing science and engineering respectively), which are typically presented at the AAAS annual meeting.
In order to be named as a Fellow, AAAS members must be nominated by the steering group of their respective sections, by three Fellows or by the Association's chief executive office. Each steering group then reviews the nominations in its section and forwards a final list to the AAAS Council, which then votes. The Council is the policymaking body of the Association, chaired by the president, and consisting of the members of the board of directors, the retiring section chairs, delegates from each electorate and each regional division, and two delegates from the National Association of Academies of Science. Fellow must have been continuous members of AAAS for four years by the end of the calendar year in which they are elected.
About the AAAS
The American Association for the Advancement of Science (AAAS) is the world's largest general scientific society and publisher of the journal Science, as well as Science Translational Medicine; Science Signaling; a digital, open-access journal, Science Advances; Science Immunology; and Science Robotics. AAAS was founded in 1848 and includes more than 250 affiliated societies and academies of science, serving 10 million individuals. The nonprofit AAAS is open to all and fulfills its mission to "advance science and serve society" through initiatives in science policy, international programs, science education, public engagement, and more. For additional information about AAAS, see
www.aaas.org
.