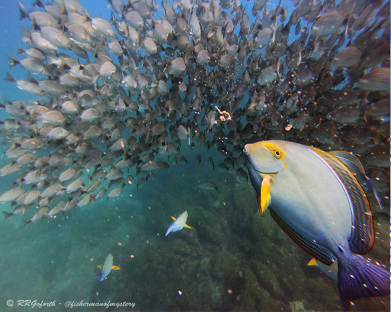 In a year when the ability to travel abroad and take in nature was limited and people were looking for an escape, Dr. Mitch Zischke's Marine Biology class (FNR 201) offered students getaways to aquatic locales around the world from the comfort of their own computer screen, while also introducing them to many different aquatic species as well as ocean habitat threats in a fully virtual format.
"The overall goal of the class is to introduce students to the incredible diversity of marine organisms, explore the dynamics of marine ecosystems, and discuss anthropogenic impacts to oceans," Zischke said. "I love teaching the class because marine biology is my educational background and oceans feature in many of my life's fondest memories. It's an opportunity for me to escape Indiana and pretend I'm back at the beach!"

Whether highlighting ocean ecosystems, introducing students to organisms from marine microbes and plants such as phytoplankton (microscopic marine algae) to cetaceans (aquatic mammals such as whales or dolphins) or discussing the interactions between those organisms, their environments and humans, Zischke's fondness for the subject matter is evident in his teaching style.
"I personally enjoy seeing organisms in action and in their natural habitat, so the videos he provides are very enjoyable, interesting and informative in that sense," junior wildlife major Ashley Fazekas said. "Dr. Zischke makes the class interesting and fun. He has an upbeat attitude and seems to enjoy what he teaches. He sometimes likes to include little stories about his life or work in marine biology, which makes the class more relatable and personal. Taking this class has given me more of an interest in marine biology and has reinforced just how amazing our oceans are and why they need protecting."

The class went on virtual undersea adventures, experienced habitats and were confronted with environmental concerns through videos, recordings and readings. Students would then provide a two to three-minute video synopsis of those assets and answer questions about them to ensure understanding. Weekly group discussions allowed for interactivity in the virtual environment and a space to ask questions about course content.
"He keeps the class interesting by talking about his own experience in the field, and having breaks in the middle of lecture to talk about Aussie words from his background," said Olivia Hubble, a junior majoring in natural resources and environmental sciences. "I love our lectures and the different approach our professor takes to homework. I believe this really allows us to learn the material in real world terms so we are able to apply it. I have always been interested in the ocean and marine life, and I am glad to have the knowledge now from this course."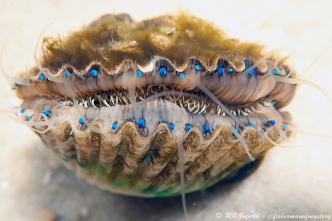 In addition to familiarizing students with marine biology, assignments throughout the semester gave them an opportunity to sharpen their scientific writing skills, preparing them for future classes and career requirements. From analyzing scientific articles and writing their own reports to reviewing the writing of peers, the progressive nature of the assignments slowly guided students through the writing process.
"My favorite part of marine biology is the content focused on human impacts to marine life and the actions we can take to help mitigate these problems," 2018 animal sciences alumna MacKenzie McIntosh said. "Being able to write a report on the topic of my choosing allowed me to further explore something I already had a vested interest in. I was able to build on to the knowledge I already possessed, which helped solidify my current understanding while exposing me to new information in the process. This class has definitely expanded my knowledge of oceans/marine life. I have learned more about conservation issues concerning the oceans and how critical they are for life on Earth."

Zischke, a clinical assistant professor in Forestry and Natural Resources at Purdue, earned a bachelor's degree in tropical marine science in 2006 and a PhD in fisheries science in 2013, both from the University of Queensland in Brisbane, Australia. He came to Purdue in 2014 as a postdoctoral research associate, transitioned to a fisheries scientist position in 2016 and assumed his current position in 2017.
In addition to teaching FNR 201, Zischke guest lectures in various fish biology, fish ecology and fisheries management courses and is the advisor for the student chapter of the American Fisheries Society. He also participates in outreach programs through Purdue Extension, connecting anglers, scientists and managers in Great Lakes fisheries, while also assisting private landowners with pond management.
Zischke, who also acts as a fisheries specialist with the Illinois-Indiana Sea Grant program, co-created the Pond and Wildlife Management website with Purdue Extension wildlife specialist Jarred Brooke. The site aims to help Indiana landowners manage their ponds for fishing and their land for hunting and other wildlife opportunities through resources from publications to identification guides and podcasts.
Zischke recently launched a podcast titled Pond University, co-hosted by Megan Gunn, FNR recruitment and outreach specialist and Illinois-Indiana Sea Grant aquatic education associate. The podcast brings together aquatic scientists, landowners, and pond professionals to discuss topics like pond habitat, fish stocking, vegetation control, and pond construction. The podcast is part of the Natural Resources University podcast network and is funded by the Renewable Resources Extension Act.