"Later is a dangerous word in college," Katie D'Addato, a 2019 Purdue Forestry and Natural Resources alumna said. "If you are interested in something don't get in your own way. Make the most of your time to take advantage of an opportunity if it presents itself. Things change quickly in college settings and your plans change with them, so if you have the chance to do something, do it!"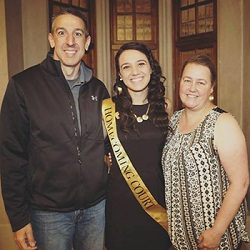 "I think all of my advocate and public speaking involvement (Ag Ambassadors, FNR Ambassadors, being a Boiler Buzz host, performing in shows) during my time at Purdue helped tremendously," D'Addato said. "A lot of people in natural resources aren't too excited about working with people, but it is a big part of the field and to be able to do it well is a huge service and to some extent a responsibility. The more people you can connect with and engage the public, the more good you can do for conservation, inspiring people to adopt change in their lives to protect the natural world and the critters in it."
D'Addato's work in the classroom earned her academic merit awards as a sophomore, junior and senior. The Frederick, Maryland, native also received Outstanding Camper honors for fisheries and aquatic sciences and the Durward Allen Memorial Award for Outstanding Junior in Wildlife in 2018, and the William A. Rafferty Award and FNR's Outstanding Senior Award in 2019.

In addition to her classwork, D'Addato was a teaching assistant for the Ecology and Systematics of Fishes, Amphibians, and Reptiles course for two years and gained research experience through a study abroad experience with the School for Field Studies and Center for Marine Resource Management.
"Being a TA was great because it helped me learn about the species I wanted to work with really well, but it also gave me a lot of skills in teaching and sharing information with others in fun ways," D'Addato said. "My study abroad experience with SFS working with sharks and marine ecology was a great experience because I was working directly in the habitats I was so passionate about, interacting with wild fish species, learning research techniques, contributing to large-scale research projects affecting management policies, and getting to write a report and ultimately present my own research project within that, which was a big deal especially since I was a freshman at the time."
D'Addato also acted as an undergraduate research assistant in FNR, processing data from motion sensor cameras for a study aimed at determining the most effective method to humanely medicate wild raccoon populations for rabies.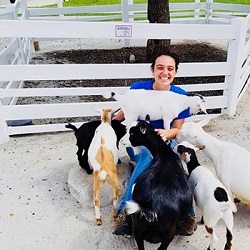 Outside of Purdue, volunteer opportunities and internships helped prepare D'Addato for life after graduation and gave her a leg up as she worked toward her dream job.
As an avid volunteer at Columbian Park Zoo throughout her time in West Lafayette, D'Addato was able to work with a variety of different animal species and make connections with people that assisted her in obtaining internships down the road.
In the summer of 2017 as an intern at the Owl Moon Raptor Center, D'Addato assisted with animal care tasks including meal preparation, feeding, enclosure cleaning, treatments, reconditioning, and releases.
The following summer took D'Addato to Mote Marine Laboratory and Aquarium in Sarasota, Florida, where she acted as an animal care, training and research intern, assisting with tasks related to the husbandry and maintenance of resident animals, including sea turtles, manatees and otters. She also assisted with the release of sea turtle hatchlings once they cleared the hatchling hospital.

After graduating in May 2019, D'Addato was a Sea Turtle Assistance and Rehabilitation (STAR) Center intern at the North Carolina Aquarium on Roanoke Island. There she gained experience performing daily care and maintenance tasks for various species of reptile, amphibian and invertebrate animals, highlighted by the day-to-day care involved with rehabilitating sea turtle patients.
She continued broadening her horizons to make herself a more qualified candidate for a wildlife rehabilitation position, taking a seasonal technician's assistant position at Kingsbrook Animal Hospital in the summer of 2020. The position returned D'Addato to a location where she volunteered from 2008-2014, while increasing her clinical skills by helping care for both small and exotic animals.
This summer, D'Addato participated in a 320-hour practicum at the Humane Society of Washington County, where she assisted the veterinary team with surgeries and procedures as well as patient exams, diagnostics and treatments.

D'Addato is in the midst of a two-year veterinary nursing program, which will add medical training to her wildlife and fisheries experience. She expects to complete her associate of applied science in veterinary nursing degree in August and will sit for her boards to officially become licensed as a veterinary technician later this fall.
"While having a license as a vet tech is not required to be in wildlife rehab, it is an extremely competitive field and this credential helps tremendously to set you apart to make you better able to get your foot in the door," D'Addato explains of her continuing education. "It also provides you more skills to do the job well and provide the best care possible for these animals to give them the best chance at being released and doing well."
All of her hard work, dedication and commitment to learning both in the field and in the classroom paid off in late June when she was offered a position as a sea turtle rehabilitation technician at the North Carolina Aquarium on Roanoke Island, where she interned in 2019.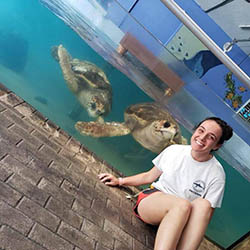 "I am so excited and blessed to have this amazing opportunity to fulfill a lifelong goal and be able to have a job working with and helping my all-time favorite critters," D'Addato said. "I have always intrinsically been fascinated by all animals and have been particularly enamored with marine life. As I got older and went from just loving animals to wanting to be more conservation-focused to help them, I became particularly drawn to sea turtles in particular. During my first meeting with Shelly (Opperman in FNR career services) as a new student, working with sea turtles was the career goal I mentioned at the time. The more I learned about them in courses and in my first internship working with them, it really sealed the deal for me that marine life and particularly sea turtles was where my passion lay. I am so thankful to everyone who helped me get to this moment and who cheered me on to chase my dream and make it a reality. I am beyond excited for my new adventure."
The sea turtle rehabilitation technician position will see D'Addato involved with the care and treatment of sea turtle patients brought into the sea turtle hospital and the STAR Center. This involves maintaining water quality, calculating feeding schedules, triaging, managing volunteers who assist in the STAR Center, performing treatments on patients, and working with veterinary staff to stabilize and develop a plan to rehabilitate these turtles. The position also includes the public outreach and communication with different programs and tours that are brought through the hospital as well as speaking with guests who visit the hospital during their tour of the aquarium. D'Addato also will provide supplemental support to other areas of the aquarium, assisting with animal care as a smaller portion of her role.
As she has moved forward in her career, D'Addato is quick to point back to the opportunities and experiences that helped her get here.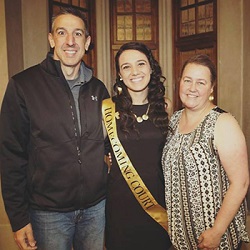 "FNR has a team of very encouraging staff to foster passions, provide learning resources, and encourage engaged students," D'Addato said. "There also is a lot of flexibility in classes and summer requirements to provide lots of room to 'play' and take advantage of opportunities outside of coursework to 'drive your own ship' and participate in extracurriculars, internships, and volunteer opportunities to help you gain experience to set you up for success in your career goals. FNR also does a good job in giving a broad range of courses touching on several different aspects of the field, from social factors and genetics to habitat management and all the various taxa of animals, to expose you to a lot of different things to get a better sense of how to direct your career goals. Everyone has passions in all corners of the field and it is awesome to have such a wide-reaching network of people you can rely on and look to support you as you navigate careers in the field."
D'Addato's final advice to current and future students is to not pigeonhole themselves.
"College is a short chapter in your life and it is important to feed all of yourself (soul, passions, health, and career goals) to make sure you are the happiest/healthiest version of yourself and aren't graduating and walking into your first job already burnt out before you've even started," she shared. "I took a lot of time to foster other passions of mine outside of wildlife and that helped me build other skills that are super important to finding success in the field. Go outside of your comfort zone, you may surprise yourself."