Story by Wendy Mayer, Communications Coordinator
Purdue Extension wildlife specialist Jarred Brooke has been named as a recipient of the Purdue Cooperative Extension Specialists' Association (PUCESA) Early Career Award, which recognizes an Extension specialist with less than 10 years of service.
Recipients must demonstrate Extension leadership; excellence in delivering public education programs; innovative approaches to program development and delivery; outreach efforts to county Extension educators; research that benefits Extension clientele through practical application; or through demonstrated collaboration with county educators, agencies or community leaders.
"I am truly grateful to be honored by my peers with this award, but most of my extension work would not have been possible without the wonderful people I work with both inside and outside of Purdue," Brooke said. "I am indebted to them."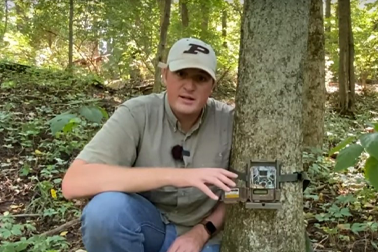 Brooke, a 2012 wildlife science alum, returned to his alma mater in August 2016 as an Extension wildlife specialist after completing his master's degree in wildlife management from the University of Tennessee in 2015. Over the past five years, Brooke has become a productive and effective extension specialist and has taken on multiple leadership roles, collaborated with partners in an outside of Extension, conducted applied research and worked to deliver impactful and innovative extension programming.
Brooke was honored with the PK-12 Outreach and Engagement Excellence Staff Award in April 2021 for his work with the 4H-Academy, the Wildlife Habitat Education Program and The Nature of Teaching.
Outside of Extension, Brooke helped form the Indiana Prescribed Fire Council, of which he has served as chair since 2018. He also is currently the Past President of the Indiana Chapter of the Wildlife Society, and served on the continuing education committee for the group. In these roles, Brooke collaborates with other natural resources professionals to plan and deliver natural resource-based programming to other professionals and landowners throughout Indiana.
"In a very short time, Jarred has built a program that is very well respected by our Extension colleagues within and outside of Purdue," said Purdue Extension wildlife specialist Brian MacGowan, who was honored with the PUCESA Leadership Award in January 2021. "He is simply 'the go-to-person' in the state for native warm season grass management as it relates to wildlife habitat. His accomplishments and quality of work really represents the work of someone I would expect to have 10 or more years of experience."
Brooke created the Pond and Wildlife Management website and several extension publications alongside clinical assistant professor Mitch Zischke through the Purdue Issue-Based Action Team Grant. He also is co-host of the Habitat University podcast alongside Adam Janke, an extension wildlife specialist at Iowa Stat University. Habitat University, which sees the pair discuss the science behind wildlife habitat management and how landowners and managers can use different habitat management practices to improve their land for wildlife, is part of the Natural Resources University podcast network, a multi-state project funded through an Renewable Resources Extension Act Focus Grant.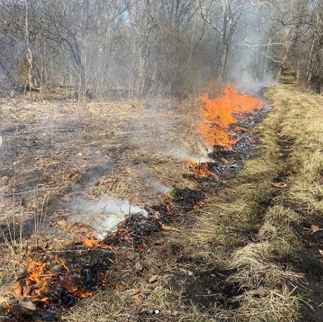 Brooke has produced or been a part of several video series regarding prescribed fire and habitat management. His Wildlife Habitat Hint series included six videos on prescribed fire, which were utilized in global efforts by the United States Forest Service. Brooke also has hosted several Learn-N-Burn Workshops, which help inform landowners about the use of prescribed fire as a management tool, in conjunction with Extension educators, Quail and Pheasants Forever Farm Bill biologists and Indiana Department of Natural Resources wildlife biologists.
Brooke also was part of the Cicada Outreach Team which received the 2021-22 PUCESA Team Award. As part of the cicada outreach efforts, he spoke to the Brood X emergence's effect on wildlife as part of the FNR Ask the Expert video series.  He also worked with the multidisciplinary team to develop materials for foresters.
Brooke also has collaborated with the Natural Resources Conservation Service to create and deliver native grass establishment and management training for NRCS district conservationists, Soil and Water Conservation District employees and other natural resources professionals. These workshops are aimed at helping employees more effectively deliver conservation programs such as the Conservation Reserve Program.
Brooke also works in partnership with the Indiana DNR Division of Forestry and Division of Fish and Wildlife, the Indiana Woodland Owners Association, the National Wild Turkey Federation and the Hardwood Ecosystem Experiment to create and present Woodland Wildlife Steward extension workshops related to forest management for wildlife.
In addition to his extension efforts, Brooke has focused on applied research, such as conducting research on the effects of the seasonality of fire and the use of unmanned aerial vehicles (UAVs) to monitor fire effects.
Brooke is also a part of the Integrated Deer Management Project, a multi-year research project aimed at combining deer population and habitat condition information with public perceptions of deer and deer management in order to better inform white-tailed deer management in Indiana. The IDMP released its first publication in the Wildlife Society Bulletin's article "A Flexible Model-Based Approach to Delineate Wildlife Management Units" and its work was adopted by the Indiana Department of Natural Resources in the creation of research management units across the state.
Brooke also teaches Fire Ecology (FNR 33300), an eight-week course that studies the history, science and practice of prescribed burns, and as well as History and Role of Hunting in North American Wildlife Conservation (FNR 46500), a required course for wildlife students. Brooke's transition of the Fire Ecology course from hands on to virtual due to COVID-19 was featured in the story "When Best Laid Plans Go Up in Smoke." Brooke also is one of 15-20 contributing instructors to the Conservation Leaders for Tomorrow "Hunting for Conservation" course offered through Purdue online.