The Costa Rican Natural History study abroad trip offers students the opportunity to explore biodiversity and Costa Rican societal values in tropical rainforest, Pacific dry forest, Pacific rock reef and Pacific mangrove ecosystems.
The 10-day excursion includes birding, boat trips and hiking, while exposing students to sustainable management of tourism, conservation in Costa Rica, and hands-on experiences in wildlife and aquatic sciences, including marine biology. 
"What do I hope students get out of the course?" Dr. Barny Dunning said. "The first is traveling to someplace outside the USA, where they can see how other societies have chosen to address many of the same issues that we in America need to address. The USA does not have all the answers. International travel challenges our very basic assumptions about what we need in order to be comfortable and how things operate. Many of the students on this course have never traveled outside the USA, some have never been on an airplane before. The second thing I hope students get is simply an appreciation of the unbelievable diversity of life that is found in every corner of a country like Costa Rica. The people of the country take great pride in their stewardship of the natural wonders of their land and our students are inspired by the desire of a wide variety of Costa Ricans to protect biodiversity and live sustainably."
Senior wildlife major Emily Zimmer achieved both of Dunning's goals on the trip.
"The Costa Rica Natural History Study Abroad program was a once in a lifetime experience," Zimmer said. "It allowed me to explore a beautiful culture and learn more about wildlife and conservation. My favorite memory was snorkeling on Caño Island. I highly recommend traveling abroad and making your own discoveries!"
After arriving in San Jose, Costa Rica, the group of 19 students led by Dunning and Dr. Reuben Goforth, travelled to La Suerte Rainforest Field Station.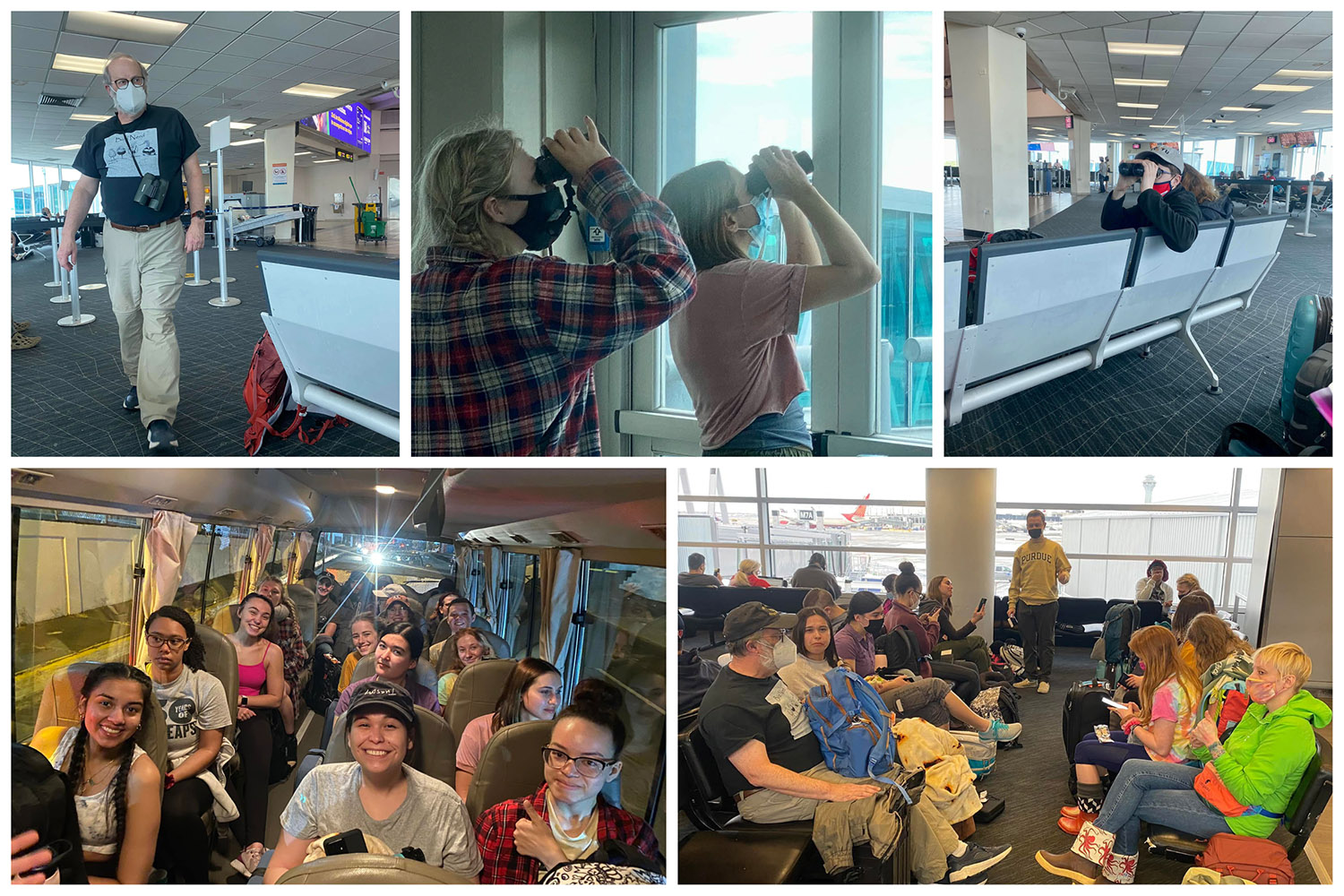 An early morning birding trip on the grounds as well as several hikes at La Suerte Forest awaited on Day 2.
 "Upon showing up at 3 a.m. for departure on our trip, everyone was cheerful and outgoing, asking about each person's hobbies and expectations for the trip," developmental and family science major Ivy Wooster said. "Our group members formed a close-knit group in which openness, kindness, and adventure were the pillars which supported our team. Through everything from getting up early to look for Scarlet Macaws to being able to hold a chunk-headed snake in the dark of a forest, I was able to see animals and experience situations that were brimming with excitement. This trip reinforced how I aspire to work with people who are positive, adventurous, and have a deep passion to protect our world from global challenges that face us today. I encourage everyone to take advantage of Purdue's study abroad trips as they will allow you to deepen your relationship with your future goals along with granting you the opportunity to live in the present with a group of students with whom you will make a set of unforgettable memories!"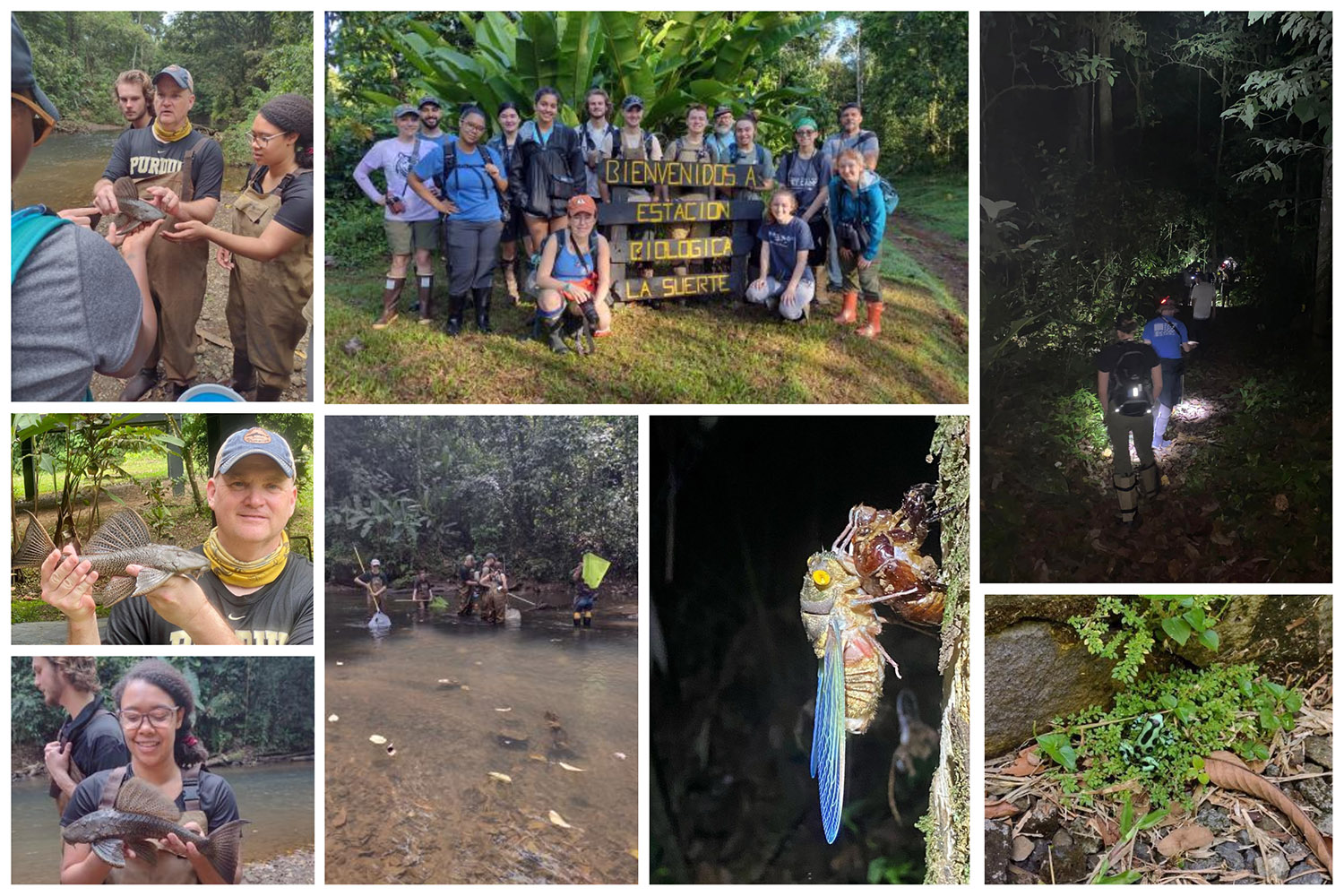 Day 3 took the group to El Copal, a premontane reserve managed by the community of El Humo, where birding and hiking allowed students to experience the local wildlife and ecosystem, and a presentation taught them about sustainable management of tourism.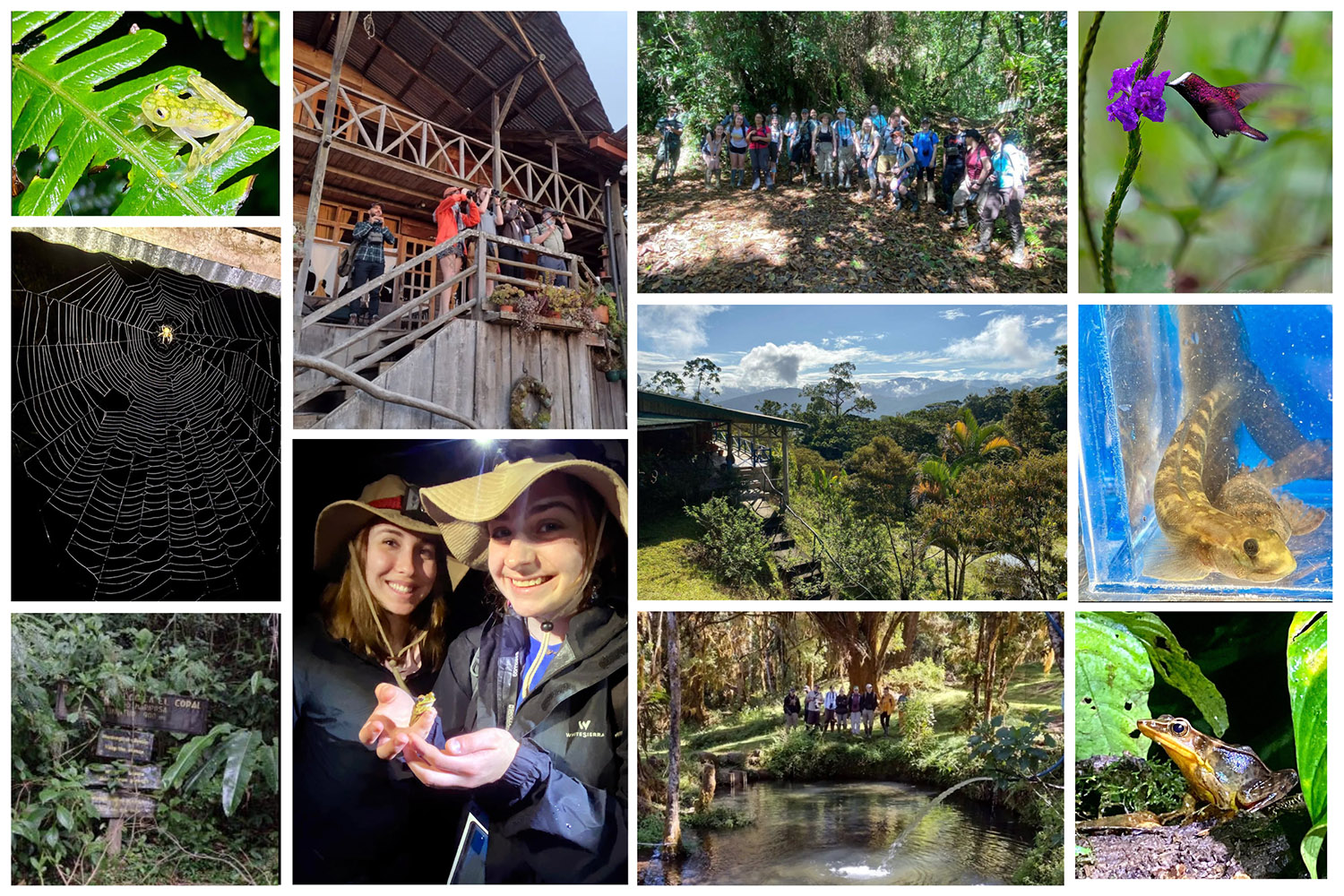 Days 4 and 5 were spent in Cerro Las Vueltas, where students visited the Páramo (a shrub-dominated habitat above tree line) at Los Quetzales National Park, hiked in the Prumnopitys forest and visited La Turbera wetland.
"Every place we stopped at had different ecosystems with new plants and animals to discover," sophomore wildlife major and forestry minor Kegan Abeson said. "Even though we only stayed a few nights at each location, I could have stayed in one spot for the length of the entire trip and still not have seen everything. Throughout the trip I saw over 200 species of birds, and probably about 300 or more total species! It was a truly amazing trip where I created memories that I wouldn't trade for anything."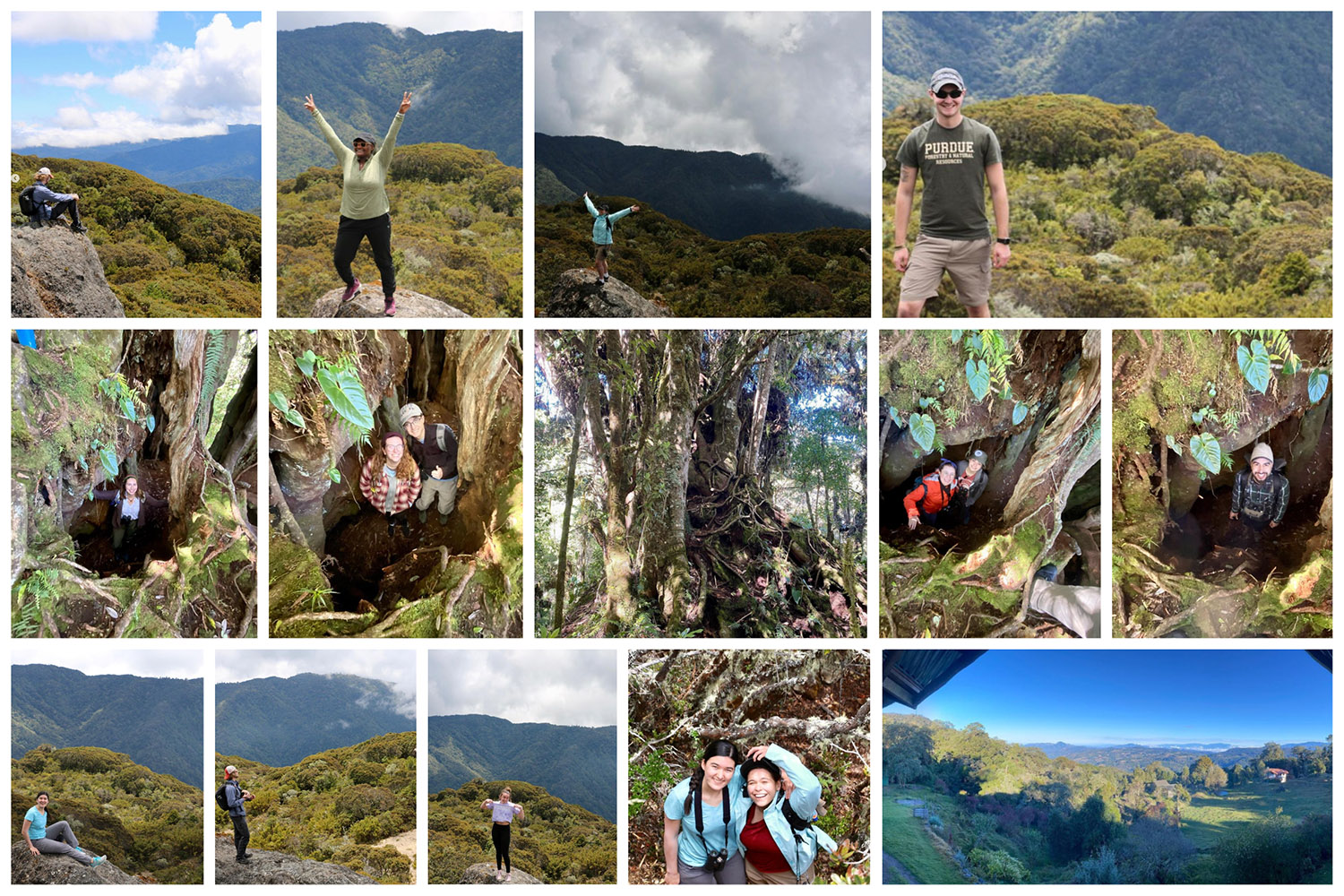 Days 6 and 7 brought boat trips to Poor Man's Paradise in San Josecito on the Osa Peninsula in southwest Costa Rica, which is home to one of the largest areas of intact tropical rain forest in Central America. The class also boated to the Sirena Station at Corcovado National Park and hiked to Rio Claro.
"I will always remember the sheer abundance life in Costa Rica," said Grace Estep, senior biochemistry major and forest ecosystems minor. "Every square inch seemed crowded with more diversity than I see in a mile in Indiana. One of my favorite memories was the hike into Corcovado National Park. After a boat ride to a picturesque beach, we headed into the forest with a local guide, who knew the birds by their calls. She picked up a coconut from the forest floor and broke it open with her hands, sharing it with us. Before five minutes had passed the coconut had attracted two coatis, which came within a few feet of us looking for pieces of the nut. Another guide pointed out a mother three-toed sloth hugging her baby. The entire experience was both inspirational and impactful, and I know I will never forget the memories I made with the group in Costa Rica."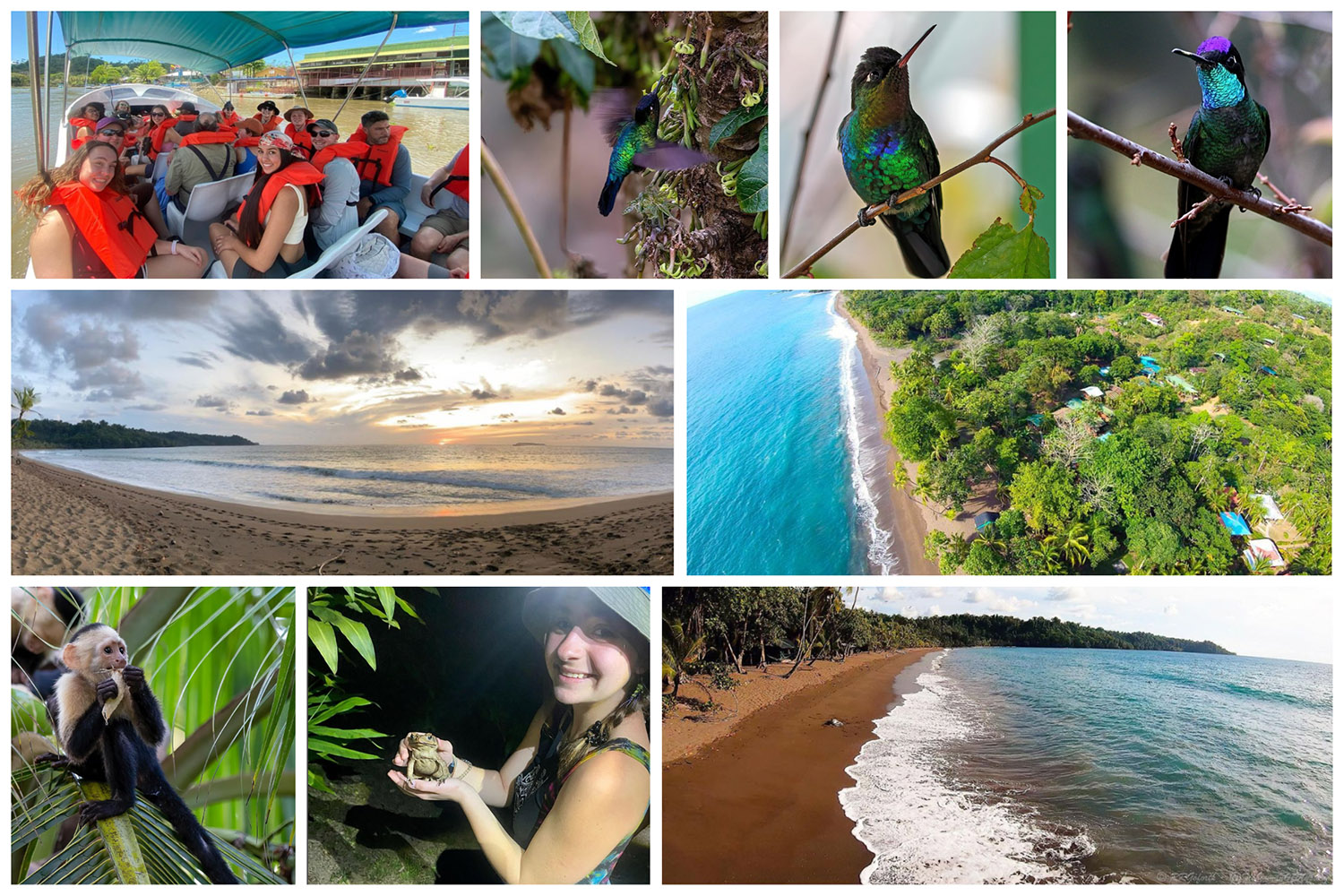 On Day 8, students headed to the Caño Island Biological Reserve, where they went snorkeling and diving.
"My favorite memories from the trip were backpack electrofishing, scuba diving and snorkeling as well as the night hikes through the rainforest," senior aquatic sciences major Avery Matthews said.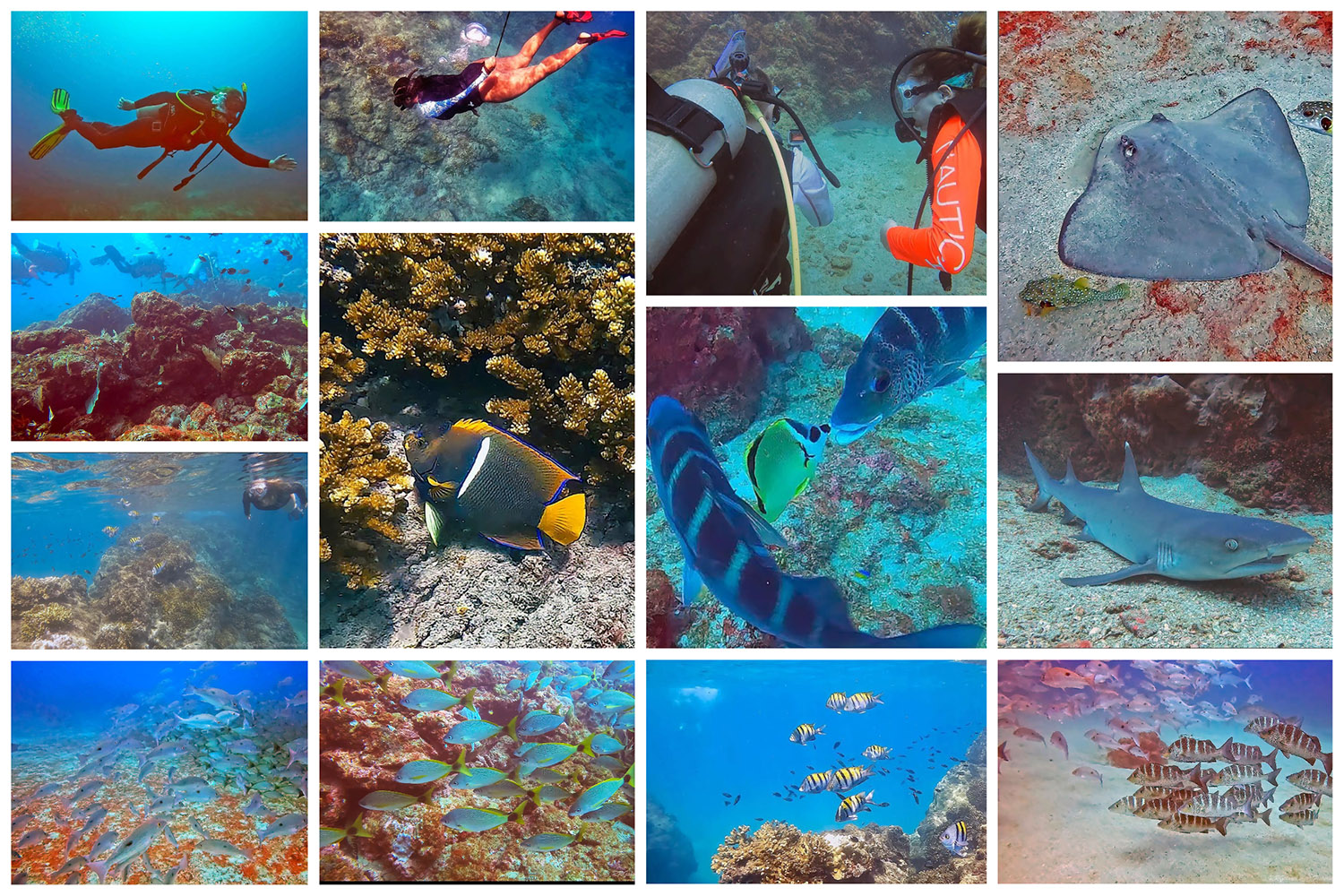 Day 9 brought one final boat trip on the Tárcoles River.
"One of my favorite experiences on the trip was when we had a boat tour of the Rio Tárcoles," Abeson said. "The scenery was quite beautiful with all the luscious plants on the bank, but what made this tour really shine was all of the animals we saw! We saw so many species within the two hours we were on and near the boat. It was even better that our guide could identify all of them (he was very funny too)! We saw tiny American crocodiles in the water and some giant adults on the shore. We also saw a crazy amount of bird species as well. We saw colonies of brown pelicans and roseate spoonbills in the trees, many different herons and egrets lining the shallows and a few raptor species landing right next to the boat! It was truly an amazing experience."
Day 10 saw students squeeze in one final birding opportunity at La Sabana Park before beginning their journey back to the United States. This area, which included an operating coffee plantation, is one of the favorite birding locations of Carlos Chavarria, the native Costa Rican who organized the entire trip. Even though this was done on the very last day, the group still saw over 30 species of birds that were new to the trip. 
Interspersed with the bird walks, night hikes looking for snakes and frogs, and the snorkeling, the group got to experience Costa Rican culture, whether it was drinking locally sourced coffee at a café in town, eating at restaurants frequented by locals, or dancing to a regional brass band, complete with larger-than-life figurines.
"One of the great benefits of this course is that Carlos is always taking us to new locations so we are seeing new places (and birds!)," Dunning said of his sixth trip with this course over the last nine years. "The first place we went, La Suerte, had access to a great river that allowed students to sample fish with Reuben. (They even found an invasive species - an armored catfish common in the aquarium trade where it is called a "Plecostomus" - which Reuben had not seen in the country before).  I had never been to the premontane forest that we saw at El Copal. One feature of tropical ecosystems is that the elevational range of species in the mountains is very narrow - moving 100 meters in elevation can take you to completely new species. I saw 8 species of birds I had never seen before in one morning at El Copal because I had never been in the premontane forest before. Finally, we were able to spend a couple of nights in the high mountains at Cerro Las Vueltas.  I had only been there for lunch on one day before. I think the students will remember this place because it was so high in the mountains that it was cold - it hit freezing one morning! But I will remember the killer looks at Bare-shanked Screech-Owl, a mountain species with such a limited range that it was not even on my radar screen as something we might see."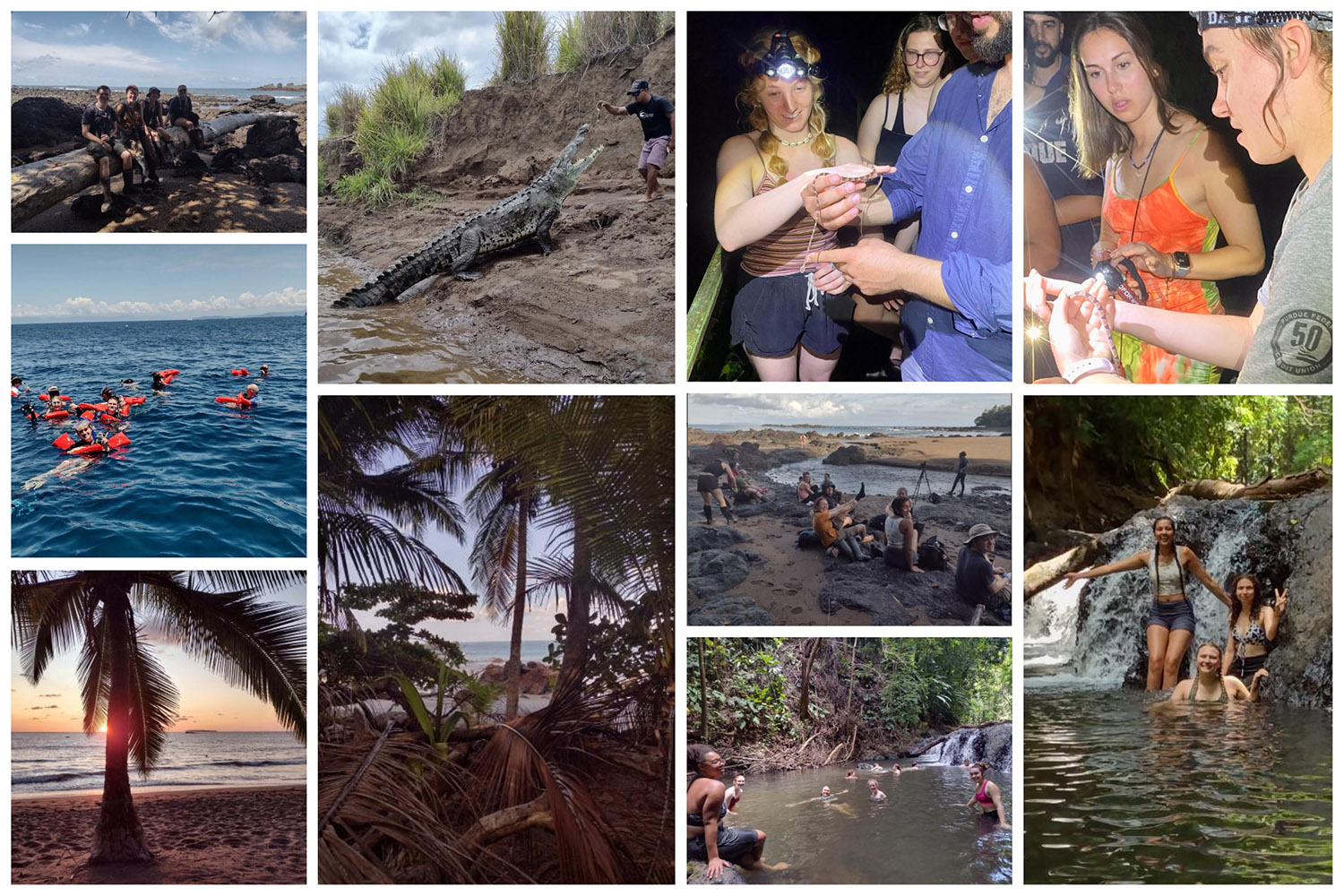 Goforth took his first trip to Costa Rica in 2008 and began a field sampling trip in 2009, bringing a small group of students with him to La Sela Biological Station and La Tirimbina Bioreserve to sample streams and collect data for research purposes. By 2011, 10 students were a part of the alternative spring break research trip. In 2012, the Natural History study abroad course was officially born. Carlos Chavarria, who was the Executive Director for La Tirimbina when Goforth first encountered him in 2008 and now plans trips for university and college groups full time, has helped Goforth grow the breadth of the trip by adding more activities and more stops over the years.
"I was very impressed (and excited) by the itinerary he created for us in 2014, as it included both the Caribbean slope rainforests as well as dry forests and rock reefs on the Pacific coast," Goforth recalls. "At approximately 19,000 square miles, Costa Rica is similar in area to the state of West Virginia and 3,000 square miles smaller than Lake Michigan. This means we can cover a lot of the country in our 10-day trips! I immediately accepted the itinerary and also decided to invite Dr. Barny Dunning to join me as a co-instructor. While I have broad familiarity with fishes, reptiles, amphibians, and mammals in Costa Rica, I am not a birder. The exceptional bird diversity of Costa Rica is undeniable, and Barny was an invaluable addition to the trip, allowing our bird species counts to reach more than 250 on many of our trips since. Since 2014, the trip has had 16-19 participants each year, with most years at full capacity and a waiting list."
There has been substantial evolution in the Costa Rica Natural History study abroad trip, which that now offers different sets of destinations in alternating years. There are often students who participate more than once, and this alternating itinerary allows those students to have an even broader exposure to Costa Rican ecosystems and biodiversity.
Between the two itineraries, students can experience the following ecosystems: Caribbean coastline (Cahuita), Caribbean slope rainforest (La Selva Biological Station/La Suerte Biological Station/La Tirimbina Bioreserve), Pacific coastline (Curú Wildlife Reserve/Corcovado National Park), tropical dry forest (Curú Wildlife Reserve), high mountain rainforest (Las Vueltas Lodge), semi-deciduous mid-elevation forest (El Copal), mangrove forest (Rio Tárcoles), rock reefs (Caño Island Biological Reserve/Islas Tortugas), coral reefs (Cahuita), paramo (Cerro de la Muerte), and wetlands (Caño Negro National Wildlife Refuge).
"The range of ecosystems we visited in March 2022 was the widest and most impressive to date," Goforth said. "This, coupled with the outstanding snorkeling and diving at Isla Caño Biological Reserve, including close encounters with Olive Ridley Sea Turtles, made our trip incredibly impactful."
A full photo gallery from the trip is available on Facebook.