Students in Purdue Extension wildlife specialist Jarred Brooke's FNR 465 History And Role Of Hunting In North American Wildlife Conservation course traveled to Lake Village, Ind., to explore the LaSalle Fish and Wildlife Area and helped band wood ducks, gaining knowledge about managing a property for wildlife as well as hands-on experience working with waterfowl.
The LaSalle Fish and Wildlife Area includes 4,511 acres of hardwood forests, cropland and fallow fields, marshes, brush and open water. The property, which is divided by the Kankakee River, is an ideal stopover for migratory birds. The waters on the property contain bluegill, crappie, small and largemouth bass, Northern pike, walleye, rock bass and more, while wildlife found on the property include ducks, geese, woodcock and other shorebirds, turkey, deer, small game species and a plethora of non-game wildlife.
FNR alumni Zack DeYoung (wildlife 2011) and Robert Brinkman (wildlife 2021), who are property manager and assistant property manager at LaSalle respectively, gave students a tour of the area, showcasing how they manage and improve habitat for waterfowl and other wetland wildlife, and led duck banding activities as well.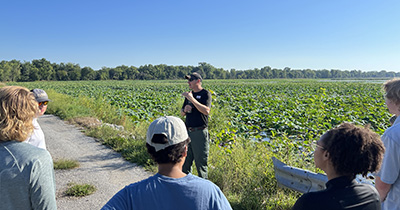 "I hope that students gained an understanding of how fish and wildlife areas operate and are funded and the overall benefit that they provide to both game and non-game species," DeYoung said. "I think the most valuable takeaway is showing them an option for students that want to make a direct impact on habitat across the state on a fairly large scale. It's important to me that students are made aware of the various careers that are available and often overlooked in the wildlife field."
The experience at LaSalle had an impact on the FNR 465 students from both a personal and professional perspective.
"I live near the LaSalle Fish and Wildlife Area when I am not in school, but I never got the chance to visit it," senior wildlife major Tim Radtke said. "Going behind the scenes and seeing the work that the Indiana DNR does around my home for our native wildlife brings me great joy and a definite second visit in the near future!
"I learned that LaSalle is the premier waterfowl management area as it produces a large amount of resting habitat for waterfowl and the most wood ducks in the state with nearly 6,000 – 8,000 wood ducks every year. Along with this, the LaSalle Fish and Wildlife area is a great property for hunters."
The trip allowed Scott Herman, a senior wildlife and aquatic sciences-fisheries double major, to explore his interest in waterfowl ecology on a deeper level.
"Since I went on a goose hunt in northern Illinois as a kid, I have been fascinated with waterfowl ecology," Herman said. "After taking multiple FNR classes, I knew I wanted to pursue a higher degree focused on waterfowl ecology. So being able to handle wood ducks and band them was an experience I will never forget. While banding wood ducks, I was able to gain experience in handling waterfowl and learned how to use plumage and physical characteristics to determine age and sex of an individual."
The duck banding also was a highlight for Radtke.
"My favorite part of the experience was being able to hold, band, and release a wild wood duck; it was truly an experience I will never forget," Radtke said. "I learned that wood ducks are extremely calm, collected, and beautiful animals. Wood ducks are extremely easy to handle along with easy to band. The banding process and bands that are put on these ducks are completely harmless and offer biologists and researchers great data/information on how these ducks travel across the country through the flyways. We were shown the different feathers, eye color, and other traits that separate males from females and juveniles from adults. Learning how ducks are trapped, quickly processed, and released was a very insightful and exciting experience."