The Help the Hellbender team, led by Dr. Rod Williams, professor of wildlife science, has been honored by the Hoosier Outdoor Writers group with its 2022 Bayou Bill Conservation Award.
The annual conservation award is given in memory of the legendary Crothersville, Indiana, outdoor writer Bayou Bill Scifres, who was a founding member of HOW in 1969, and had his outdoors column published in The Indianapolis Star newspaper for 50 years.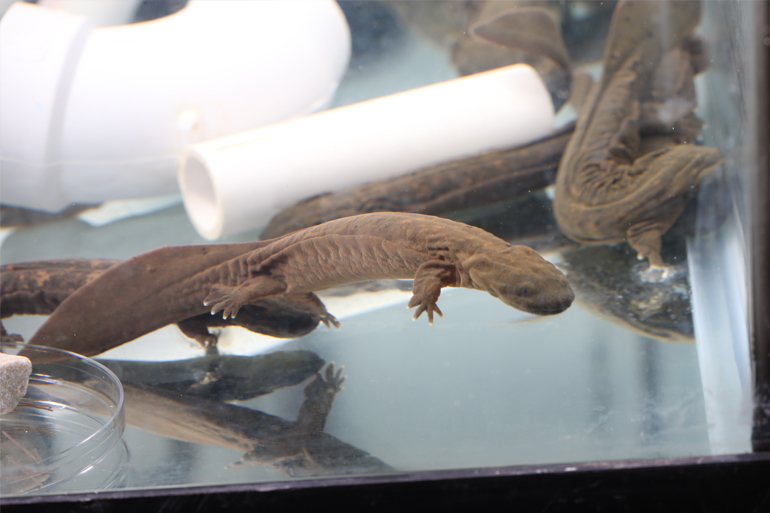 "The Hoosier Outdoor Writers group was introduced to Dr. Rod Williams in 2019 when he came to our annual conference and talked to us about his work with hellbenders and the Help the Hellbenders program," Tom Berg, Executive Director of HOW, explained. "Our members were very interested in learning more about hellbender conservation and restoration, and also about his involvement with captive breeding and propagation efforts across the state. It was interesting to us to hear that Purdue University, the Indiana Department of Natural Resources and other groups were working together on management plans to re-introduce and re-populate hellbenders throughout much of their historical range. This is exactly the type of conservation story that our members like to hear and relate to their audiences. It also aligns very well with our strong belief in the conservation of Indiana's natural resources, so choosing Dr. Williams and the "Help the Hellbenders" program for this award was an easy task."
For much of the last 16 years, Williams and his team have been researching eastern hellbenders, spearheading regional conservation efforts and advancing hellbender captive propagation, or the rearing of this ancient animal in captivity and their eventual return to the wild.

After five years of breeding efforts, Williams' partners at the Mesker Park Zoo in Evansville, Indiana, successfully bred eastern hellbenders naturally in captivity in October 2020, signifying the culmination of a long and collaborative effort to breed the species and restore this endangered species to its native environment.

Williams' hellbender lab is actively collaborating with the Indiana Department of Natural Resources, Indiana Division of Fish and Wildlife and The Nature Conservancy as well as several other partners across 13 states on a number of conservation projects and educational opportunities for teachers and children, farmers and more.
Help the Hellbender Partners
The "Farmers Helping Hellbenders" project, led by Dr. Rod Williams and Purdue Extension wildlife specialist/Help the Hellbender project coordinator Nick Burgmeier, is among the projects set to receive $2.7 million in funding through the Regional Conservation Partnership Program (RCPP) Classic fund, which uses NRCS contracts and easements with producers, landowners and communities in collaboration with project partners.
Farmers Helping Hellbenders Partners
Purdue University; Mesker Park Zoo and Botanic Garden; Fort Wayne Children's Zoo; Indianapolis Zoo; The Nature Conservancy; Cryptobranchid Interest Group; Crawford, Floyd, Harrison and Washington counties Soil and Water Conservation Districts; Crawford County Cattleman's Association; Harrison County Cattleman's Association; Washington County Cattleman's Association; Indiana Department of Environmental Management; Wallace Center at Winrock International. 
"I am truly humbled to receive this award on behalf of all the partners involved with the Help the Hellbender conservation initiative," Williams said. "We express our gratitude to HOW and all our media partners for helping us increase awareness about this unique species, its role in our environment, and conservation efforts undertaken by so many to preserve this living relic."
Eastern hellbenders, the largest salamanders in North America, breathe through capillaries near the surface of their skin, absorbing oxygen directly from the water. This requires high quality streams and the species has struggled to survive after decades of declining water quality and habitat degradation. Because of these factors, hellbenders are often seen as canaries in the coal mine (or salamanders in the stream as it were) when it comes to water quality.
The eastern hellbender (Cryptobranchus alleganiensis alleganiensis) is a large, fully aquatic salamander, nicknamed the snot otter, water dog, devil dog, Allegheny alligator and water eel among other things.

Characterized by flat bodies and heads, slimy blotchy brown skin with folds along the sides that are often said to resemble lasagna noodles, and long tails, eastern hellbenders live in shallow, fast-flowing, cool, rocky rivers and streams across the United States from New York to Georgia and as far west as Missouri and Arkansas. At maturity, the species can measure approximately two feet long.
For more information on the eastern hellbender, visit the Help the Hellbender website.
The Hoosier Outdoor Writers group is a group of dedicated media professionals who are keenly interested in the wide use of natural resources in the Hoosier State. The group aims to give the profession of outdoor writing greater recognition and understanding, to encourage and enforce high standards of professional ethics, to strive for truth, accuracy, clarity and completeness in the dissemination of outdoor information, and to help friends and fight the foes of wisely conserved Indiana resources.