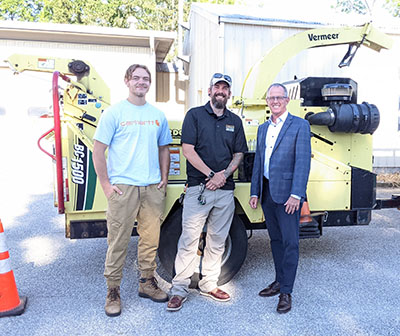 Purdue Forestry and Natural Resources has added a chipper to its list of machinery available for students to utilize and gain hands on experience with in class and in the field.
The chipper, an 2019 Vermeer BC 1500, is a donation from Bartlett Tree Experts, and will be used by urban forestry extension specialist Ben McCallister as well as students in the urban forestry program and in the Purdue Student Society of Arboriculture (PSSA). The chipper features a 2-inch bottom feed stop bar, which creates a safer work environment that is ideal for those new to working around heavy equipment. It also has a cutting system that can take up to 15-inch diameter pieces of wood and comes with a winch that will help with managing large/heavy loads. 
"This is an amazing gift to FNR and PSSA," said McCallister, a 2018 forestry and 2021 master's degree alumnus. "It allows students to get hands on experience with heavy equipment in FNR 444 - Arboriculture Practices and in the Purdue Student Society of Arboriculture (PSSA).  One of the key experiences for club members is the annual trip to the Tree Care Industry Expo in November. Students travel to the conference for learning sessions with industry leaders, access to an amazing trade show, and a career fair. To help pay for this PSSA works on tree care jobs around the community. From pruning to tree removal jobs, having a chipper, like the one donated by Bartlett Tree Experts, will help students to safely and quickly finish work to help fund our Expo trip and also train them to be better prepared for internships and jobs after graduation." 
The purpose of PSSA is to advance the science, technology, education, and practice of urban forestry,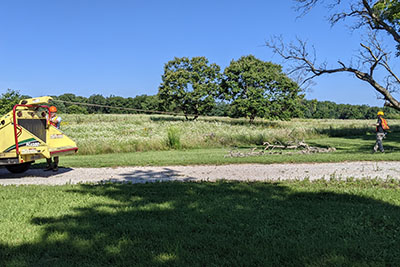 arboriculture, and related fields and to use the knowledge and skill of the profession to benefit the members and society. McCallister acts as the organization's faculty advisor, while Forest Summerfield is the 2023-24 president.
""This chipper present the opportunity for PSSA to resume doing jobs in the Lafayette area," Summerfield said. "These jobs are what allow the club to provide hands-on work experience for its members and fund all of our activities. I can't state enough how thankful the club is to Bartlett for their generous donation to FNR and how helpful it is for PSSA to have access to the equipment."
The chipper was handed off from Bartlett to Purdue FNR on Monday, July 31 at Richard G. Lugar Forestry Farm.
Bartlett was represented by vice president of the Midwest Division Scott Jamieson (Forestry 1984), arborist representative Sean Rock (Forestry 2009), climber Zach Nemeth (Forestry 2022), and plant health care specialist Kyle Armstrong.
"Bartlett Tree Experts, and specifically our CEO Robert Bartlett, believes strongly in supporting schools like Purdue that put an emphasis on arboriculture and urban forestry," Jamieson said. "We believe this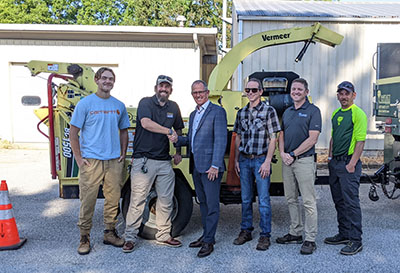 profession benefits the world and a world class university like Purdue prepares students for this rewarding profession in tree care. We are fortunate to have nine Purdue graduates in our Indianapolis office! We will continue to do all we can to support Purdue's Forestry and Natural Resources Department." 
Alongside McCallister and Summerfield, FNR was represented by farm manager Brian Beheler; Dr. Elizabeth Flaherty, professor of wildlife ecology and habitat management and associate head of FNR; and Liz Jackson, executive director of The Walnut Council and the Indiana Forestry and Woodland Owners Association (IFWOA) and engagement lead for the Hardwood Tree Improvement and Regeneration Center (HTIRC).
Kelly Delp, senior director of development for the College of Agriculture, also was in attendance representing both the college and the Purdue for Life Foundation.