Receive our monthly newsletter with farm management program and resource updates. View our latest email.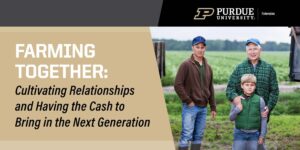 Where do you begin if you're looking to transfer your farm to the next generation? Before starting with a legal entity, it's important to come together and establish common goals and a direction for where you picture your operation moving in the future. Our Farming Together workshop will help you begin discussions to lead you to a successful transition.
The Purdue University Center for Commercial Agriculture will present a Learning Center Session on Thursday, March 9 entitled Financial and Risk Management Strategies for 2023, at Commodity Classic in Orlando, Florida.