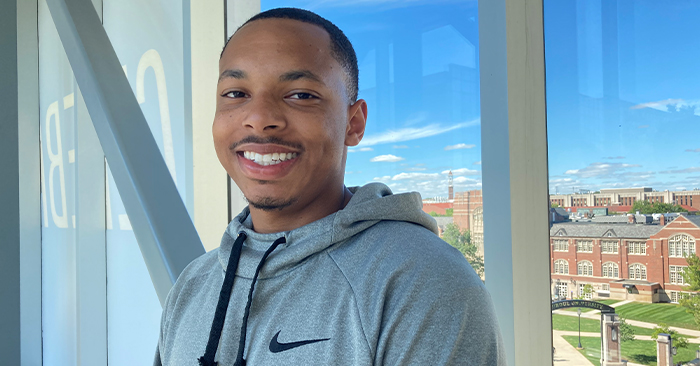 capitalizING on opportunities to interact with professionals across agriCULTURE
"The legacy of agriculture at Purdue has inspired me to follow in the footsteps of alumni who have played pivotal roles in the agricultural industry." - Alex Robinson, MS Student, Agricultural Economics
Written by: Jemima Baributsa
Coming from a non-traditional Ag background, Alex Robinson (Indianapolis, IN) became enamored with Purdue's agricultural programs after attending the Purdue's (Hoosier) Agribusiness Science Academy Summer Institute in 2012. The institute offers high school students real-life STEM experiences and introduces them to college life.
For Alex, the camp was an introduction to both agriculture and Purdue, and those memories eventually led him to return to the university for a master's degree in agricultural economics.
"The legacy of agriculture at Purdue has inspired me to follow in the footsteps of alumni who have played pivotal roles in the agricultural industry," said Alex.
Now at Purdue, Alex's research focuses on lending and buying preferences. His thesis covers which factors have the largest impact on the way farmers finance their operation, specifically capital and expendable goods. These financing options can be commercial banks, farm credit services, or other lending institutions. Alex is striving to learn how he can best assist farmers, ranchers, and other agriculture stakeholders. This area of research is especially important to him because he hopes to one day operate his own farm.
Alex's work and research has also given him the opportunity to work with the Purdue Center for Food and Agricultural Business, further expanding his agriculture knowledge by writing blogs and quarterly review articles on lending, branding, and farmers market topics.
Since his freshman year of college, Alex has been an active member of MANNRS, which has continued to open the door to several internships and scholarship opportunities even as a graduate student at Purdue. For example, earlier this year, Alex attended the MANNRS-NASDA Ag Policy Summit in Washington, D.C., allowing him to utilize his knowledge from past classes and internships to solve real-world problems.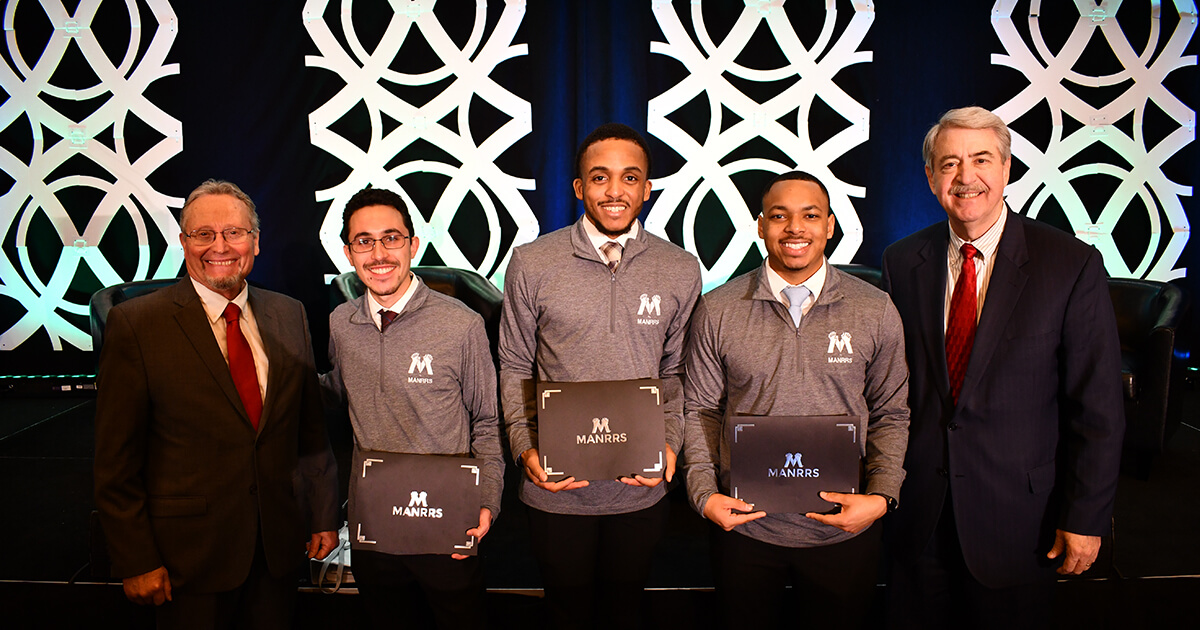 Three Purdue graduate students participated in the third annual MANRRS NASDA Agriculture Policy Summit in Washington, D.C. Pictured above left to right: Richard A. Ball (NSDA President; Commissioner - New York State Department of Agriculture and Markets), Xavier Miranda, Crenel Francis Jr., Alexander Robinson, and Ted McKinney (NASDA CEO and Purdue Agricultural Economics Alumnus).
"I truly appreciated the opportunity to network with current agricultural policy professionals and like-minded students during the summit," said Alex.
Alex is now in the final year of his master's work at Purdue and is close to narrowing down his next steps.
"Listening to individuals from various USDA agencies and agribusinesses share stories about their own career path has helped me narrow my potential area of focus," said Alex. "I am currently considering pursuing a career in Ag Policy or a PhD in International Development or Agricultural Communications."