Analytically driven, Hailey Utech is being challenged to look at data differently
"Coming to Purdue, I never expected to be challenged on an intellectual and critical thinking basis. Dr. Tolhurst taught us how to look at policy implications from the traditional view while encouraging us to think beyond the theory and explore how the theory would change in real life situations." - Hailey Utech
Since taking an introductory course in high-school, Hailey Utech (Shawnee, Kansas) knew she was interested in economics; but it took a lightbulb moment for her to realize it would become her passion. It happened while she was attending Kansas State University, majoring in agricultural economics with a specialty in pre-veterinary science.
"Ever since I was a child, I wanted to be a veterinarian," said Hailey. "However, I became fascinated with analyzing data, specifically consumer behavior and the decision-making process." 
Soon after Hailey would change her specialty from pre-veterinary science to quantitative economics and eventually decide to pursue graduate school.
"During my undergrad, it seemed like every class I was in, Purdue came up - whether it was a professor that attended Purdue or research being done in Purdue's Agricultural Economics department," said Hailey. "When the time came to make my decision about which graduate school to attend, Purdue stood out beyond the rest when it came to academic and research opportunities. After an impromptu campus visit with my mom, and the Purdue professors and staff being so helpful and welcoming, the decision was obvious."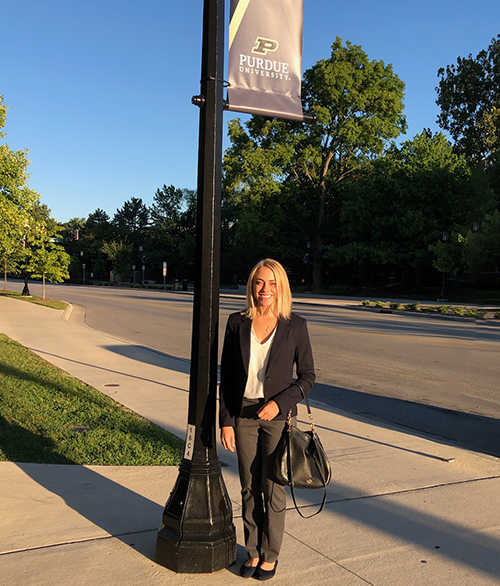 Hailey is now entering her second year in the master's program and has benefitted from her work with professors in the department. She is currently a graduate research assistant for Dr. Allan Gray in the Center for Food and Agricultural Business and works on the center's Large Commercial Producer Survey, which will be the basis for her thesis.
"Being Dr. Gray's research assistant has provided me the chance to work on projects with different companies and expand my knowledge using different statistical software. He pushes me to think deeper and from a different standpoint when analyzing data."
In Fall 2020, Hailey took Agricultural Policy (AGEC 640) with Dr. Tor Tolhurst. "I thought this class would be very interesting and would broaden my knowledge about policy, but I never expected to be challenged on an intellectual and critical thinking basis. Dr. Tolhurst taught us how to look at policy implications from the traditional view while encouraging us to think beyond the theory and explore how the theory would change in real life situations."
Moving forward, Hailey is preparing to write her thesis and looks forward to working with her committee, led by Dr. Gray, saying she's excited to be challenged to think deeper about her research question.