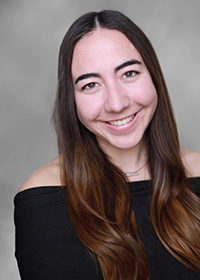 A determined Boilermaker establishing roots in the agricultural industry
Cat Dunasky   
Hometown: Carmel, Indiana  
Major & Concentration: Agricultural Sales and Marketing  
Minors or Certificates: Spanish for the professions, Industrial Selling Certificate 
Why did you come to Purdue: At the time, I was unsure about pursuing a major in Agriculture but I knew that Purdue would be the place to figure it out. I'm glad I made the decision to be a Boilermaker! The College of Agriculture has supported me through my journey and has made me confident in career I've chosen.  
Favorite Purdue tradition: Going to Harry's for everyone's 21st birthday.  
Top three influences at Purdue:  
Being surrounded by so many great friends 

 

AGEC advising department 

 

BGR

 
Top five memories of your time at Purdue: 
(In no particular order) 
Sitting in the front row at the Michigan State Football game and rushing the field after we won. 

 
Bid day with Tri Delta. It was so much fun meeting everyone and feeling like I found so many new friends. 

 
Fall 2021 CoA Career Fair. I felt like I was on top of the world from how well my conversations went with some of the recruiters. I ended up getting an internship with Corteva Agriscience and was feeling so accomplished for achieving my goal of interning with my dream company. 

 
Sledding down Slater Hill with whatever we could use as sleds and doing it with all of my closest friends. 

 
Last but certainly not least - studying abroad in Italy!!!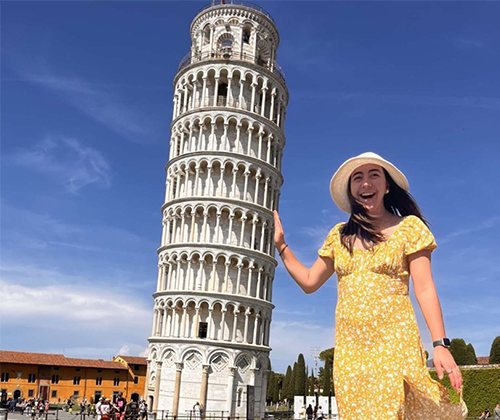 Places you have been as a Purdue student:  
Spent two weeks studying abroad in Italy with the CoA 

 

West-Central Illinois, Iowa and Missouri for my internship with Corteva Agriscience. 

 

North-West Indiana as an intern for Pence Group. 
Favorite club/organization: Purdue Women's Volleyball Club 
Favorite Student-led event/initiative: Ag week 
Favorite Purdue event:  Basketball Games in Mackey  
Favorite Social Activity: Ice cream social on AGAD lawn  
Favorite place to study: Union basement  
Favorite spot on campus: Front row seats of Ross Ade Stadium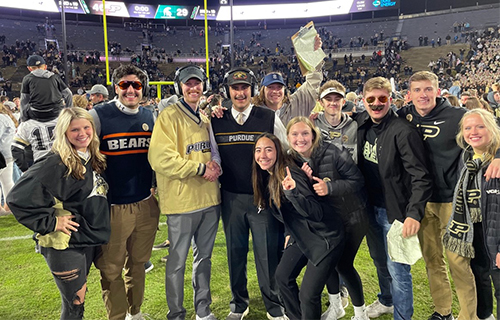 Favorite thing about CoA: Everyone's willingness to help and support me throughout my time at Purdue. Whether that be peers, professors, advisors or faculty, there is always someone in your corner who is rooting for you to succeed. I especially appreciate the AGEC advising department, it doesn't matter who your advisor is, there is always someone who is willing to listen and support you.  
Favorite thing about your major: I appreciate the fact that my major can be applied anywhere, whether that be within the Agricultural Industry or outside of it. There are a lot of opportunities and I enjoy knowing that there is flexibility on how I apply my major with my career.  
Favorite class: AGEC 331 – Principles of Selling in Agricultural Business  
Favorite professor: Dr. Tor Tolhurst  
Coolest project: I really enjoyed organizing the Dairy Club's holiday cheese basket sale! The behind-the-scenes process was difficult, but I was proud of the result and how well everything came together in the end.   
Three biggest accomplishments: 
AGEC 331 Teaching Assistant for the Principles of Selling Class, taught by Dr. Downey and Amy Cochran 

 

Earning an internship position with one of the top leaders in the Agriculture Industry - Corteva Agriscience 

 

Ag Ambassador 

 
Things on your resume not listed above:  
Served as the Team Captain on the Purdue Women's Volleyball Team (Spring 2022)

 
Dairy Club Fundraising Director (2021-2022)

 
Accepted employment: Associate Territory Manager at Corteva Agriscience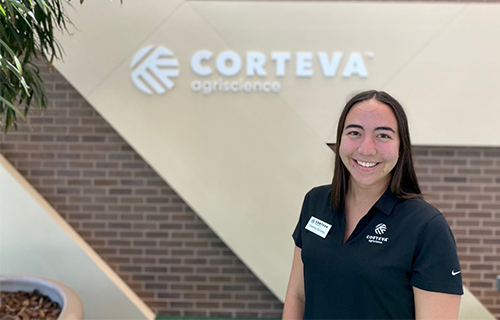 Where do you want to end up: After I graduate, I am hoping to become a Territory Manager within an Agricultural company.   
Advice for underclassman: No matter what the opportunity may be, always say yes! Whether it be a study abroad, joining a new club or meeting new friends, you never know what could come of a new experience.  
Biggest takeaway from Purdue:  
I have found close friends from places where I would not have expected. I've become close with students from my classes, clubs, study abroad, and other experiences. You can find a friend anywhere, and the skills to make fast friends are very valuable.