Stepping off the farm and into new roles as a young professional pursuing opportunities at Purdue, and beyond
Claire Davis 
Hometown: Reynolds, IN 
Major & Concentration: Agribusiness Management 
Minors or Certificates: Minor in Animal Science, Certificate in Entrepreneurship 
Why did you come to Purdue: It only made sense. With agriculture as my passion and a great agriculture school right down the road, I knew my new home would be on this campus! 
Favorite Purdue tradition: Den Pop Fridays! 
Top three influences at Purdue: 
Purdue's hidden gem, the cooperative community and Shoemaker Cooperative!

 

Study Abroad in Italy and the amazing group of new found friends I had the opportunity to experience it with!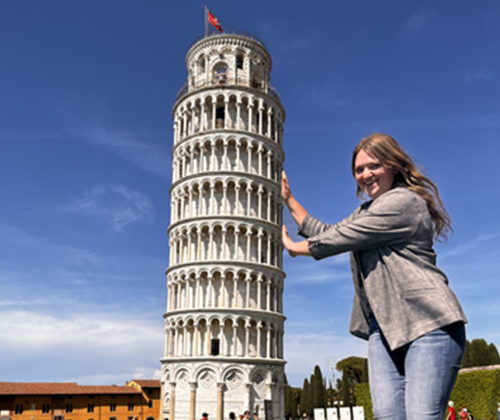 My advisor, Jo and all of the AgEcon department for making Purdue feel like home and helping me make the most of my college experience.

 
Top five memories of your time at Purdue: 
Moving into Shoemaker Cooperative my sophomore year and doing all my classes online from the futon with my best friends

 

Purdue football games and tailgating

 

Ag business learning community/AGEC 296 with Ryan Musselman my freshman year, getting to tour Ag businesses and build relationships

 

Traveling to Italy for a study abroad trip

 

Spontaneous trips and adventures with my Shoemaker girls!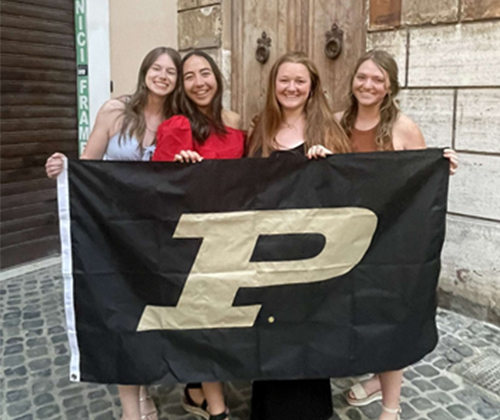 Places you have been as a Purdue student: 
All over Italy on a study abroad trip!

 

Kansas City for AFA Leaders Conference

 

Internship with Purdue Extension White County

 

Internship with Co-Alliance Swine

 
Favorite club/organization: Shoemaker Cooperative and the Cooperative community as a whole 
Favorite Student-led event/initiative: Ag Week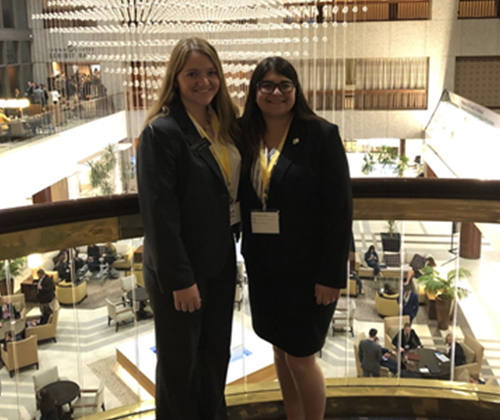 Favorite Purdue event: Football and Volleyball games 
Favorite Social Activity: Cooperative get togethers  
Favorite place to study: Krannert or Grey House 
Favorite spot on campus: Creighton Hall of Animal Science 
Favorite thing about CoA: How inviting and helpful everyone is!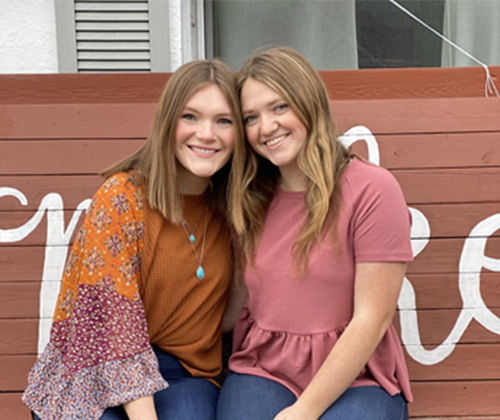 Favorite thing about your major: I appreciate how broad and universal my major is as it provides many opportunities to help feed the world 
Favorite class: AGEC 296 Discovering Agribusiness or ANSC 245 "Pet a cow" 
Favorite professor: Dr. Rod Allrich 
Coolest project: For an ag marketing class, to connect with a small agribusiness and present about their business. 
Three biggest accomplishments: 
The internships and connections I have made while at Purdue

 

Getting involved with Shoemaker and taking on roles and offices within the house

 

Being named Champion at the Indiana State Fair for prepared public speaking, as I talked about the importance of reconnecting producers and consumers in the agriculture industry!

 
Things on your resume not listed above: 
Indiana Pork Young Professionals

 

Agriculture Economics Mentor

 

Agriculture Future of America (AFA) Leaders Conference & Animal Institute

 

Collegiate Farm Bureau

 

Agribusiness Club

 
Where do you want to end up: I am still not sure exactly where I want to end up, but I know I would love to be in my hometown area and work in the agriculture industry. 
Advice for underclassman: While classes are important, it's the combination of those classes with clubs, activities, involvements, and friendships that make the biggest impact on your college career. Do whatever you are interested in and do not think there is one way to do things or one path you have to follow! 
Biggest takeaway from Purdue: My biggest takeaways from Purdue, which took a while to learn, is that it's okay to make your own path. This is one of the best times to grow into who you want to be, don't be scared to take risks and step out of your comfort zone.