Purdue Senior Pursues Passions Which Leads to Opportunities Throughout his Four Years 
Name: Drew Kelham  
Hometown: Fishers, IN 
Major & Concentration: Double Major in Agricultural Economics and Ag Systems Management 
Why did you come to Purdue:  Purdue has one of the best College of Agriculture's in the world and it became my dream to attend Purdue.  I first visited campus during my junior year of high school, I knew Purdue was where I needed to be.  
Favorite Purdue Tradition: Purdue Basketball and Football games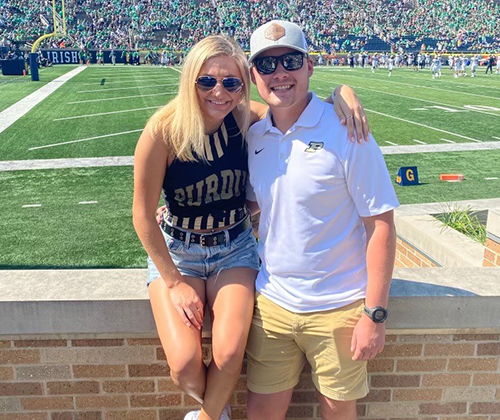 Top Three Influences at Purdue:  
My time spent in FarmHouse Fraternity 

 

Internship opportunities

 

Lifelong friendships I have made at Purdue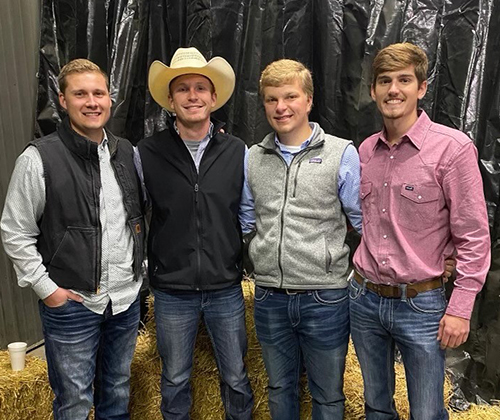 Top Five Memories of your time at Purdue:  
Purdue upsetting Michigan State in Football and storming the field

 

FarmHouse Formal

 

FarmHouse Barn Dance

 

Winning Zeta Tau Alpha's Big Man on Campus

 

Grand Prix Race 64 where I got to be in the track as the Director of Scoring 

 
Places you have been as a Purdue student:  
FarmHouse Leadership Institute in Kansas City

 

Madison Wisconsin for Purdue Basketball game

 

Notre Dame for Purdue Football game

 

Boyne Michigan for FarmHouse Ski Trip

 

traveled between Southern Illinois and Southern Ohio with CGB Internship, 

 

Through Bane-Welker Equipment, I covered a lot of Indiana and Ohio 

 
Favorite Club/Organization: FarmHouse Fraternity  
Favorite Student-led event/initiative: Ag Week and Big Man on Campus Philanthropy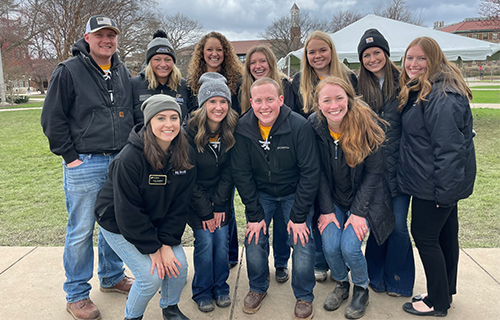 Favorite Purdue Event: Purdue Basketball Games 
Favorite Social Activity: Tailgating before football games  
Favorite Place to Study: Ag and Biological Engineering Building (ABE) 
Favorite Spot on Campus: Mackey Arena  
Favorite thing about CoA: There are a lot of people in the College of Ag, but it becomes a very small community.  Everyone in the CoA comes together to work on awesome projects to make a difference on campus, in the community, and around the world.  
Favorite thing about your major: As a double major I get to see a lot of different areas in Ag.  I really like that I can learn a lot about the business and economics side of agriculture while also learning a lot about the technology side of agriculture.  
Favorite Class: AGEC 331  
Favorite Professor: Dr. Stan Harlow 
Coolest Project: Every year Zeta Tau Alpha puts on an event called Big Man on Campus which raises money for Breast Cancer. In the 2021-2022 school year, FarmHouse raised $20,000 for the event.  This allowed us to win the event, which was a huge accomplishment!  Although this wasn't a school project, this project had a huge impact on Breast Cancer Awareness.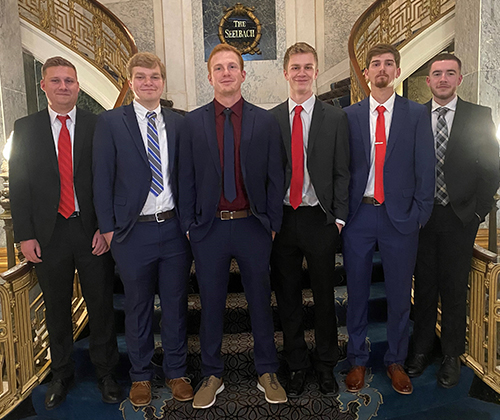 Three Biggest accomplishments:  
Being elected President of the Purdue FarmHouse Chapter 

 

Getting an Internship with Bane-Welker Equipment 2 years

 

Serving as the Co-Director of Events on the Ag Week Task Force for 2 years

 
Things on your resume not listed above:  
Operations Management Intern for Consolidated Grain and Barge

 

Director of Scoring for Grand Prix

 

Director of Recruitment and Director of Alumni Relations for FarmHouse Fraternity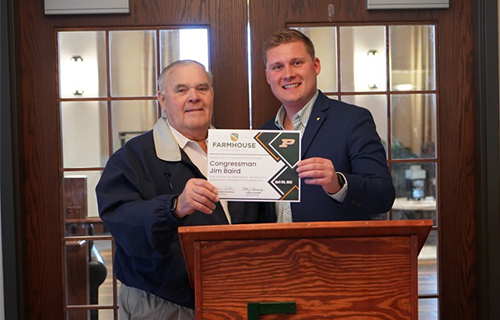 Where do you want to end up: As of right now I want to work in the agricultural equipment industry selling equipment.  My last two years of internships with Bane-Welker have allowed me to realize that's what I want to do for a career.  This job so far has allowed me to make a positive impact on agriculture through assisting farmers.  
Accepted Employment? Equipment Salesman for Bane-Welker located in Plymouth, IN.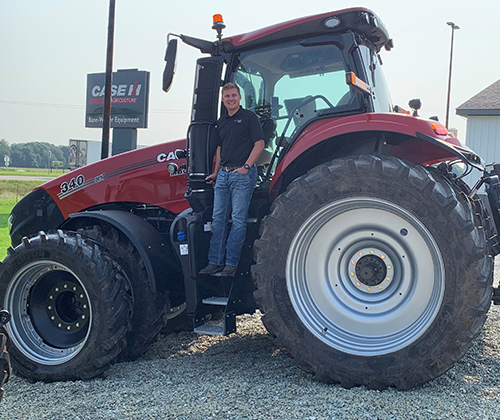 Advice for underclassmen: Get involved on campus as soon as you possibly can.  Although it can be difficult, this will allow you to make connections that will help you academically, professionally, and socially.  Study hard but make sure that you are involved, because being involved will make you well-rounded.  
Biggest takeaway from Purdue: Purdue has given me more opportunities than I could've ever imagined, and I have been blessed to meet so many amazing people along the way.  Many of the people that are closest to me are ones that I met at Purdue.  Always push yourself to be a better version of you, and you may never know where that will lead you.