AgEcon Senior Pursues Passions in Agrimarketing, Wrestling and Campus Traditions
Hayden Lohrey 
Hometown: Middletown, IN 
Major & Concentration: Agribusiness, AgriMarketing 
Minors or Certificates: NRES 
Why did you come to Purdue: I was drawn to Purdue, because it seemed like this school was always ahead of other schools in almost every aspect, and the atmosphere that is created by the people and campus are amazing. 
Favorite Purdue tradition: Shaking the car keys at football games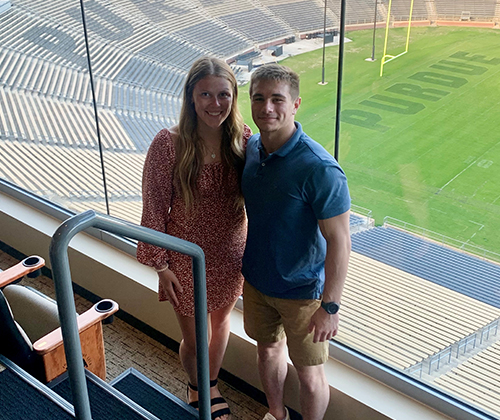 Top five memories of your time at Purdue: 
Beating Minnesota at home in Holloway.

 

Having my first BIG 10 win against a ranked opponent in Holloway.

 

 Running Rossade Stadium about every Friday morning in the off season.

 

 Going to Harry's for the first time.

 

 Beating IU at IU.

 
Places you have been as a Purdue student: Wrestling at the BIG 10 championships was by far the coolest moment of my wrestling career. 
Favorite club/organization: PUDM 
Favorite Purdue event: Any wrestling meet 
Favorite Social Activity: Dance Marathon 
Favorite place to study: RAWLS 
Favorite spot on campus: Mackey Arena  
Favorite thing about CoA: Given me so many options to succeed. 
Favorite thing about your major: I get the opportunity to work and learn about things I enjoy. 
Favorite class: Chem 111 & 112 
Favorite professor: Mrs. Townes 
Things on your resume not listed above: Student Athlete - Wrestling 
Where do you want to end up: I would like to become a Hospital Corpsman in the Navy and end up as a Nurse. 
Advice for underclassman: Have fun, work hard and don't be afraid to explore everything Purdue has to offer.  
Biggest takeaway from Purdue: Looking back I would never choose anywhere else but Purdue. I had a great experience on the wrestling team and I've had a pretty good time in the classroom. Through both of those things I don't think I can remember having a coach or professor not providing me with everything I needed to succeed and more.