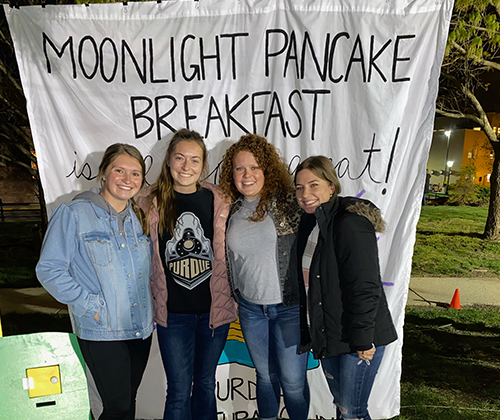 Took advantage of different areas in campus life to invest in lifelong friendships, building leadership skills, and making connections! 
Name: Marlea Myers 
Hometown: Akron, IN 
Major & Concentration: Agribusiness Management 
Minors or Certificates: Horticulture 
Why did you come to Purdue: My parents and both of my sisters attended Purdue and I had always heard great things about the College of Ag. 
Top three influences at Purdue: 
Glenwood Cooperative 
Advisor (Andy Oppy) 
Professors 
Top five memories of your time at Purdue: 
Living in Glenwood Cooperative 
Football games and tailgates 
Basketball games 
Cooperative socials 
Grand Prix 
Places you have been as a Purdue student: Ceres Solutions  
Favorite club/organization: Glenwood Cooperative 
Favorite Student-led event/initiative: Ag Week 
Favorite Purdue event: Basketball games in Mackey 
Favorite Social Activity: Hanging out with friends 
Favorite place to study: First floor of Krannert  
Favorite spot on campus: Horticulture Garden 
Favorite thing about CoA: The close-knit community of students and professors! 
Favorite thing about your major: The wide variety of diverse classes that gives the opportunity to learn about many aspects of the agriculture industry. 
Favorite class: Hort 270 
Favorite professor: Mary Lou Hayden 
Three biggest accomplishments:  
Interning with Ceres Solutions 
Vice President of Glenwood Cooperative 
New Member Educator at Glenwood 
Things on your resume not listed above: 
Mentor for the College of Agriculture  
Where do you want to end up: working within the industry near my hometown  
Advice for underclassman: Get involved!! Don't be afraid to step out of your comfort zone to try new things or make new friends! 
Biggest takeaway from Purdue: Memories and friendships made that will last a lifetime!