First Generation Boilermaker found her place at Purdue and in the world 
Sarah Tucker 
Hometown: Mentone, Indiana 
Major & Concentration: Agricultural Economics, Commodity Marketing Concentration 
Minors or Certificates: Farm Management, Political Science, and History Minors  
Why did you come to Purdue: I came to Purdue because of the outstanding agriculture program and an amazing first visit as a high schooler.  
Favorite Purdue tradition: Singing "Hail Purdue" at every sporting event 
Top three influences at Purdue:  
College of Agriculture 

 

AGEC Advisors

 

Friends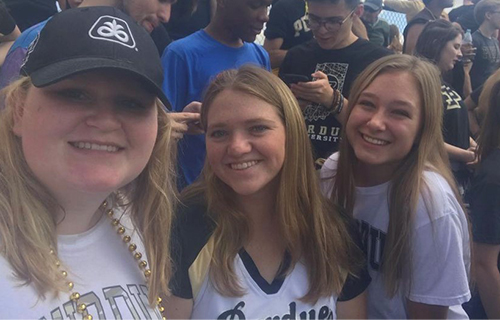 Top five memories of your time at Purdue:  
Football and Basketball games with my friends 

 

Spending a semester in Dublin, Ireland at University College Dublin studying and traveling

 

Meeting some of my closest friends 

 

 Serving as an Ag Ambassador and meeting so many prospective students

 

Being in AGEC 296 and the learning community my freshman year

 
Places you have been as a Purdue student:  
Dublin, Ireland for semester abroad

 

Internships in Toledo, Ohio with ADM and Amarillo, Texas with Cargill 

 
Favorite club/organization: Ag Ambassadors 
Favorite Student-led event/initiative: Moonlight Pancake Breakfast  
Favorite Purdue event: Purdue Boys Basketball games  
Favorite Social Activity: AGAD lawn events  
Favorite place to study: Hicks Underground Library  
Favorite spot on campus: Ag Mall  
Favorite thing about CoA: The college of Agriculture gives off a feeling of a small community where you can meet everyone and create valuable relationships even at a large university. I also think the career fair hosted by the College of Agriculture is an amazing opportunity for students.  
Favorite thing about your major: This major let me fully explore my interest in agriculture by taking a wide range of classes, which ultimately helped me decide on the commodity merchandising pathway I want to pursue after graduation.   
Favorite class: POL 231 
Favorite professor: David Atkinson  
Coolest project: Hunger project in AGR 201 
Three biggest accomplishments:  
Getting Internships with ADM and Cargill 

 

Dean's List and Semester Honors every semester

 

Being an Ambassador for the College of Agriculture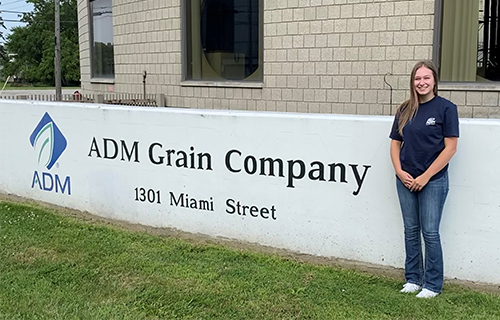 Where do you want to end up: I would like to end up in a long career doing something I am passionate about and enjoy.   
Advice for underclassman: Be willing to take every opportunity you can, because you never know what could come of trying something new.  
Biggest takeaway from Purdue: Stepping outside of my comfort zone and chasing exciting goals made my college experience amazing. Living in new places outside of Indiana was something I am not sure I would have done if I had not come to Purdue and met people who encouraged me to pursue some pretty cool opportunities that ultimately changed my life. Purdue will always be a special place full of amazing memories that I will always cherish.