BOILERMAKER FINDS SUCCESS ON THE HILL
Name: Abby Meier  
Hometown: Elizabethtown, IN  
Majors and Concentrations: Agribusiness/Agri-Marketing 
Why did you come to Purdue: I chose to attend Purdue University because I am a third-generation boilermaker! Also, I was inspired by all the amazing opportunities the College of Agriculture provides their students.  
Favorite Purdue tradition: My favorite Purdue Tradition is the "world's largest drum" and listening to the All-American Marching Band at athletic events!  
Top three Influences at Purdue:  
 Andy Oppy

Dr. Foster

Rising Professionals. 
Top five memories of your time at Purdue: 
The 2021 Moon Light Pancake Breakfast - it was the first in-person event that I got to

attend as a member of Ag Council. 

The men's 2021/2022 basketball team beating IU in Mackey Arena. 

Hanging out with the Rising Professionals until 3:00 AM after the 2023 Program was

over! 

Interviewing fellow students and professors about their passions for the Ag Econ

Podcast with Dr. Foster and Dr. Kilders. 

Being a member of the Paint Crew and sitting in the lower bowl as many times as

possible with my best friends! 
Places you have been as a Purdue student: 
Portland, Oregon to Orlando, Florida for educational conferences with organizations such as Agriculture Future of America, Mid-America CropLife Association, and the Ag Voices of the Future Program with the American Soybean Association and Valent USA. 

Ireland for a Study Abroad with the College of Agriculture. 

Internships in Washington D.C. as an Agriculture Policy Intern for the United States House of Representatives and as a Government Relations Intern for the Corn Refiners Association.

 
Favorite club/organization at Purdue: Purdue Rising Professionals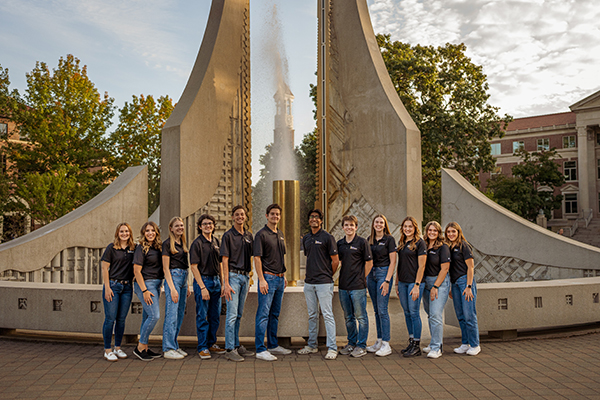 Favorite student-led event/initiative: Purdue Ag Week  
Favorite Purdue event: Sitting in the Paint Crew during basketball games in Mackey Arena  
Favorite place on campus: Memorial Mall 
Favorite place to study: Union  
Favorite thing about the College of Ag: My favorite thing about the College of Ag at Purdue are the friendships and all of the unique opportunities there are to get involved.

Favorite class: Applied Econometrics or International Human Rights 
Favorite professors: Dr. Schweitzer and Dr. Delgado. 
Three biggest accomplishments at Purdue: 
Being named the outstanding Sophomore and Junior for the Department of

Agriculture Economics.

Being able to graduate debt free because of how hard I worked to get scholarships. 

Being selected as a member of Mortar Board.
Something about you that is not listed on your resume: My family raised Boer Goats which gave my sisters and I the opportunity to show them for 4-H, the State Fair, and many open shows. Getting to show Boer Goats with my sisters are some of my favorite memories growing up! 
Future Plans: I have not accepted a full-time position yet, but I hope to return to Washington D.C. after I graduate!  
Advice for lower classmen:  My advice for lower classmen is to get involved in clubs or organizations outside of your major! Participating in clubs like Rising Professionals and Boiler Gold Rush allowed me to expand my network and make new friends that I would not have met otherwise.
Biggest takeaway from Purdue: My biggest takeaway from Purdue is to not let rejection stop you from getting involved! Purdue has shown me that it is okay to not get every opportunity that you apply for because in the end you will get involved in the activities/experiences that you are supposed to. Do not let rejection discourage you from all the other amazing experiences that Purdue has to offer.