Finding Faith and Exploration!
Name:  Andrew Murray 
Hometown: Fort Wayne, Indiana 
Majors/Minors/Certificates: Major Agribusiness Management, Minor Crop production systems, Certificate Entrepreneurship  
Why did you come to Purdue? I chose Purdue because of the school's high gold standard reputation in agriculture and proximity to home. I also knew if I put on the black and old gold, I would come home with essential skills and connections to grow my family's generational agribusiness further into the future. 
Favorite Purdue tradition:  My favorite Purdue tradition is the Fountain Run 
Top three influences at Purdue:    
My faith and Bible study groups (Riverside, FH, and Cru)

 

Being a member of the FarmHouse Fraternity

 

Professors and advisors

 
Top memories of your time at Purdue: 
My first memory that has forever changed me was getting Baptized in the Wabash River

 

I will also always remember learning how to salsa dance deep in the Pyrenees Mountains, France, during my study abroad 

 

Another fun memory I won't forget was taking the 2023 fall semester foreign exchange student to the family lake house during Labor Day to experience lake life and all its traditions 
Places you have been as a Purdue Student: As a Purdue student, I have been able to indulge in my passion for exploration with internships with AG retailers outside of Indiana. Then, my favorite adventure was studying abroad in France for a long-term summer. During that summer, I worked in a vineyard, made my wine in Blaye, France, and learned about differences in French agriculture in Toulouse. I had weekend field trips to Barcelona, Spain, the Pyrenees mountains, and visited many castles and historical destinations!  
Favorite club/organization: My favorite club/organization on campus would be promoting study abroad as an ambassador and being a youth group leader at Riverside Covenant Church.  
Favorite student-led event/initiative: My favorite student-led event is the Grand Prix. 
Favorite Purdue event: My favorite Purdue event is attending Purdue football games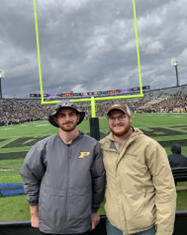 Favorite place on campus/Favorite place to study: My favorite place on campus is Horticulture Park during the fall or spring, and my favorite place to study is Stewart Library.  
Favorite thing about the College of Ag: My favorite thing about the College of Ag is that this college has a separate study abroad department from the rest of Purdue, which allows for more unique and different opportunities to learn overseas. 
Favorite class: Botany 110, taught by Professor Bob Pruitt, introduced me to my fascination with plants. 
Favorite teacher: All the professors in agronomy are top-notch! I enjoy having Lee Schweitzer, who brings fun, energy, and community into the classroom. 
Three biggest accomplishments at Purdue: 
Getting Baptized and finding my identity in Christ

 

Participating in Purdue research with Dr. Zhang

 

Participating in and promoting Studying aboard

 
Something about you that is not listed on your resume:  I really enjoy helping and teaching the youth about Christian values 
Future Plans: In the future, I plan to contribute to the family business and help it prosper by attending graduate school to earn my MBA.  
Advice for lower classmen: Time flies by, please be grateful for the little things and take one day at a time. Don't let the future or the past dictate how your present will be. Mathew 5:13 "Be the Salt and Light" 
Biggest takeaway from Purdue: The biggest takeaway I have learned from Purdue is that in life and business, you must control your controllables and limit your limiting factors. School and work are important, but always make time for yourself and friends.