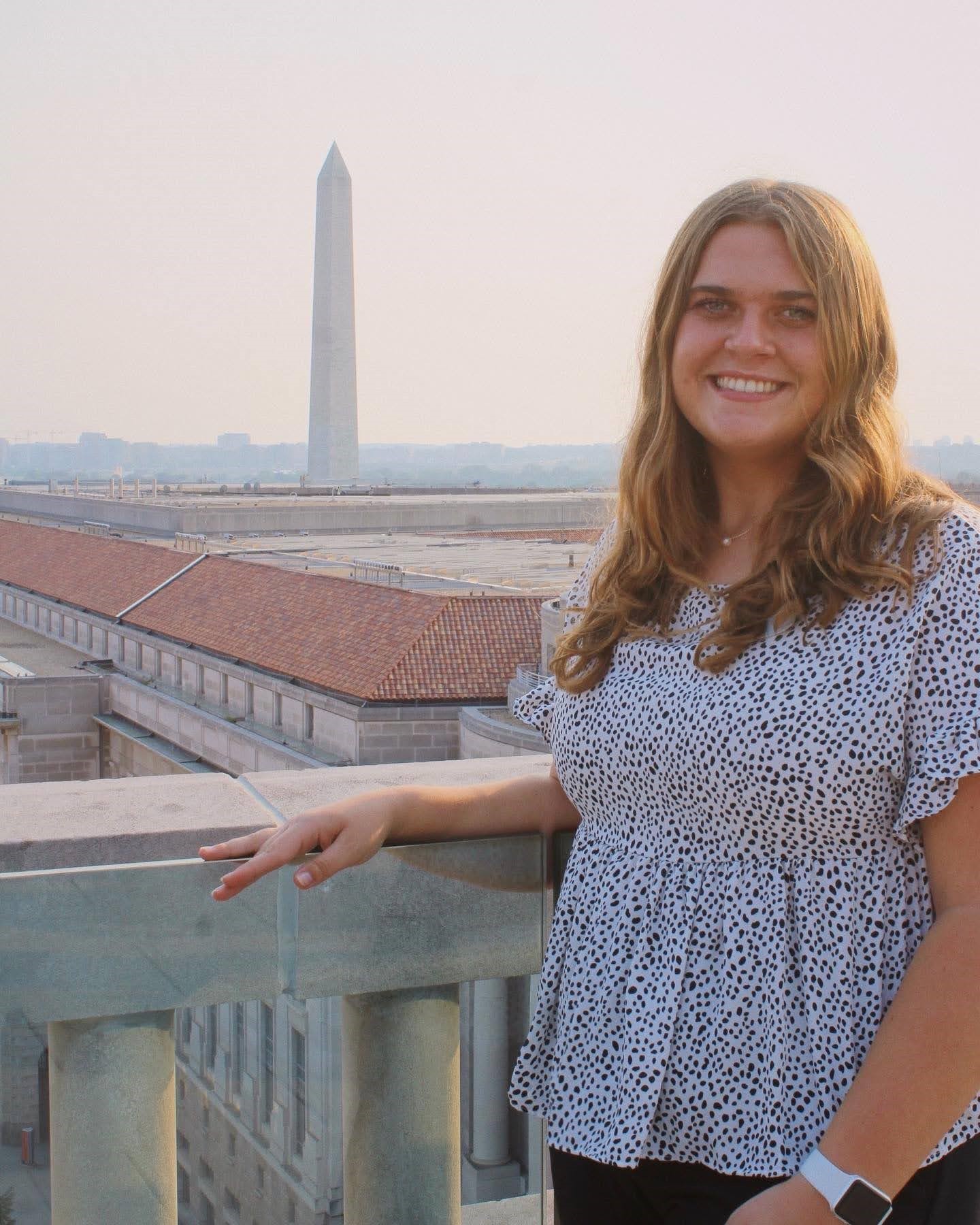 Student gains insight into agricultural policy during DC conference
Written By: Nicolas Kiep
After participating in AFA for two years, Abby Meier (Agri marketing; Elizabethtown, IN) took the advantage of signing up to attend the AFA Policy Institute. She was extremely interested in Agricultural Policy and saw that going to Washington D.C. was the perfect opportunity to meet leaders in the industry and gain more knowledge on the topic.
The AFA Policy Institute took place in Washington D.C. on September 12th through the 14th. Abby says, "the trip was not the longest but it was packed with a lot of activities throughout each day". One of the coolest sessions she attended was the Industry Roundtable where she was able to listen to multiple industry professionals and hear about their experiences in policy and advice they had for students interested in the policy industry. Abby also was able to explore downtown D.C. and had dinner with the group on the rooftop of the National Cattleman's Beef Association. She mentioned how those were two of the most memorable experiences she had but was also very glad she attended because she met people from all around the world that have the same passion as she does in Agricultural Policy.  
Throughout the event there were a lot of topics that were discussed and some of the most entertaining for Abby were the policies behind meat packing plants and livestock auctions since they are extremely affected by Agricultural policies. Sustainability was another interesting topic where the Livestock Marketing Association had a lot of insight on how to make the industry better and more sustainable which was very cool but surprising to see how many issues there are in the meat packing industry in regards to sustainability.  
Abby is thankful for Purdue Agriculture and all of the opportunities they have given her and if it weren't for them she would not have gone to D.C. and participated in the AFA institute or leaders conference. She described these experiences as: " I have been able to grow professionally by interacting with peers all over the world with the same interest in policy, by talking to industry professionals and taking myself out of my comfort zone to travel across the country to participate in events and internships to pursue my interests. She would highly recommend participating in AFA because of the number of opportunities the organization has available to grow as a person and professionally in the industry you are most interested in.