Agriculture Lending Internship Leads to New Perspective on Equine Industry, Future Career Options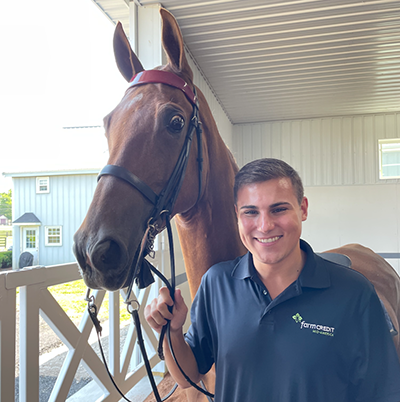 When Grant Sanchez (Agricultural Marketing; New Paris, IN) began his Purdue career, he came up with a list of goals he wanted to achieve before he graduated. One of those goals was to complete an internship that would take him outside of Indiana. This summer, he was able to meet that goal through an internship with Farm Credit Mid-America.  
"I'd always heard great things about Farm Credit Mid-America, and when they told me that I'd be working with equine farm loans in Kentucky, it sounded like an opportunity that would expose me to new things within agriculture and a new area." 
During career fair season, Grant began doing a lot of searching through both Google and the career fair website, along with some other job listing sites. "I simply looked up "agriculture internships" on Google, and Farm Credit Mid-America popped up. I went ahead and applied, and here we are!" 
Upon applying, Grant began the interview process, one he said wasn't too cumbersome. "There were two rounds, one just a general interview with a recruiter, and then a second round with employees that would be directly involved with my internship and summer project. They then called me a day later, offered the internship, and then gave me four locations throughout Kentucky to choose where I wanted to be located for the summer. For training, there are a lot of intern onboarding Webex calls and learning modules to go through, mainly learning about the company and what they have to offer for full-time employees. My supervisor also took me to a lot of equine farms and sat me through a lot of farm loan processes to learn about what he does on a daily basis." 
Upon acceptance and training, Grant began his position as an Ag. Lending Intern in Lexington, Kentucky. For his position, he had two parts to complete in a summer project: to educate underwriters about the equine industry in and around Lexington and then identify lending opportunities within the industry and propose new ideas to penetrate the market better than they currently do. "There is about a billion dollars' worth of market potential in and around Lexington, mainly from equine, so we're trying to figure out if there are any loan rules and regulations that are hindering us from making more loans towards equine farmers." 
Grant's internship has provided plenty of opportunities to grow and learn new skills. When asked to share one interesting thing about his internship, Grant explained, "In Indiana, we're so used to corn, soybeans, and the basic livestock industries, however, one thing I learned during this internship is that the equine industry is a completely different world that you really couldn't begin to understand until you're directly involved. Visiting equine farms that are multi-millions of dollars and seeing their day-to-day operation is something we'd never begin to see in Indiana."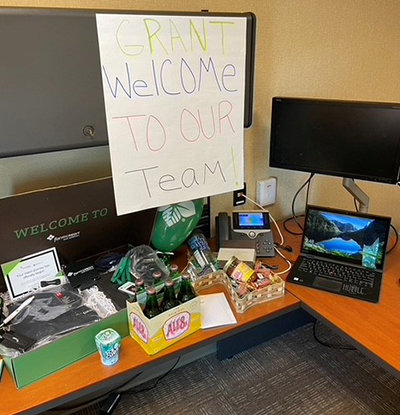 As his internship ends, Grant has many experiences to take with him, but one thing he will always remember was how welcoming everyone was when he moved to Lexington for the summer. "On my first day in the office, I walked in and was instantly greeted by two ladies that worked in the front, who instantly shook my hand, welcomed me, and started an office tour. The last stop on the tour was at my office space, which was decorated with a banner reading "Grant, welcome to our team!" and surrounded by Kentucky-grown food and drink. Moving to a completely new city, not knowing anyone down here, can be tough, but my teammates and FCMA made the move a lot easier and memorable." 
Among the many valuable skills Grant has gained over the summer, perhaps one of the most valuable aspects has been professional development and his future career. "Throughout college, I've completely changed my career path from starting in Agronomy, then to Agriculture Education, and now to Agribusiness Sales and Marketing. This experience has helped me come closer to realized what I want to do post-graduation and what I want to look for in a company, personally and professionally. The experiences I've had this summer were memorable, and I hope to return to the company one day as an employee!"