Rising Junior Makes Connections to Finance, Sales and Marketing through Summer Internship with Farm Credit Mid-America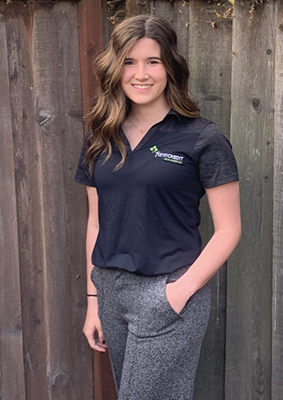 Throughout this past summer, Ashley Porter (Quantitative Analysis; Livermore, CA) has been working with Rural 1st as a Sales Intern out of Lafayette, Indiana. Rural 1st is the consumer loan division of Farm Credit Mid-America. Ashley was introduced to this internship through the Purdue career fair, her interest was piqued by the connection to finance. Because of COVID-19 her internship was hybrid, however, most of her days were spent in the office.  
During her time as an intern, Ashley worked in conjunction with the marketing intern, Zoey Nobbe, to define an influencer strategy from both a sales and marketing perspective. Together, they interviewed 30 loan officers and 21 realtors. "We wanted to learn what worked for our loan officers in their marketplaces as well as what realtors expected from our loan officers. At the end of our 10-week internship, we presented to the executive team and other leaders, on our recommendations."  

Along with working on the project and learning about Rural 1st and a loan officer's position, Ashley was also able to shadow different positions throughout Farm Credit. "I shadowed a Financial Officer, Growing Forward Specialist, Closing specialists, and an underwriter. I was also able to have conversations with many other individuals throughout the company."  
Through her internship, Ashley was able to learn so much about Farm Credit, Rural 1st and herself. "By far my favorite part of the internship was being able to see so many different aspects of the company. The people throughout my experience were all so willing to help and answer all my questions! Overall, my experience was amazing, and I love the company. Professionally, I was able to network and build connections as well as expand my knowledge of what career possibilities are out there!"  
In the future, Ashley will remember this experience fondly. he experience provided me with knowledge about myself and what I will look for in a career. I most of all remember those individuals that were willing to help throughout the time of my internship!"