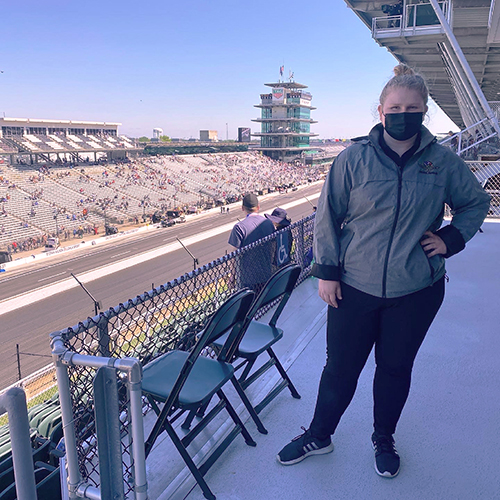 Junior Spends Summer as Intern at the Indianapolis Motor Speedway 
Holly Shaver (Agricultural Marketing; Crawfordsville, IN) spent her summer break interning at the Indianapolis Motor Speedway as a member of their college program. "I worked as a member of the client services team in the Hulman-Terrace Club setting up, transportation, providing information, and making sure our guests have the best overall experience." 
Holly first learned about this internship through a Facebook a mutual friend sent her. "I grew up working within the motorsports industry, as well as, spectating at events which is what drew my interest and caused me to apply."  The interview process consisted of an initial phone interview and then a zoom call.  The training process consisted of an orientation where they toured the facilities and met with their teammates. 
While we are beginning to live in a post pandemic world, Holly still felt the ramifications of the pandemic through her experience. "My internship was greatly impacted by COVID-19 as I originally was accepted into this college program in 2020, but due to the pandemic it was canceled.  This year we could only have half capacity at the Indy 500 and we adhered to mask laws.  The Indy 500 was the biggest event to take place in the world since the pandemic began."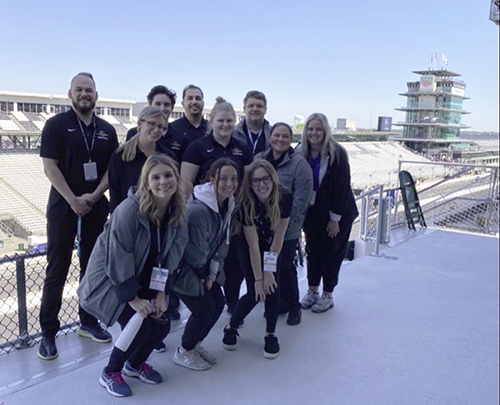 When asked what she will remember the most from this experience, Holly shared, "Ten years from now when I look back on this internship, I will remember all the amazing people I worked with and met.  Everyone was so nice and welcoming it created a great team environment."