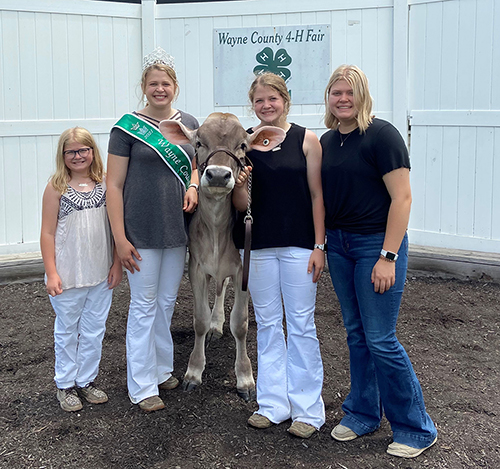 AgEcon Rising Sophomore Crowned Miss Wayne County  
This summer, rising Sophomore Kassidy Oliger (Agribusiness Management; Hagerstown, IN.) was crowned Miss Wayne County. Representing her local 4-H program through this role, Kassidy was elated to not only get experience in competing but also to be crowned. "Being named Miss Wayne County and serving as the representative of our fair and 4-H program is an absolutely wonderful feeling. I was so blessed to get to serve my county and be a role-model to the youth of our 4-H program. I couldn't thank everyone enough who helped me get this wonderful title." 
Kassidy, who has a 4-H background and long-standing passion for the livestock industry, first became interested in the competition after her cousin, Kylei, was crowned as the Miss Wayne County pageant queen in 2017. "I saw how much fun she had throughout our county fair week and beyond, as well as how much she was able to impact different 4-Hers throughout our county. Once I saw her have that experience, I decided that I wanted to be able to do the same thing!" 
While she has never competed in other pageants, Kassidy did make a run for Miss Wayne County in 2019, an experience she believes prepared her for success this summer. "I believe that the biggest way that I prepared for this pageant was by competing in 2019 and learning from that experience when I didn't win anything. I also participated in all the workshops that the Wayne County Queen Committee put on for us and those were crucial to my success! I wouldn't have been able to accomplish much if it weren't for the committee and those workshops. They also gave me time to network with and meet all the girls in the contest with me."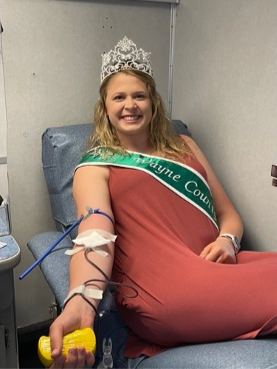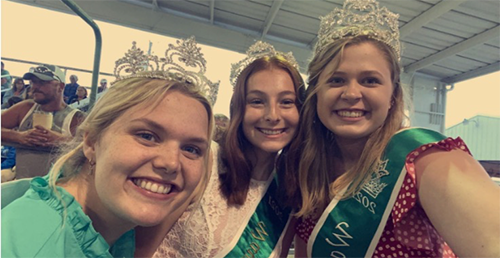 In order to compete in the Wayne County Queen Contest, contestants must participate in two sections. The morning consists of the professional wear portion and three, three-minute interviews. The night portion is the "pageant" portion of the contest. During this portion, contestants do a formal wear walk, an impromptu question, and a one-minute speech on stage in front of the crowd and judges. A lot of the contest has to do with poise and ability to converse.  
In total, there were eight competitors in the Queen division. As the queen, Kassidy lead the court which consisted of herself, the 1st alternate, the 2nd alternate, Miss Congeniality, the teen queen, the preteen queen, the junior queen, and the junior king. Upon being crowned, Kassidy prepared for a plethora of activities and responsibilities during the 4-H fair week. "Throughout our fair week I was given the opportunity to hand out ribbons and honor champions at livestock shows and other events. I also got to be the judge of our car show and aid in our Wayne County Idol contest choosing the order of the contestants. My court and I will also be participating in local parades, I will be attending the Queen's day at the State Fair and I will be competing in the state fair contest in January." 
Even though the fair is now over, Kassidy looks back at the many memories she made and looks forward to the future activities the upcoming year will bring for her as the Queen. "My favorite part of being Miss Wayne County was all the quality time that I got to spend with my court throughout the week. We made so many valuable memories that I will hold near and dear to my heart and we were able to really bond. I really appreciated all the time that we were together even if it meant passing out ribbons at 10:30 pm." 
The competition to become the Queen and the week that followed really taught Kassidy a lot about how to be professional and poised at all times. "Being the Queen, whether I had my crown on or not, I knew that I was being watched and there were younger people looking to me to see how they should behave. While I have always been cognizant of how I am acting, this made me hyper aware of my actions and whether or not I always had a smile on my face, which is something I want to continue doing."