From Farm to Table: How One Student Found Real Life Experience in the Food Supply Chain as an Operations Management Intern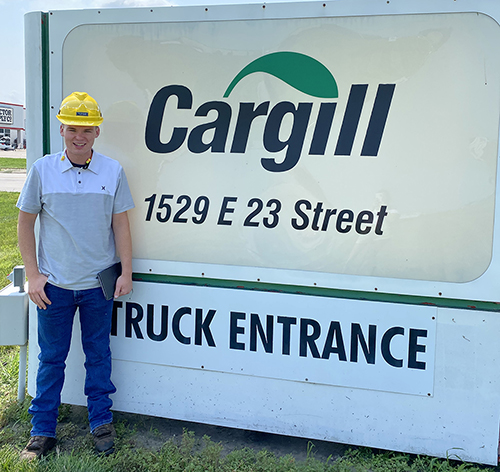 Tyler Barr (Agribusiness Management; Middletown, IN) is no stranger to the agricultural industry and the food supply chain. Last summer, Tyler participated in a farm management internship with a family farm, an experience he really enjoyed. "I learned so many life lessons that I have been able to already apply in various applications. I also was able to network with people in industry. It also gave me a chance to see a side of agriculture I hadn't been exposed to, this allowed me to try out this part of the ag industry. Since I enjoyed my internship last summer so much, I found it a no-brainer to do another internship this summer." 
Heading into his second year as a Purdue student, Tyler was already avidly seeking a new internship experience for the summer of 2021. Seeking a position at a larger company, Tyler began by researching several companies that would be at the career fair ahead of time. Through his research, Tyler came across a position he was interested in, Operations Management, and applied. Afterwards, he attended the career fair where he was able to speak with a company representative about the position and how he could stand out as an applicant.  
 "The interview process consisted of a second interview after the initial conversation with the recruiter at the career fair. After the interview, roughly six weeks later they offered me the position. I then was able to choose my location and what sector of the protein industry I wanted to be in. The training process consisted of a 3-day companywide orientation for all interns. There was no formal on-the-job training, they put us into production, and we continue to learn new jobs and skills as the summer progresses." 
 As soon as school wrapped up in May, Tyler headed out to Schuyler, Nebraska to begin his position as an Operations Management Intern. When discussing his internship, Tyler explained that it has consisted of two parts, "My internship is based on the harvest floor of the plant. The first six weeks of the internship I spent in the coolers troubleshooting inventory issues. I worked directly with the cooler foreman to identify what areas and systems were causing carcasses to not be removed from inventory or taken into the total count for the day. The second half of my internship consists of shadowing supervisors and working directly on the harvest floor. There I perform line worker jobs and learn the harvest process." 
Engaging in hands on experience has allowed Tyler to gain whole new perspective on the industry. It has also allowed him to grow professional skill sets, specifically personnel management. "I have greatly increased my knowledge of how to manage people. Last summer I learned how to manage the business/farm while this summer is all about how to manage the people in various departments. I have been able to read people and figure out how to address people in different ways to help get the best results out of them. My knowledge of personal management has increased the most through this experience." 
 Through his internship, Tyler has gained many valuable skills, but perhaps most interesting has been the actual harvest process. "The slaughter process while some find gruesome, I thought was very interesting. The process is so efficient and waste-free. It was extremely neat to know exactly where your food comes from and the process it goes through to get from field to table." 
While Tyler was able to complete his internship in person, the post COVID-19 pandemic has still left a lasting impact on his internship and the industry itself. "The main problem COVID has pushed is labor shortages. This has forced me and the other interns onto the line to work instead of being able to shadow supervisors and ask questions." 
When Tyler looks back on this experience, one thing he will never forget are the people he got to meet through this opportunity. "It has been extremely fun getting to know the other interns from various parts of the country and learning about the different cultures that we all bring together. The friendships we have made with one another I know will last beyond this summer."