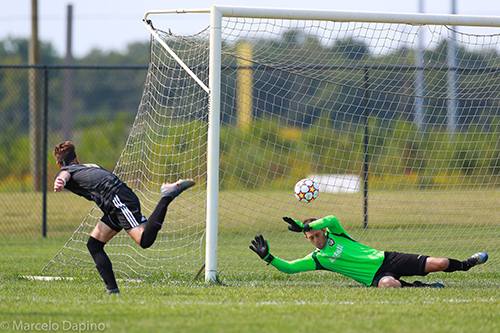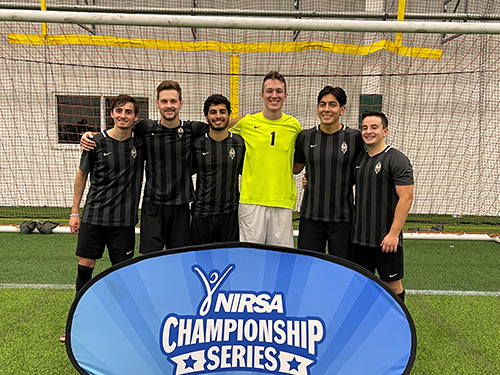 Joining Purdue FC Men's Soccer Club was essential to a successful college experience for Nicolas
AgEcon senior Nicolas Kiep (Agribusiness Management; Sao Paulo, Brazil) has been playing soccer since he was just four years old. When he made the decision to come to Purdue, he wanted to continue engaging in the sport that has meant so much to him throughout his life. Before he arrived on campus, Nicolas had an idea of the program structure and why he wanted to continue competing at a collegiate level. "I wanted to join a sports club and I was deciding between basketball, volleyball and soccer and I chose soccer because when I went to the club fair they were the most engaging and enthusiastic about how well the club was run and the goals they had for the future." 
Joining club soccer aligned with many goals, including personal ones like continuing to play soccer with his brother. In high school, Nicolas was able to play alongside his older brother on their soccer team. Getting to share the love of the sport and play together as siblings was a great experience, one he hoped to continue as a Purdue student. 
In order to play club soccer, interested students must go through a rigorous selection process. According to Nicolas, "It is actually very challenging to join the team since it is not a club that anyone can join, it is very competitive and there are tryouts for the 30 roster spots that there are on the team. My freshman year we broke the record of how many people tried out and it came out to be around 120 people that tried out for the team and I was able to make the team. This past year we actually ended up breaking the record by having 140 people that tried out for the team which was awesome to see more people wanting to join the team!"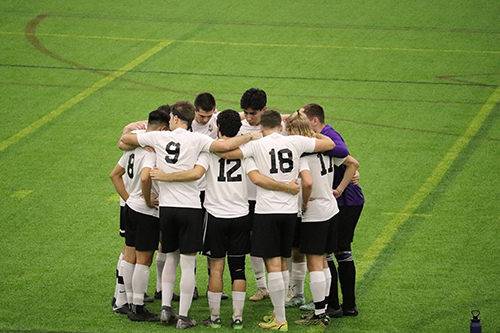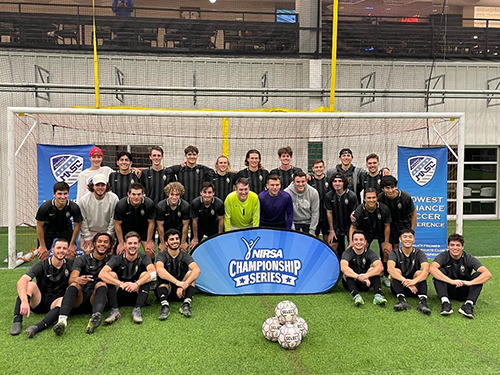 In the four years that Nicolas has been at Purdue, he has been successful in try outs, earning his spot on the team each year. Unlike some extracurricular activities, the soccer club keeps players engaged throughout the year. While the time commitment varies depending on the time of year, Nicolas is always engaged in the club in some capacity. "We have practice from 6-8 Monday-Thursday during the fall season and Monday 8-10 during the spring semester, there are some community service events to go to throughout the year and some fundraising events as well as cross club. Most weekends during the Fall semester we have games, there are few that we don't."
While the time commitment varies throughout the year, players routinely engage in rigorous physical training and practice. In practice, the team has technical, fitness and faced paced drills to get better as an overall soccer player. There is also a great emphasis on team chemistry, identifying weak areas and things they need to change to better focus during their drills. When they're not in practice, players can look forward to playing several games throughout the school year. The soccer club is also active in the campus community, participating in community service, fundraising and cross club activities.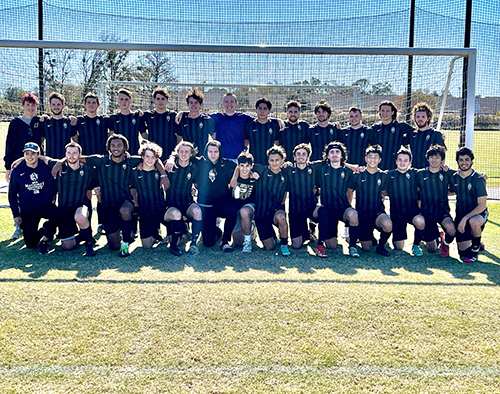 Even though he has been a player for the entire four years, Nicolas shared that the global pandemic took a strain on the team. "We lost our season last year and were not able to practice with contact, so we had to come up with different drills that were non-contact but still improved our skills as a team and individually. Also, we could not have as many spectators as we normally do because of covid and the restrictions."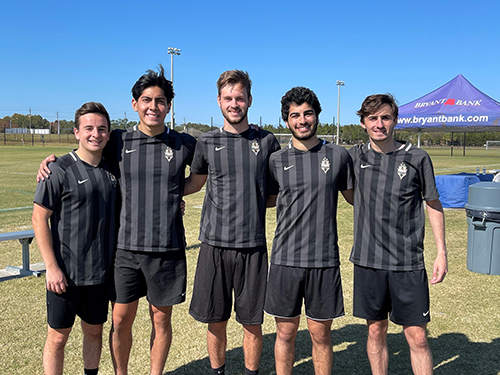 While the pandemic negatively altered some of his experience, Nicolas has found more success and opportunity through the club. With club soccer, the top 32 collegiate club teams qualify for nationals every year, something Nicolas has gotten to experience twice as a player. In 2019, they went to nationals in Round Rock, Texas. The team played six games, three in the group stage then quarter finals, semifinals and the finals where they would beat UCLA 2-0, earning the National Championship title. In 2021, the soccer club qualified for nationals in Alabama, playing two group stages games where they won one round and lost the other to Michigan. 
Being able to compete in nationals itself is an accomplishment, winning a title regionally and nationally has meant even more. Competing at high levels has been a special experience, but Nicolas shares its more than playing a game. "It is an amazing experience to bond with the whole team and get to travel with them to become even closer as friends. We have a lot of fun but at the same are very focused with one goal in mind and having that balance is the key to having a great time."
For Nicolas, joining Purdue's Soccer Club was essential to a successful college experience, one that will come to a close in May of 2022. As he looks back, Nicolas is thankful for his time on the team and the positive impact it has had on him as a player and as an individual. "I have pushed myself to be better as a person, a soccer player, a teammate and as a leader. Have had to deal with internal issues but also as a leader to keep the team together and wanting to have the same end goal to win a national championship. Surprised how fun and exciting it has been to be a part of such a good group of guys having fun and wanting to be serious and win as much as we can."
Thanks to Marcelo Dapino for grabbing many of the fantastic photos included in this story.