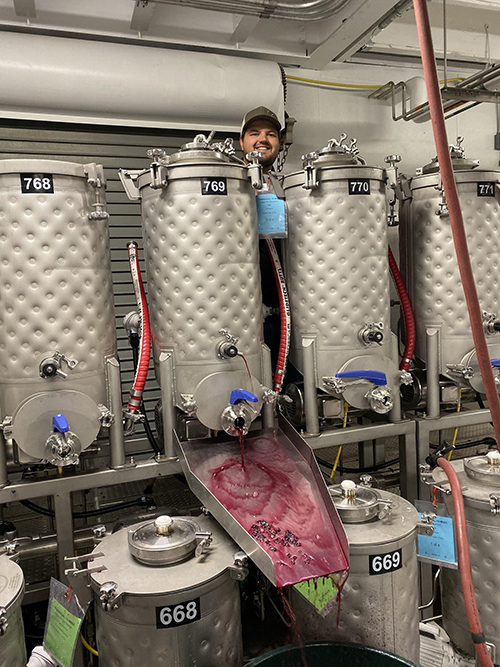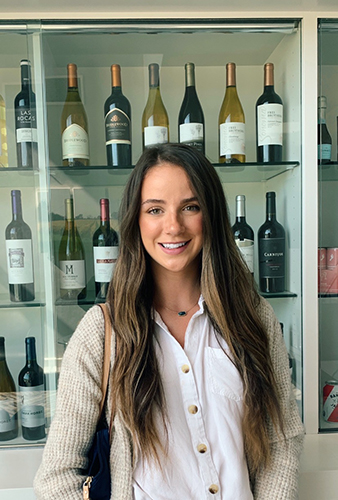 ​
AGEC Students Spend Semester with E & J Gallo
Written by: Jo Thomas, Academic Advisor 
Emma Moon (Senior; Agrimarketing) knew she wanted to go into the wine and spirits industry going into college, so it was a dream of hers to work for E & J Gallo, who is a leader in that particular industry. Prior to accepting an internship, Emma continued to look for job opportunities on their website and signed up to receive emails when new openings became available. Finally, she applied to the Wine & Spirits Sales Internship in Hayward, California, went through the interview process and secured the position.
The Wine & Spirits Sales Internship is an 8-week program, half being spent in retail accounts with another sales representative and the other half being spent with various different experts within the company. The first four weeks involved calling on stores such as Walmart, Target, CVS, Walgreens, etc. and building relationships with buyers so that Gallo products are fully represented in those locations. The last four weeks involved days spent working with experts from departments such as customer development, the Barefoot team, portfolio consulting, business intelligence, shopper marketing, business development, fine wine, sales technology, and analytics. Across the entire length of the internship, Emma was able to work on a project revolving around improving product knowledge within the company, and was able to present to senior management on the last day.
In addition to her internship position, Emma was offered the opportunity to serve as a Campus Ambassador during the school year. The goal of the ambassador program is to generate excitement and awareness about Gallo's Sales Leadership Development Program and Sales Internship program so they can attract the strongest talent possible. As an ambassador, Emma reaches out to potential candidates, discuss the programs with them, and helps prepare candidates for interviews.
Emma's hard work and dedication to E & J Gallo paid off as she has accepted a future with the company. "I accepted a full time offer from E & J Gallo in the Sales Leadership Development program in Indianapolis. I will be distributing Gallo's products as a Sales Representative for around a year, then I will become a District Manager for around a year, and what I'll be doing during the third phase of the program is still undetermined. I'm so excited to grow with such an amazing company."

Jack Edwards (Junior; Agrimarketing) chose a semester long internship because he wanted to learn as much as he could about the agriculture industry. He knew that his goal required time and felt that spending six months with an industry leader would help him achieve that. This fall, Jack spent his semester as a Grower Relations intern for E & J Gallo in Lodi, California. The Lodi AVA (American Viticulture Area) is home to 100,000+ acres of wine grapes that grow for a wide range of consumers, with some grapes going to a premium bottle of wine to a lower tier bottle.
As a Grower Relations Intern, Jack was responsible for a variety of projects and job duties. Earlier in the growing season, Jack was responsible for scouting for disease and pests in the vineyards and on the fruit. The most common disease being mildew on the grapes. Later in the season during harvest, he was responsible for testing the sugar of the grapes in specific fields. The sugar is an indicator of when the grapes need to be harvested. Additionally, Jack was also responsible for a project that involved weighing clusters at both ripening and harvest and comparing those weights to previous years to find ways to better estimate yield in future yield.
At E & J Gallo, Jack expanded his knowledge base in a specific sector of the agriculture industry. Jack found that he was able to build on his communication skills by working with other professionals and creating new relationships. He also had the ability to shadow different areas of the company, getting a wide range of perspective on the various aspects involved in the wine & grape industry. Aside from building on professional development, Jack was also shocked to learn how much work has to be done to a vineyard every year to keep the grapes high quality enough to be made into wine. 
In reflecting on his time as an intern, Jack would do it all over again. "I was nervous about taking a semester off of school and pushing back graduation at first but now I am grateful that I took the internship and moved out to California because I feel that I have greatly improved my academic and professional career while being out here. I am thankful for Purdue for giving me the tools and education to succeed and am thankful for E&J Gallo for giving the opportunity to enhance my hands-on experience and education."