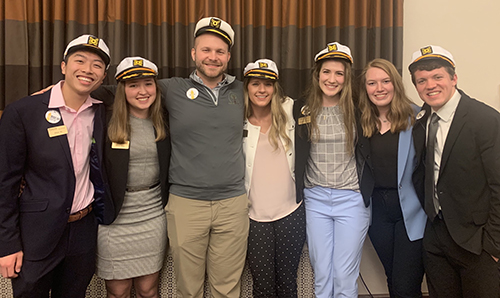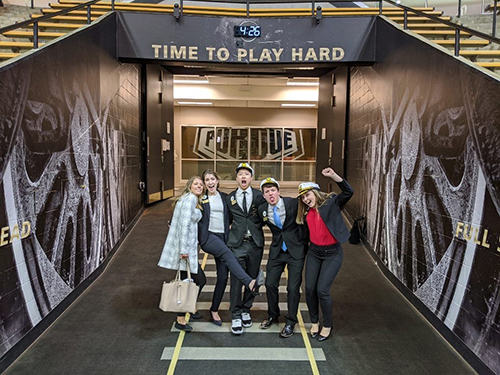 Hosting Purdue's Rising Professionals
Rising Professionals encourages underclassmen students to discover their Boilermaker experience. Each Spring, a class of young Purdue alumni that have graduated within the past five to ten years and who have made exceptional contributions in their field are honored through a two-day program where the alumni engage in classroom talks, a panel discussion, and honorary dinners.
Kayla Fogg (Junior; Agribusiness Management; Rushville, IN) and Molly Grotjan (Sophomore; Agribusiness Management; Zionsville, IN) served as Promotional Officers this year. Molly was a group mentor for Mr. Joe Rust this past semester. "I thoroughly enjoyed learning from Joe, and hope to apply what I learned into my professional career. Joe's ability to connect and engage with others was inspiring!"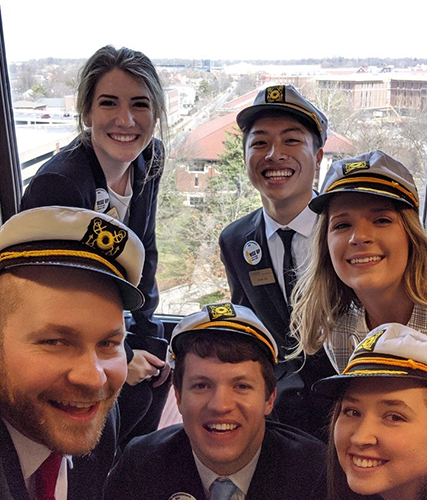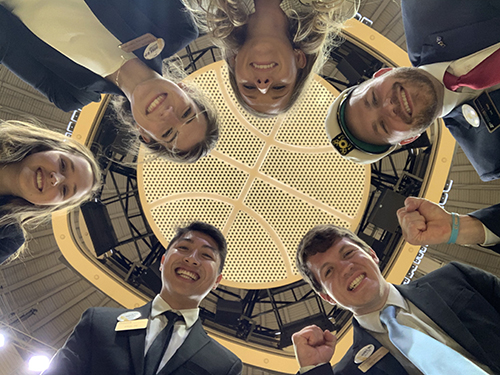 As a host, Zoey Nobbe (Sophomore; Agribusiness Management; Greensburg, IN) attended weekly meetings for several weeks leading up to the program to get to know her host group, learn about the program, and learn more about which alum I would be hosting. She said "I was honored to be a host for Joe Rust! Joe was not only a Purdue grad, but also an Ag Econ Grad! I had a great time getting to know him and learn about all the organizations he was involved in around campus. While Joe was on campus we attended a few AGEC lectures, had lunch with PSFB, and dinner with the College of Ag. We also got to hit the famous Purdue Drum, tour Westwood, and got to have dinner in the Buchanan Room. It was a really great experience that I would recommend to all freshman and sophomores! I got to interact with some really incredible alumni that all have so much information about college and getting started in a career. Besides meeting incredible people, the experiences you get to have are amazing!"
Grotjan continued, "As a freshman, a few of my Purdue mentors had participated in the program. After hearing their experiences, I knew I wanted to serve as a Host and did so during my freshman year. I was transformed by the program and wanted to give back to the program that instilled a pursuit of excellence and Boilermaker pride within me. The opportunities to give back to people and organizations that invest in you at Purdue are limitless if you take the opportunity to research how.
Molly concluded, "I have enjoyed my two years in the program serving as a Host and Promotional Officer. I would encourage any underclassman student leader to consider joining this program. The opportunity to sharpen your professional skills, connect with passionate student leaders, and learn from amazing young alumni is similar to none. Don't pass out on a great opportunity to learn more about Purdue, others and yourself! When I think ahead to next Spring and the coming years after Purdue, I will always hold a special place in my heart for the Rising Professionals program. This program has helped develop skills in networking, personal and professional branding, etiquette, and communicating with others that are different than me."