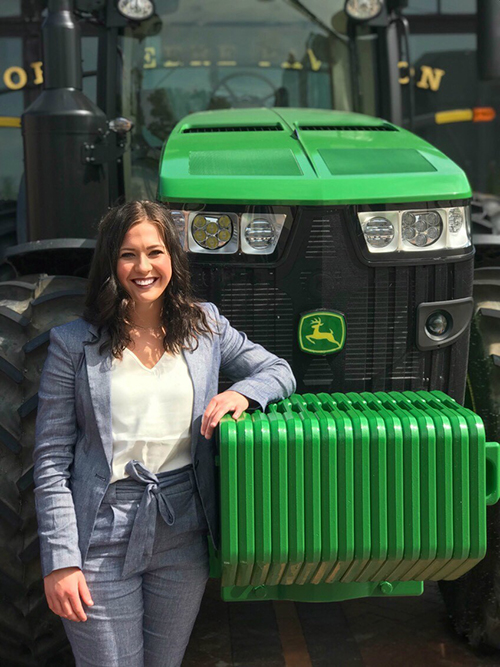 Students Experience Equipment Sales and Marketing Through Their Summer Internships
Two Ag Econ students spent their summer working in equipment sales. These experiences exposed them to different aspects of farm machinery, as well as marketing, sales, and communications. Chaela Minor (Junior; Agribusiness Management and Agricultural Systems Management; Reelsville, IN) spent her summer as a Marketing Intern for John Deere within their Intelligent Solutions Group. She was stationed in Urbandale, Iowa. She had the opportunity to develop an authoring tool for product marketing managers to use when developing sales content for Deere precision agriculture products. Since this summer, the tool has been implemented globally and in other products, like tractors and combines. Chaela also worked with global teams and other teams outside of her functional area. She says, "This illustrated the importance of various areas of a company coming together to push the business and industry forward." She added, "Deere empowered each of their interns to make an impact within the business structure, leaving me fulfilled and energized to return next summer."
Janelle Mitzner (Junior; Sales and Marketing; Wanatah, IN) was a Whole Goods Sales and Marketing Intern for Bane-Welker Equipment. She was based at their headquarters in Crawfordsville, IN, but was able to do a lot of travelling and work throughout their northern territory. She had numerous projects across sales, marketing and internal communications. Those included creating a market analysis, promotional videos, cold calls, a social media marketing plan, training materials, an employee directory, and her final project where she increased sales of select products in her territory by 492% compared to the prior summer. She also rode along with salesmen, visited all 13 Bane-Welker locations, and was featured on 3 episodes of their podcast, "PlowTalk." Through this experience, Janelle gained many skills and learned a great deal about the equipment industry and the importance of building and maintain relationships with your customers. She was able to meet and gain connections with over 200 employees and numerous agriculturalists throughout her summer. Her favorite part was the work environment present there and how she never felt like she was "just an intern." The company took the interns on appreciation trips, industry networking events, tours of the CNH Depot, and held them to the same standard as full-time employees. They were also supportive of the ideas she brought forward, such as her intern Instragram: @janelletheredtractorintern. Janelle says, "They went out of their way to make the internship a positive and eventful work experience that has definitely helped prepare me for my future career."