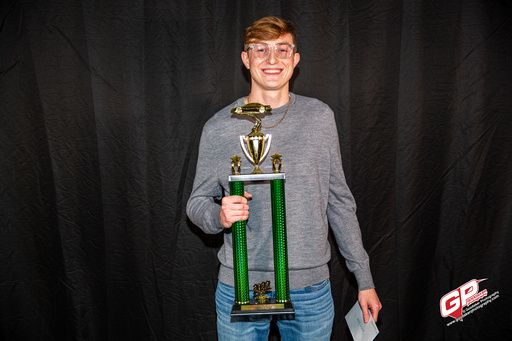 Car Racing Family Tradition Has Been Instilled in AGEC Junior Who Continues to Race
At the age of only 5, Ag Econ student, Cameron Shidler (Agribusiness, Winamac, IN) began his car racing career. As a child, it was a family tradition to spend every Saturday night during the summer at the local speedway watching his father race. As soon as he could, Cameron started racing at a local Micro Sprint Track. Following that small stint in the Micro Sprint, he waited until he was 12 when he was eligible to begin racing on the dirt tracks. Currently his team is Cameron Shidler Racing and is composed of he and his parents. He competes in the UMP Modified Dirt Car Series.
In Cameron's opinion, he has the best role on the team, as the driver. His father is the crew chief and car owner. Cameron said, "he is single handedly the only reason my car gets to the track on time. When I am away for work and school, he puts hours in the shop to get the car ready for the next race." Even though Cameron is the driver, he still has other roles on his small team. When he is home, you can find him in the shop completing general maintenance like oil changes, lubrication, bodywork, and tire prep. He also enjoys growing his racing team as a business where he runs all its social media pages, reaches out to company sponsors, creates fundraising activities, and represents the brands and companies that support him in his passion.
Racing cars is not like other sports where you can practice every day in a gym for example. Though he cannot get in his car every day, Cameron spends a lot of time on the iRacing simulator he set up in his apartment to race others to keep himself in tune with racing for when he can get in his car. During racing season, he is typically able to test out each track he races the day before a race to rebuild the muscle memory and rhythm that comes with racing. Cameron said, "Racing is an adrenaline rush like no other. It is a lot more than just sitting behind the wheel of a car." At each race, the cars get to go out three times. First, they compete in hot laps as a test session to give racers the opportunity to test out the track before the actual competition. Following that they do Heat Races where they are qualifying for the main event of the night, "The Feature." Finally, in the Feature race they compete for the longest time with 20 laps and more cars are involved. Cameron mentioned, "The competition at my level is extremely fierce. On any given night at my local track, there are about 10 cars in the Feature that could win." Knowing that, Cameron said that it is hard to find other rewards in racing beyond just position finishes when you are raised with a "refuse to lose" attitude like he was. One thing he loves is being a younger driver he gets to have an impact on kids in the grandstand. "I love being able to high-five the kids and answer their questions, because at one point in my life, I was the same little kid."
Cameron recommends everyone at least attend a race once in their life even if they cannot race. Although racing is an incredibly grueling sport, the people you meet, and the relationships built make it more than worth it. When he finally retires from racing, one thing he wants to look back on is the legacy he left behind. "I would like to go down in the history books as one of the greatest to ever wheel a racecar. I would also like to look back on all the people that I have affected throughout my racing career, whether I made them into lifelong fans or turned them into the next greatest driver. This year, Cameron plans to run a full season at Shadyhill Speedway pursuing his first championship in the modified division. Anyone interested in following his racing can find him on Facebook at Cameron Shidler Racing.