Turning Dreams into Reality: Rising Sophomore Spends Summer as Disney College Intern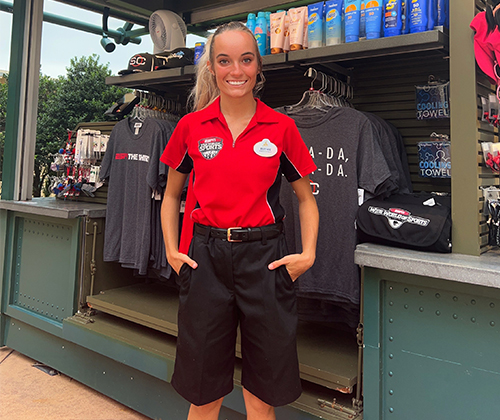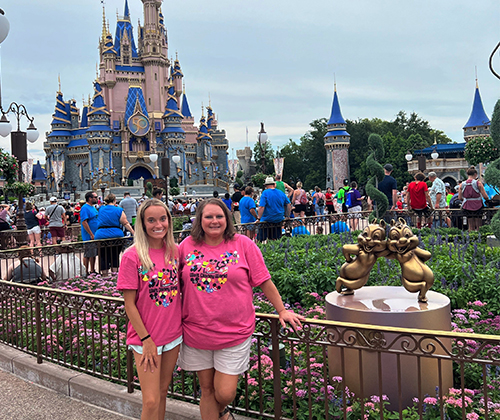 Completing an internship experience as an undergraduate student is often an integral component to degree enhancement. In the Agricultural Economics department alone, approximately 97% of undergraduate students complete an internship before they graduate. Along with on the job experience, internships offer students unique, sometimes once in a lifetime opportunities.  
Throughout her childhood, rising sophomore Ruthie Lamaster (Agribusiness Management; Greenfield, IN.) vacationed with her family to Disney World, creating memories and a passion for the organization. During a visit to Disney during her freshman year of high school, Ruthie learned about the Disney College Program and the internship opportunities available.  
After learning about the program, Ruthie hoped one day she too would be able to participate in the program. During her freshmen year of college, Ruthie began the application process in hopes of securing a position the following summer. "Having a love and passion for Disney my entire life, I just decided to step out of my comfort zone and apply. I always remembered the kind cast members at Disney World and would often tell my parents I wanted to work there throughout my childhood. So, I guess you could say I turned my dreams into reality." 
Along with a passion for the organization, Ruthie also shared her reasons for choosing a summer internship. "I chose to do a summer internship because I wanted to gain professional experience in the workforce. I also wanted to work on my self-confidence and find who I am as a person, so I felt like moving away from home would allow me to do that, all while having fun at the Happiest Place on Earth." 
This summer Ruthie has served as a merchandizing and sales associate. Her roles include job duties such as running the cashier, floor stocking and store greeter. "My tasks range from running a cash register to holding a bubble wand outside the gift shop, making our guests feel welcome." While her home location is Pop Century Resort, Ruthie has been deployed to other Disney resorts and properties such as the Grand Floridian, the Contemporary Resort, and the Polynesian Resort, as well as ESPN Wide World of Sports. 
As a part of the Disney College Program, Ruthie has gained valuable workplace experience and the value of good customer service. "I quickly learned that by having a smile on your face and going out of your way to interact with guest will make yours and their experience so much better and more memorable. This has made me realize that working for such a well-known company will open many doors for me in the future, but I want to find a company that cares about their guests just as much as Disney does. I have also discovered that I want a job where I get to have face to face interactions with people every day instead of looking at a computer screen for eight hours a day. I truly enjoy helping guests in every way possible and putting a smile on their face." 
Looking back on her time at Disney, Ruthie shared some of her key takeaways, "don't be afraid to stand out and step out of your comfort zone. Find a new perspective, sometimes you think it's silly that a guest is upset and screaming at you for missing a bus, but in reality, he spent a ton of money on this vacation with his family and has been waiting in long lines this whole trip. Go to infinity and beyond as Buzz Lightyear would say. Going out of your way for a guest will make their trip so much better. It also puts you in a great mood to know you went out of your way to make someone's day." 
During the summer, Ruthie has made new memories at her favorite park, one of the most notable being able to visit Pluto every time she heads to the park.  "My goal during this internship was to not go a day at the parks without seeing Pluto. Let's just say I pretty much only have pictures with Pluto, and I haven't failed yet. He is my favorite character if you can't tell."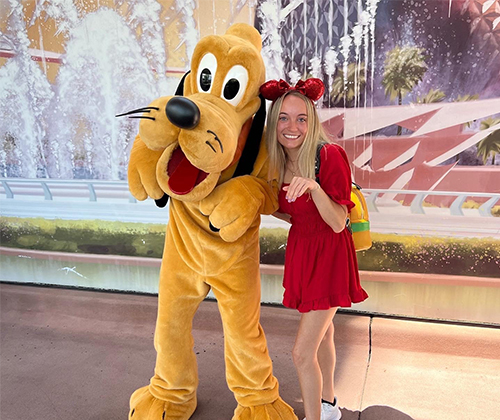 Through participation in the Disney College Program, Ruthie has been able to explore new interests and potential career paths. As she looks to future summers and beyond, Ruthie sees herself training to be a coordinator in the future. "I truly love my job and enjoy coming to work each day, and my leaders notice that. I see myself seeking an internship at a similar business because I have enjoyed my time here at Disney and really cherish their values. I also feel like working for a similar business would improve your skills and prepare you for the workforce." 
When asked to share one thing with potential students seeking an internship, she shared, "Take a risk. That risk could change your life, just like Disney has changed mine. I am a better person, I have found happiness in myself and helped others find theirs. Go and change the world one dream at a time." 
As her time at Disney comes to an end, Ruthie summarized her experience with her favorite quote from Walt Disney. "'First, think. Second, believe. Third, dream. And finally, dare.'" From a young age I have always wanted to work for Disney, I was so happy there, so why wouldn't I want to be there every single day, making magic and making others happy. If you dream of doing something, believe you can and dare yourself to do it. You would be surprised how far that can take you in life."