Summer internship opens eyes to new aspects and opportunities in agriculture
As she finished her freshman year in the AGEC department and was still undecided in a career path, Gracie Foxworthy (Agribusiness Management; Hillsboro, IN.), decided to do a summer internship to see different perspectives in the agriculture field and make connections to use later in her career. With that in mind, she decided to work in the Fountain County Extension Office in Covington, IN. Purdue Extension - Fountain County sends out a newsletter called "Clover Chatter" every month, which is where Gracie learned about the opportunity of a potential internship with them. She got in contact with one of the county's extension educators to gather information on the position and decided she couldn't pass up the opportunity to explore more of the agricultural industry in this role. 
This summer, Gracie worked alongside another intern and they were able to tackle many projects together. "Going into the internship, I wasn't sure what to expect. I had no clue as a 4-Her how much work goes into putting on a county fair – the 'behind the stage' work is so much greater than many people think." While working behind the scenes for Purdue Extension, Gracie learned a lot about the benefits of organization in an office environment and how to work with others towards a common goal. She was also put in charge of social media for the county Facebook page which taught her a lot about graphic design and promotion. Beyond the quantifiable skills Gracie obtained, she had many valuable take-aways from her summer. One she mentioned was, "how you present yourself matters and if you dress lousy, you feel lousy."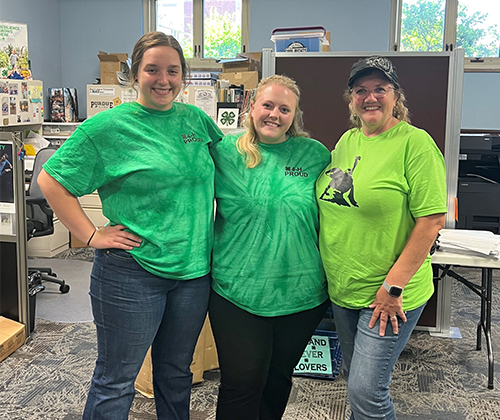 Gracie's favorite memory from the summer was riding around the fairgrounds with their newest extension educator and the other summer intern because they made every experience so enjoyable. This experience also impacted her future career goals because she learned she loves extension and can now see it as one of her future career goals. She was able to explore so many aspects of agriculture in her internship and being exposed to that variety of things allowed her to discover new interests within the agriculture industry. 
When asked about providing advice for other students, Gracie shared, "Don't be scared of pursuing an internship in the summer. I was intimidated by the thought of an internship after only completing my first year of college, however, I quickly found out that an internship is super beneficial! You will learn so much about yourself and discover new interests."