In 2013, Purdue funded the Institute for Plant Sciences under the Purdue Moves program, which invested in disciplines with the potential to have a significant global impact. Part of the $28 million went to creating the Center for Plant Biology (CPB), for the first time bringing together plant scientists across the college's departments and hiring 10 plant sciences researchers, including Couture.
Through the CPB, Couture built a relationship with Mike Mickelbart, associate professor of botany and plant pathology. Together, they reached out to Mitch Tuinstra, professor of plant breeding and genetics and the Wickersham Chair of Excellence in Agricultural Research in the Department of Agronomy. This collaboration made for a strong grant application and the eventual awarding of $300,000 for an exploratory grant funded by the U.S. Department of Agriculture's National Institute of Food and Agriculture.
"This is a high-risk, high-reward project, and I couldn't have done it on my own," said Couture, whose research focuses on plant chemical ecology. "I'm not a geneticist, and I'm not a breeder. I don't have the level of expertise in that knowledge base as individuals who have that as their focal research area. But I developed relationships within the CPB and beyond with people who do have those skills, and we are able to do work that combines our strengths."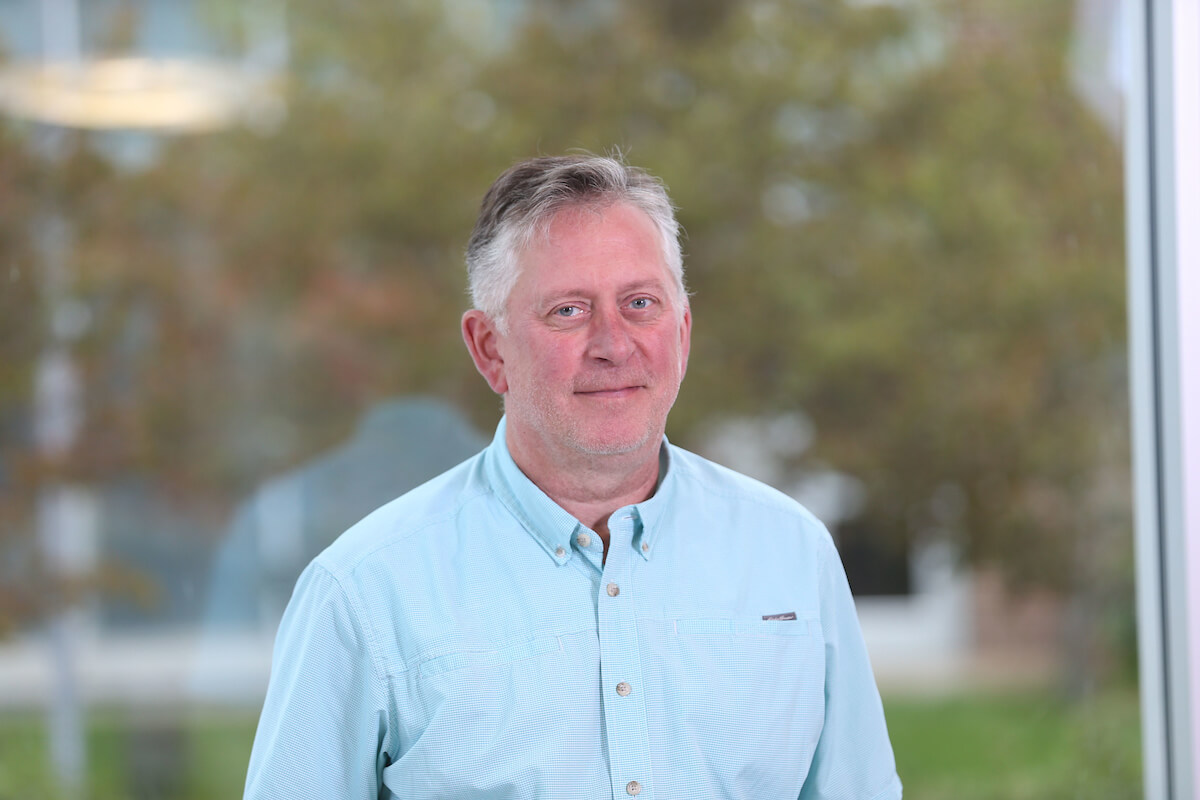 Clint Chapple, distinguished professor of biochemistry and the center's director for its first five years, said the CPB is bringing together people studying basic plant sciences throughout the College of Agriculture, turning seed funding into major grant awards, developing mentoring relationships between junior and senior faculty researchers, and making Purdue a more attractive place for prospective graduate students.
"We know that interdisciplinary success depends on disciplinary expertise. The basic plant science faculty wanted to have an organization that would provide an umbrella for them through which they could gather with their colleagues and enhance one another's research and student training," Chapple said. "We have had a long history in plant sciences, but one must keep working at that. This really brought Purdue to people's attention."
The CPB has built a solid foundation in those areas and is poised to build on its early successes.
"The growth of CPB over the past five years has allowed Purdue University to both deepen areas of strength in the more basic areas of plant biology as well as broaden them with hires of great faculty who are conducting outstanding research in their programs," said Bernie Engel, associate dean and director of agricultural research and graduate education. "These complementary efforts with the more applied plant sciences and digital agriculture areas positioning Purdue Agriculture to address the significant challenges we face in feeding the planet in a sustainable manner as we look to the future."
SECURING FUNDS
When someone like Couture starts their first tenure-track faculty position, the ensuing years are hectic. Establishing a lab and publishing research — key concerns for tenure-track faculty — are major tasks. They must attract high-quality graduate students, and they need the funding to do that and pay for the research itself.
The CPB has been able to help in those areas. Over the first five years, it's awarded more than $600,000 in seed grants to help get research programs off the ground.
"Fifty percent of our faculty are at the assistant professor level. Their priority has to be their students and their own research programs," Chapple said. "These seed grants have allowed them to initiate their research programs more quickly, attract high-quality graduate students and start making an impact in the field."
The hope is that the CPB seed grants lead to obtaining larger sources of funding. That's what happened for Xing Liu, an assistant professor of biochemistry, who turned her initial $50,000 into $1.8 million from the National Institutes of Health for work in ubiquitination.
"The seed grant helped us to generate valuable preliminary data to develop proof of concept for our ideas to the NIH," Liu said. "Just as important was the feedback we received from colleagues. When applying for a seed grant, CPB members review and critique your work and proposal. It helped me think about my plan more carefully. That's really important for young investigators."
DEVELOPING RELATIONSHIPS
Applying for seed funding requires sponsorship from a senior faculty member, who serves as a mentor for their junior colleagues. That's how Yun Zhou and Jody Banks — assistant and full professors, respectively, in botany and plant pathology — started working together.
Banks, who counts her tenure in decades, has the knowledge and experience to help Zhou establish his lab, navigate through new processes and hit the ground running.
"I've been around the block," Banks said. "It's been nice to be able to help people like Yun get started and figure things out. I can save them a lot of time so they don't have to reinvent everything from scratch."
The mentorship has also turned into collaboration. Zhou studies transcriptional signaling in plant development and had been using the model plant Arabidopsis thaliana in his work. Banks does similar research and uses ferns as model organisms.
"The first time I saw these ferns, I was so fascinated," Zhou said. "Jody showed me these tiny, interesting plants, and I started to see how I could use them to answer fundamental research questions in new ways."
After the CPB seed grant, when Zhou wanted to apply for an outside grant to start his work with ferns, having Banks' 30 years of experience with the plants helped secure the funding.
Banks has also benefited from the partnership, finding in Zhou a collaborator who comes at research problems in different ways. Banks has long used a classic model of gene identification, knocking out a gene and identifying the changes that occur in the resulting mutant. Zhou looks for more complex changes on the cellular, molecular and biochemical levels, taking experimental and computational approaches.
Yun Zhou (right) has used a CPB mentorship to capture funding for his lab and develop a research partnership. (Purdue Agricultural Communication photo taken February 2019)
"I can read papers on the types of things Yun does, but I can't do those experiments myself," Banks said. "Working with him, I don't have to reinvent the wheel. I think old-school. Yun thinks new-school. The science blends well."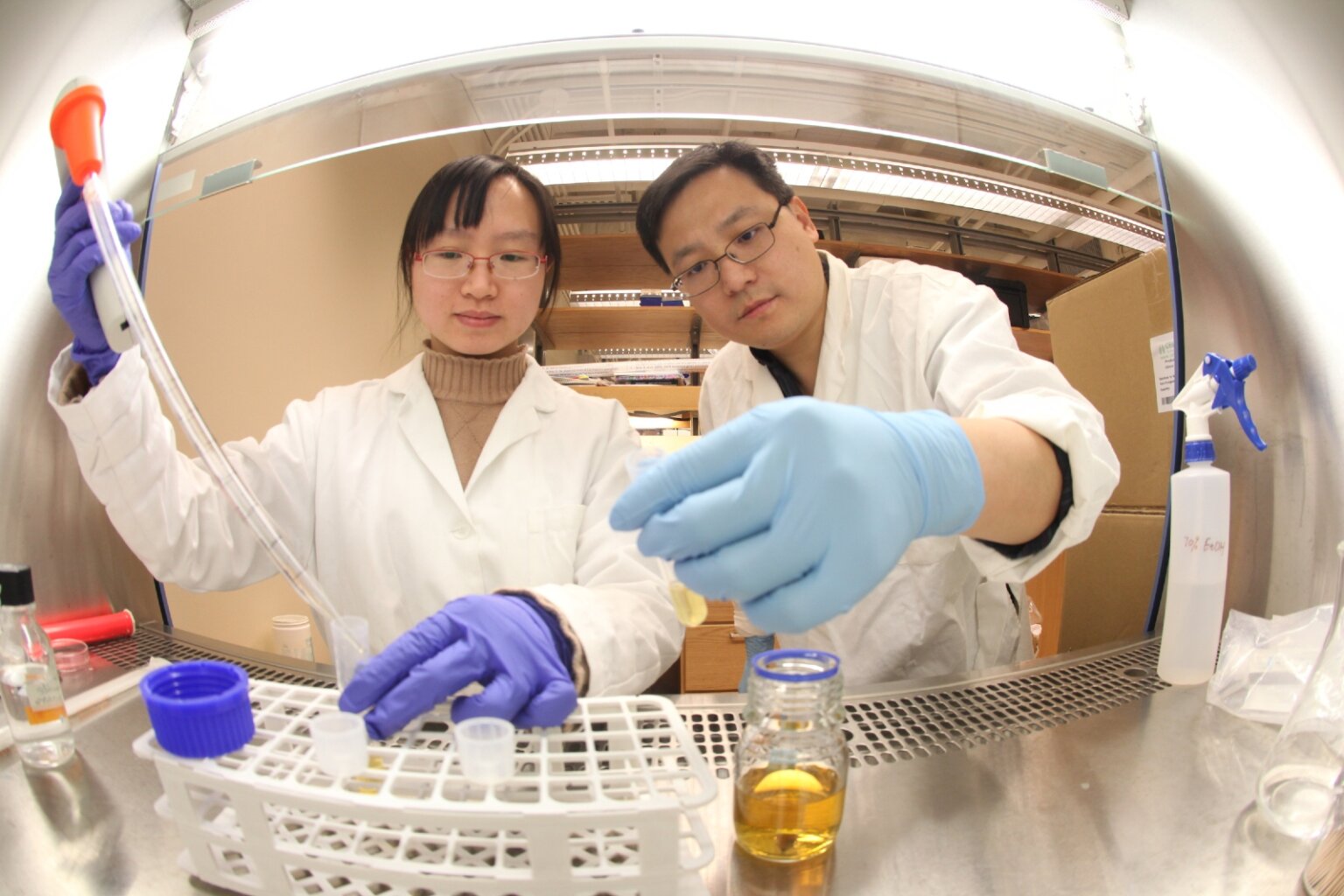 TRAINING THE FUTURE
The driving forces behind all those projects are the graduate students in each lab. The CPB has made it a priority to support those graduate researchers.
The CPB sponsors an ambassadors program in which postdoctoral researchers and graduate students dedicate time to advocate for Purdue as they host outside visitors. Those same students and postdocs have formal meetings to present their research to each other rather than just their faculty advisors. Students can also receive travel funding to attend scientific meetings and conferences around the world.
"Those are valuable and important opportunities for graduate students," said Anjali Iyer-Pascuzzi, an associate professor of botany and plant pathology. "Presenting research can be stressful, and the way we do it allows students to get critical feedback and improve their work before having it scrutinized by faculty. And the travel awards open so many possibilities. I've had students attend meetings that would have otherwise been impossible."
Rachel McCoy, a former graduate student in Josh Widhalm's lab in the Department of Horticulture and Landscape Architecture, echoed Iyer-Pascuzzi on the importance of graduate students networking, learning from each other, and critiquing their own work. She said the seminars opened her eyes to many more possibilities in plant sciences, and she's planning to change her focus as a postdoctoral researcher in Ying Li's lab.
"I am going from working on how plant metabolic processes lead to the development of different compounds and moving into studying how plants sense nitrogen in their environments," McCoy said. "Science is so interdisciplinary now, and I wanted to expand my expertise. The CPB exposed me to so many different facets of plant science that I was able to find new ways to look at the questions I want to answer."
LOOKING AHEAD
Chapple said one of the CPB's informal goals is to put Purdue on the short list of all graduate students interested in advanced studies related to plant sciences. The community, funding and high-profile research occurring at Purdue through the CPB is doing that.
"I was at a conference when we were hiring new faculty and starting new programs with the CPB, and colleagues from other universities were asking where we got all the resources to do these things. It brought a great deal of attention to Purdue plant sciences," Chapple said. "What we need is for faculty across the country to tell their undergrads and their graduate students that Purdue is a place where they should continue their studies."
Chapple recently stepped down as CPB's director and Natalia Dudareva, a distinguished professor of biochemistry, is stepping into the role. She said the CPB's solid foundation will make those accomplishments more routine.
"We have had success with supplying seed grants and turning many of those into significant research grants from outside agencies. We need to not only continue that but also to publish high-impact research findings in the top scientific journals," Dudareva said. "That's what will increase our visibility in the plant sciences world."
Dudareva believes there are more opportunities to improve collaboration across plant science disciplines, build stronger connections between students and faculty and develop stronger connections with industry.
"We have many talented people here at Purdue, and their expertise can be brought together to create unique ways to further our understanding of basic plant sciences," Dudareva said. "Competition in these fields for grant dollars and graduate students is high, and the CPB makes Purdue a very attractive place, and more attractive all the time."