From working to implement native bee habitats as an undergraduate student at the University of California, Berkeley to researching the migrations and habitat use of endangered green sea turtles in West Africa as a master's student at Purdue-Fort Wayne, to her position as the field research coordinator for the Integrated Deer Management Project (IDMP) for Purdue Forestry and Natural Resources, Emily Mettler was dedicated to conservation, loved wildlife and enjoyed connecting with people.
Mettler, 27, who passed away on March 25, will remembered by those who knew her best as someone who was always smiling, loved her dog, Chica, - whom she adopted at the Lafayette Farmer's market last year - enjoyed running and was a friend to all who met her. 
"Emily was universally admired by departmental co-workers for her intelligence, organization, incredible work ethic, and passion for conservation," said Dr. Rob Swihart, principal investigator for the IDMP. "She was one of those rare individuals filled with optimism and committed to turning challenges into journeys of self-improvement. She had an effervescent personality, a quick wit, and a ready smile. In short, she was a joy to be around. We will miss her immensely. We extend our heartfelt condolences and sympathy to Emily's family." 
Graduate student Brandon Quinby shared about Emily's personality, including her way of developing fast friendships. "She had the most infectious smile, laugh and free spirit," Quinby said. "She loved to joke around, spend time with friends, and experience live music. Emily loved her dog Chica and it was not uncommon for me to run into her and Chica on the various FNR properties. I originally met her at a conference two years ago before she started working here on the main campus. From the first time I met her, I felt like I had known her for a lifetime. She was so open and inviting that you immediately felt at ease talking to her."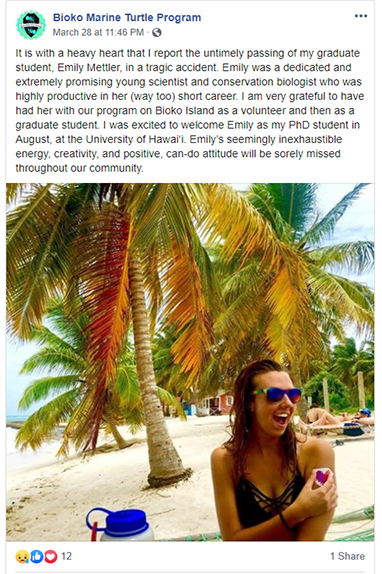 Pat McGovern, who is the project coordinator for the IDMP, was amazed by how quickly Mettler fit in after coming to Purdue in August 2019.
"Emily was an extremely outgoing person who made friends effortlessly wherever she went," McGovern said. "She arrived in West Lafayette in August to begin working for the Deer Project and within a week had a far bigger social circle than I have put together in two years. Part of her job involved knocking on doors all over the state to seek permission for conducting research on private property. After every trip, Emily came back with a long list of stories about the people she met and the interactions they had. She was light-hearted and willing to talk about anything and everything for hours on end. 
"Emily stepped into her role as Field Research Coordinator with ease, and she made my life significantly easier by extension. She handled long days in the field and constantly shifting plans with a smile. She was a talented scientist with a published record of quality work, and I was able to rely heavily on her. She was a good friend, a good researcher, and a good person. I'll miss her dearly."
​
Before coming to Purdue, Emily received her bachelor's degree in Environmental Science and Management from Berkeley in 2013, where she worked with landowners to implement native bee habitat in agricultural systems. She earned her master's degree from Purdue-Fort Wayne, where her research focused on migrations and habitat use of endangered green sea turtles on Bioko Island in Equatorial Guinea in West Africa. 
"Emily was a very committed conservation ecology researcher," said Frank Paladino, Jack W. Schrey Distinguished Professor and Director of the Center for Marine Conservation & Biology at Purdue-Fort Wayne. "She first worked with me as a volunteer in Bioko Island, Africa where she paid her own way and worked for months on our sea turtle and Bioko Drill research field team. She was fierce in her commitment to conservation and field work.  She had a wry sense of humor and I could always depend on her to keep the field team laughing." 
In addition to her work on Bioko Island, Mettler also worked to rehabilitate gibbons in Thalang, Thailand from Sept. 2015 to Jan. 2016, tracked relocated orangutans in Semboia, Kalimantan Timur, Indonesia, from January to April 2016, studied the effects of poaching on primates in West Africa and taught hands-on environmental science to students in the United States and abroad. 
The Albuquerque, New Mexico, native also spent time working as an outreach and communications coordinator at Survival International, was employed at the Oakland (California) Zoo, acted as a teacher at the Driftwood Education Center in Saint Simons Island, Georgia, and was a program leader at Rustic Pathways in the Dominican Republic.
Emily was already preparing for her next adventure as a PhD student at the University of Hawai'i. The Bioko Marine Turtle Program, run by Shaya Hanarvar, shared this sentiment on its Facebook page. 
"Emily was a dedicated and extremely promising young scientist and conservation biologist who was highly productive in her (way too) short career," Hanarvar said. "I am very grateful to have had her with our program on Bioko Island as a volunteer and then as a graduate student. I was excited to welcome Emily as my PhD student in August, at the University of Hawaiʻi. Emily's seemingly inexhaustible energy, creativity, and positive, can-do attitude will be sorely missed throughout our community."
In addition to her work, Emily also loved being outdoors. The Wabash River Runners Club, of which she was a member, shared this sentiment on its Facebook page.
"She not only was an avid runner but also enjoyed rock climbing, hiking, yoga, and being generally, joyfully active," the post by WRRC President Natalia Sanchez said. "In addition to running with our club and her dog, she ran with and mentored running groups at Fleet Feet West Lafayette. Emily was a beloved friend to many of us, and we'll miss her energy, strength, humor, and sparkling personality."
Graduate student Madeline Montague, whose office was located near Mettler's, shared about Emily's ability to fit in in any crowd.
"Emily had this remarkable capacity to befriend and relate to people from all walks of life," Montague said. "She was comfortable and well-regarded in the company of professors, woodsmen, dive bar regulars, you name it. She was confident and true to herself; she was the real deal. We love and miss her."
Emily is survived by her father, Earl Mettler; her mother, Lisa Simpson; and her sister, Dani Mettler.
A memorial/remembrance service will take place in New Mexico when conditions allow.
Donations may be made in Emily's memory to
WildEarthGuardians.org
, an organization based out of Sante Fe, New Mexico, that protects and restores the wildlife, wild places, wild rivers, and health of the American West.