Allaire, a 2013 environmental science major at SUNY Brockport, is not new to the IDMP, however, arriving at Purdue in February 2020 as a predator technician after stints with the U.S. Geological Survey and U.S. Fish and Wildlife Service.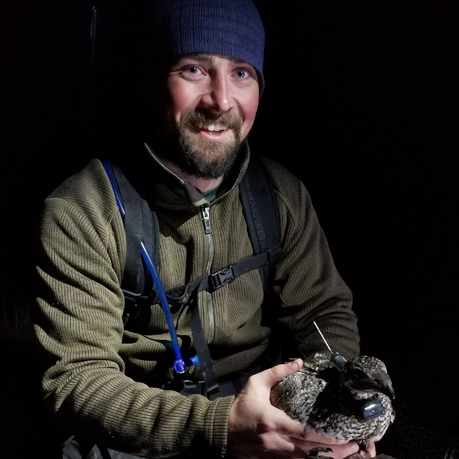 "Scott brings experience and leadership to the Field Research Coordinator role," IDMP project coordinator
Patrick McGovern
said. "His previous work in Minnesota and Oregon prepared him to take on the responsibility of Lead Predator Technician this spring and summer, where he supervised five other technicians and assisted in the implementation of our new predator study. His supervisory experience, adaptability in the face of COVID-19, and familiarity with the project makes him well-suited for his new position."
In 2019, Allaire acted as a wolf and deer study technician in Ely, Minnesota, using camera trapping, ArcGIS and other techniques to establish winter wolf-track and scat survey routes for skiing and snowmobiling. He then worked as a biological services technician in Plush, Oregon, establishing protocols for pilot predator-prey non-invasive surveys using camera trapping, scat and hair-sample collection, as well as GPS collar data collection.
Since February, in his role as lead predator technician with the IDMP, Allaire has developed field protocols and equipment construction guides, supervised five undergraduates and coordinated field crew, equipment and field sampling logistics.
As the field research coordinator, Allaire will add the responsibility of providing training, mentoring and supervision of seasonal employees for field data collection, scheduling field activities and gaining access to properties as well as serving as quality control with regards to data collection. He also will be overseeing the data entry and screening of images from remote cameras and aerial sampling.
"I'm excited to step up into the field research coordinator role with the IDMP and am ready to face whatever new challenges it may bring," Allaire said. "I'm really looking forward to another successful season with the project."
The Integrated Deer Management Project is a multi-year research project led by the Department of Forestry and Natural Resources at Purdue in partnership with the Indiana DNR – Division of Fish and Wildlife.
The goal of the IDMP is to combine deer population and habitat condition information with public perceptions of deer and deer management to better inform white-tailed deer management in Indiana. For more information, visit
Research IN Deer
and follow the IDMP on
twitter
.