Wendy Mayer, Communications Coordinator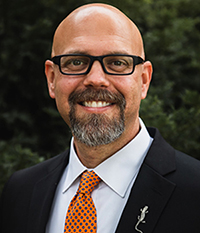 Dr. Rod Williams, professor of wildlife sciences, will be broadening his impact at Purdue, filling the newly created position of assistant provost for engagement in the Office of the Provost.
In addition to continuing in his role as a professor in the Department of Forestry and Natural Resources and director of Purdue FNR's eastern Hellbender program, Williams will focus on developing programs that support the scholarship of engagement.
"I am delighted to be able to advance engagement efforts in my new role as Assistant Provost for Engagement, and remain actively involved within FNR across the extension, teaching, and discovery missions areas," Williams said. "I have herpetology classes I want to teach, hellbender research I want to continue, and Extension programs I want to deliver. My split appointment allows me to do all the things I enjoy most about academia. It's going to be a great year!"
This new position builds upon Williams' previous work with the Office of the Provost. Named as a Scholarship of Engagement Fellow in 2014, Williams served as an Engagement Faculty Fellow from 2017-19, a role which saw him focus on developing resources for promotion and tenure at Purdue on the basis of the scholarship of engagement, including a management guide (The Guide: Documenting, Evaluating and Recognizing Engaged Scholarship), he co-authored aimed at facilitating faculty advancement. He also co-led the Scholarship of Engagement Fellows mentoring program.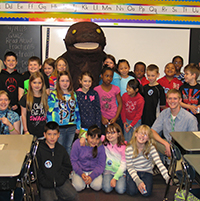 Most recently, Williams served as the project lead for Purdue's Advancement of Research Impact in Society (PARIS), where he worked with a team of research and engagement faculty and staff to enhance institutional capacity to support research impacts in communities. The group worked to establish a research impact landscape survey, create a research impact partner database, establish an evaluation plan, create institutional research impact training and offer consultations for faculty and staff on research impact.
Williams earned the Service to University Engagement Award from the Purdue Office of Engagement in 2019, following his receipt of the office's Service Learning Award in 2017.
"We are beyond excited to welcome Rod into this role," associate provost for engagement Steve Abel said. "We've benefited from his leadership, research and project management skills as a Provost Fellow and now look forward to the positive impact he'll have on our engagement initiatives as a member of our team."
Williams' own engagement activities include developing innovative undergraduate and graduate courses in extension, professional development training for PK-12 educators and building signature programs in the areas of 4-H, health and human science and agriculture and natural resources. His signature extension program, The Nature of Teaching, provides standards-based curricula and activity-based curricula centered around getting youth outside and offers instruction in the areas of wildlife, health and wellness and food waste. In addition to providing classroom lesson plans and activities to educators, the program also offers professional development workshops for teachers focused on science, the environment and getting students connected with nature.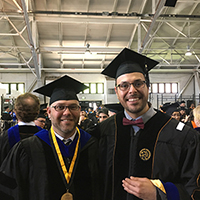 Over the past year, Williams has guested on several episodes of Purdue FNR's Ask the Expert series on Facebook, debunking wildlife myths, introducing viewers to the activity of herping as well as the various species of snakes, turtles, frogs, toads and salamanders they may find in Indiana, and also spotlighting his work with eastern hellbenders, the largest salamander in North America.
A three-time alumnus (BS in wildlife science 1996, MS in conservation genetics 1998, PhD in evolutionary genetics 2007), Williams began his career with Purdue FNR as the vertebrate teaching collection curator and coordinator of laboratory instruction. During that eight year stint, he also taught five courses and co-authored two field guides: the Salamanders of Indiana and the Turtles of Indiana.
Williams joined the faculty in 2008 as an assistant professor. He was promoted to associate professor and extension wildlife specialist in 2013. From 2015-17, he also acted as the associate department head for extension. In 2019, he was promoted to full professor.
Williams, who was inducted into Purdue's Book of Great Teachers in 2018, has earned numerous awards for his educational impact during his tenure with Purdue FNR. He received the university's Charles B. Murphy Outstanding Teaching Award in 2016, as well as the College of Agriculture's PK-12 Emerging Faculty Impact Award in 2016 and the Richard L. Kohls Outstanding Undergraduate Teaching Award in 2015. Within FNR, he has been honored with the Richard L. Kohls Early Career Award (2013), Exemplary Faculty Service Award (2012), Outstanding Undergraduate Counselor Award (2009), Outstanding Teacher Award (2005), Outstanding Service to Students Award (2005) and Outstanding Professional Staff Award (2004).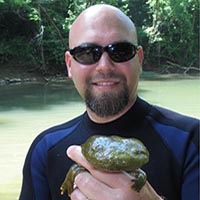 He has taught a variety of courses ranging from the ecology and systematics of reptiles and amphibians to advanced herpetology, the ecology and systematics of mammals and fish and the theory and application of extension programming.
Williams's research is based in the fields of herpetology and genetics, focusing on the ecology and conservation of amphibians and reptiles. Currently, his lab is involved with the repatriating of the Eastern Hellbender through translocation and captive-rearing programs. He has been a part of collaborations with state biologists across the country as part of these efforts as well as working with several non-government organizations on the project. Recently, his work with the Mesker Park Zoo and Botanical Garden produced the first natural breeding of an eastern hellbender in captivity in October 2020.
In conjunction with his hellbender research, Williams' lab developed the Help the Hellbender website, which has registered more than 110,000 page views since its creation in 2012, and provides educational and research materials as well as videos and games to teach people of all ages about the endangered species.