E
ach year, FNR recognizes an outstanding freshman, sophomore, junior and senior in addition to several academic merit and scholarship honorees. The awards are given to the most outstanding student in each class as demonstrated by educational accomplishment, research, community service, student organization involvement and leadership, and involvement at the department, college, or university level.
The 2020-21 FNR Outstanding Student of the Year award honorees are:
Outstanding Freshman: Leah Griffin
Outstanding Sophomore: Ruby Sanders
Outstanding Junior: Madison Kresse
Outstanding Senior: Lina Bernabé
Meet Outstanding Freshman – Leah Griffin
Hometown: Martinsville, Indiana
Major: Wildlife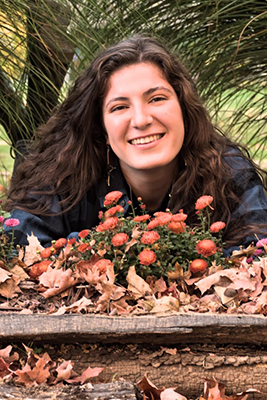 Following a high school career in which she posted stellar grades and was a part of the Future Farmers of America, including chapter officer roles for three years, Leah Griffin received FNR's scholarship for direct admittance and early-application acceptance, as well as the Purdue Presidential Scholarship for students who demonstrate high academic achievement, leadership and service in school and the community.
Since her arrival on campus, Griffin has found her groove, filling a research assistant position within the Natural Resources Spatial Analysis (NRSA) Lab and becoming involved with the Student Chapter of Environmental Education (SCEE) and through volunteer activities, while also earning Dean's list honors.
A wildlife major with an interest in forests and plant communities, Griffin has helped plant trees with SCEE at the Celery Bog in West Lafayette, and volunteered at a local invasive species removal event, plucking garlic mustard at Burkhart Creek County Park. She also is currently part of a project collecting information about Indiana's pollinators at Wolf Park.
In the NRSA Lab, working under Dr. Songlin Fei and research associate Rebekah Shupe, Griffin has participated in an ongoing project studying Red Oak (Quercus rubra) phenology. She has made an impact by learning how to collect data in the field, use ABBYY FineReader, showing an interest in learning to code in RStudio and continually asking questions to better understand the project. She has assisted Shupe with her research documenting and archiving thousands of historical genetic tree studies.
"Given her resoluteness to learn new skills and refine her current ones and her scientific curiosity with the world around her, I think Leah shows great potential to be a valuable and contributing member in FNR and the College of Agriculture," Shupe said. "Upon first meeting her, I was impressed with her vigor and skillset as a freshman. It is not often that I see a freshman know the path he or she wants to take in life, but Leah shows just that. She is easily one of the most outstanding freshman students within the College of Agriculture this year."
Griffin is not only grateful for the honor of being named as FNR's Outstanding Freshman for 2021-22, but for the home she has found in the department.
"This award is such an honor, and for me, it represents a great beginning, and it indicates that I'm in the right place," Griffin said. "To elaborate, it means that I am in a department that will support, guide and challenge me to do my best to succeed in both college and in my career. It feels a little unreal to be named as one of FNR's students of the year if I'm being completely honest. I've had the opportunity to get to know some of my peers during my first year on campus and they are outstanding and incredibly hardworking. I admire them and can only hope to represent them well."
The Martinsville, Ind., native plans to become an interpretive naturalist and hopes to lead programs in both English and Spanish, utilizing her FNR degree and Spanish minor.
Meet Outstanding Sophomore – Ruby Sanders
Hometown: Carmel, Indiana
Major: Wildlife
Minors: Environmental Policy and Politics; Forest Ecosystems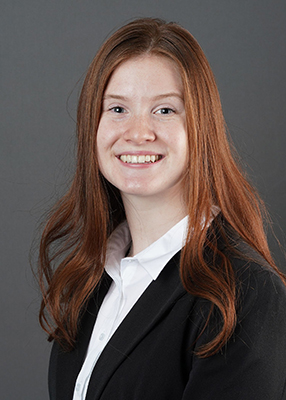 A wildlife major from Carmel, Ind., Ruby Sanders has made her presence known across campus through a variety of FNR and other activities.
Academically, Sanders has been inducted into Alpha Lambda Delta Phi Eta Sigma National Honor Society, which promotes hard work and dedication in and out of the classroom. In addition to her wildlife major, Sanders is minoring in environmental policy and politics as well as forest ecosystems.
Within FNR, she was a member of The Nature of Wild Things Learning Community and also has been a part of the Student Chapter of Environmental Education (SCEE), The Wildlife Society (TWS), the Purdue Student Society of Arboriculture (PSSA) and the Society of American Foresters (SAF).
Sanders is part of the Purdue Outing Club, through which she participated in a 30-mile adventure race. She also was part of the 2021 intramural soccer championship team, and was active in the Meredith Hall residential hall club.
Sanders has gained career experience working at a home and garden center as well as in Harrison Residence Hall, spending time as a youth interpretive naturalist at Conner Prairie, and even representing the state of Indiana at the National History Day contest in Washington D.C.
 "Ruby has excelled and impressed with her commitment to participate in the full undergraduate experience, participating in each experiential opportunity available to her, from our learning community to volunteer needs and club leadership," senior academic advisor Maria Leatherwood said. "Her dedication, drive and enthusiasm make her an excellent nominee for the Outstanding Student Award."
Sanders is appreciative of the Outstanding Sophomore Award as well as for the community she has found in FNR.
"I am honored to be receiving this award and very thankful for the recognition," Sanders said. "This award was presented to me during a difficult time in the semester; I was recovering from COVID-19 and still finishing up my quarantine. I felt very isolated and was struggling with motivation, as most students have felt during these past semesters with the pandemic. The news of this nomination helped push me to continue my hard work and involvement in my community at Purdue. I am thankful that the Department of Forestry and Natural Resources recognizes academic success and extracurricular activities, encouraging well-rounded students. Being a successful student is more than just perfect grades, which is seen through this award—reminding me to enjoy my time at Purdue and pursue what I love in and out of the classroom.
"I am so thankful for the students in my class and the comradery we have developed through the past two years. Being in FNR allows me to connect and have a relationship with many unique and bright individuals; I always feel supported and loved by my peers, which is really special. I am honored to represent my class and can't wait for years to come with my fellow students."
Meet Outstanding Junior – Madison Kresse
Hometown: Elkhart, Indiana
Majors: Forestry and Wildlife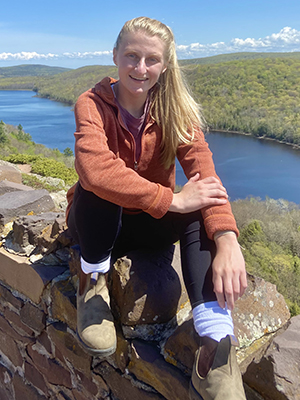 Madison Kresse, a double major in forestry and wildlife, came to Purdue with 41 AP and dual credits and has continued to excel academically, racking up 86 additional credits during her two and a half years on campus, while making the Dean's list and receiving semester honors each term. She also has recognized with the FNR Sophomore Academic Merit Award and was nominated to the Alpha Lambda Delta Honor Society.
Outside of the classroom, Kresse is involved in and serves in leadership positions in multiple clubs, including the student chapters of the Society of American Foresters (SAF) and The Wildlife Society (TWS). She is currently president of SAF and vice president of TWS. She also is an FNR Ambassador and participates in the Student Chapter of Environmental Education, the Purdue Student Society of Arboriculture (PSSA), the Environmental Science Club and the Botany Club.
Kresse has gained valuable work experience in the department and abroad, serving as: a lab tech for Dr. Mark Couture's entomology lab, as an overstory field technician on the Hardwood Ecosystem Experiment, as a field technician for Dr. Mike Saunders' research lab, as a grader for Agricultural Economics 204, and also working on professor emeritus Dan Cassens' tree farm. Kresse also has volunteered with NICHES Land Trust and Wolf Park and participated in bird banding and invasive plant removal through clubs and other involvement.
"We are incredibly proud to have Madison in the department," said Barny Dunning, academic advisor and administrative manager of the Office of Student Services. "She is doing exactly what we hope of students, meaning she is getting a strong education, amassing technical and professional skill sets through a wide variety of club and career experiences, networking with professionals and peers, and taking full advantage of all that Purdue has to offer."
Kresse's willingness to learn, to lead, to pitch in wherever needed and drive to be a strong representative for FNR are just a few of the reasons she was named as the department's Outstanding Junior for 2021-22.
"Being selected as the 2022 Outstanding FNR Junior, I feel as though all the time and effort that I have allocated towards classes and extracurriculars is noticed and appreciated by FNR professors, faculty, and staff," Kresse said. "It is rewarding to feel supported by those I respect and aim to impress. With the recognition, I am grateful for my friends and family who have supported me throughout these past three years at Purdue University. 
"I am extremely honored and grateful to receive this award on the behalf of my class. I feel as though the FNR junior class deserves this recognition because everyone demonstrates immense dedication and commitment to not only their education but also their careers and passion. I am proud to be a part of a group of students who are driven to follow their passions and have influential impacts on our environment." 
Meet Outstanding Senior – Lina Bernabé
Hometown: Fort Wayne, Indiana
Major: Forestry
Minor: Urban Forestry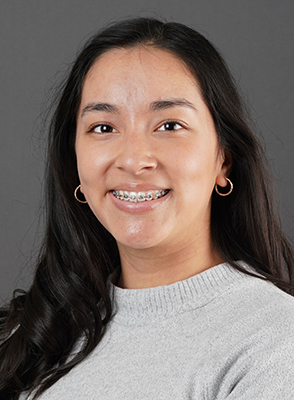 Lina Bernabé is a forestry major, who is also minoring in urban forestry and working toward an environmental sustainability studies certificate. The Fort Wayne, Indiana, native was recognized with FNR's Sophomore Academic Merit Award in 2020, and also received the 2022 Ramsey Award student scholarship from the Indiana Arborist Association, which is awarded to a Purdue student who has a professional interest in some aspect of urban forestry.
Bernabé currently acts as treasurer for the Purdue Student Society of Arboriculture (PSSA) and serves as an FNR Ambassador. With PSSA, she helped organize recreational tree climbs and club meetings as well as organizing the group's annual field trip to the Tree Care Industry Association Expo and Student Career Days in November 2021.
"The feedback I have received from people and professionals around Lina is that her interest and sense of responsibility are impressive," urban forester Lindsey Purcell said. "In my arboricultural practices course, she was at the top of the class and has the respect of her peers and myself along with those in the industry she has been around. One of the most impressive areas of engagement I noticed with Lina was as an officer in the Purdue Student Society of Arboriculture. She served this past year in the club laudably with her leadership and organization skills. I consider her a great representative for our school and our urban forestry program."
Across campus, Bernabé is involved with the Latino Cultural Center and the Brazilian Jiu-jitsu Club. Her sophomore year, she was a member of the Environmental Science Club and also served as its secretary.
Bernabé has prepared herself for a career in forestry, interning for Wright Tree Service, working as a technical/field assistant for the Hardwood Tree Improvement and Regeneration Center (HTIRC) and completing the Tree Care Academy Tree Care Specialist program through the Tree Care Industry Association (TCIA).
Bernabé, who is set to graduate in May, wraps up her time in FNR as the 2021-22 Outstanding Senior.
"I feel absolutely honored to be named one of FNR's students of the year," Bernabé said. "As a senior, this award will give me gratification when I leave the department and community. I will always remember the Outstanding Student Award as something truly special. This award allows me to acknowledge my accomplishments and appreciate the memories I've received from FNR."