CHINA STUDY ABROAD
The China Study Abroad Program is a 3-credit, Purdue faculty led course where students spend 15 days in China during the second half of May. We travel to Beijing, Shanghai, Xi'an, Chongqing, Yichang, Langfang, and Shaoxing.
The current trend of globalization requires today and the future's scientists, economists, and entrepreneurs to have a much better understanding of the world than ever before.  China, with its rapid economic growth, has become very important in the world economy, and one of our largest partners and competitors in the world market.  The goal of this course is to expose students to Chinese culture, economy and business with an emphasis on agriculture and food industry.
Students will travel as a group led by Purdue faculty member Dr. Holly Wang. Interested students should have a desire to learn about the history, culture, and agriculture of China; however, knowledge of the area, an agricultural background, and fluency of the language are not required.   
VIDEO OVERVIEW OF THE PROGRAM
A video featuring student travels during the Purdue Maymester China Study Abroad trip.
How to enroll
To enroll in the next Study Abroad in China program, visit the International Program in Agricultural Office: AGAD G26.
This study abroad qualifies for the Purdue Moves Summer/Short Term Study Abroad Scholarship (14 day program or greater option).
Trip Itinerary
Day 1: Fly out of Chicago
Day 2: Arrive in Beijing
Day 3: Visit US Grain Council and US Embassy in Beijing
Day 4: Tiananmen Square, Forbidden City, Shishahai Hutong tour
Day 5: Great Wall, train to Xi'an
Day 6: Terri Cotta, Agriculture tour, City Wall, Dumpling Banquet and Show in Xi'an
Day 7: High Speed G-train to Chongqing, see pandas!, board the Yangtze Three Gorges cruise
Day 8: Yangtze Three Gorges cruise
Day 9: Lecture about China Economics Development on cruise
Day 10: Three Gorges Dam, hydraulic-economic project, Yichang, fly to Hangzhou
Day 11: Zhejiang University exchange, visit Taobao Village, spend evening in Hangzhou
Day 12: Bus to Wuzhen Watertown for day tour, bus to Shanghai
Day 13: Visit Pudong, Financial Firm, the Bund, Yu Garden, Acrobatic Show in Shanghai
Day 14: Self explore day in Shanghai
Day 15
: 
Fly out of Shanghai, arrive in 
Chicago early afternoon
Comments from Students
I had been learning how the Chinese economy was influencing the United States and I wanted to experience the Chinese culture. 

I liked the opportunity to see a completely different culture from our own. I also liked the idea of seeing a country that was growing so rapidly that many people expect it to be the next world power. 

I wanted to study abroad for school. I thought I would go to China because I would less likely choose to travel there on my own after school.
Interaction with China Agriculture University students. These experiences are priceless, and my friendship with the students is still very strong to this day.

I really enjoy seeing the Great Wall. It was mind blowing. I also really liked the seeing the three gorges. It was absolutely gorgeous! Of course all the history was amazing to hear as well.

One of the most impressive activities was taking the Yangtze Three Gorges cruise which led us to see the dam. 

I really enjoyed the site-seeing part of the trip, but I think the most impressive part was visiting the various businesses and seeing how they were growing.

The trip as a whole. It was fun, exciting and very educational. I especially enjoyed viewing the ancient culture.

Shopping, conversing with new people, seeing all of the old buildings and Olympic sites, going to plays and dances, great wall, cruise and Three Gorges Dam.

Visiting the farms in Xian and the stock exchange in Shanghai.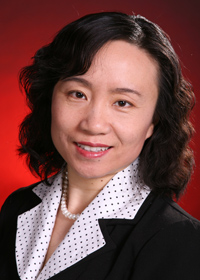 H. Holly Wang
Agricultural Economics
Professor, China Study Abroad Coordinator
765.494.4245
Dr. Holly Wang is a professor in the Department of Agricultural Economics, Purdue University. She is a nationally known expert on Chinese economy. She was born and grew up in Beijing, China and later received her Ph.D degree in the US. She is well connected in academic and industry in China. She initialized this course in 2009, and teaches it every other year. 
Want to Learn More? Contact Us!
Dr. H. Holly Wang, Professor of Agricultural Economics, wanghong@purdue.edu