Out of state student finds passion for traveling abroad
Name: Remi Carrella  
Hometown: Randolph, New Jersey  
Major and Concentration: Agribusiness: Management 
Minors or Certificates: Jewish Studies; Certificate in Entrepreneurship  
Why did you come to Purdue: I knew I wanted to go to a school with a highly rated Agricultural program, and after visiting many schools Purdue was the only one, I felt truly welcomed by both the students and the staff. I knew that this would be a place where my learning would be supported in all ways for the coming years. 
Favorite Purdue tradition: Tailgating for the football games  
Top three influences at Purdue:   
Alpha Epsilon Pi Fraternity 

All of the amazing friends I've made 

My study abroad experiences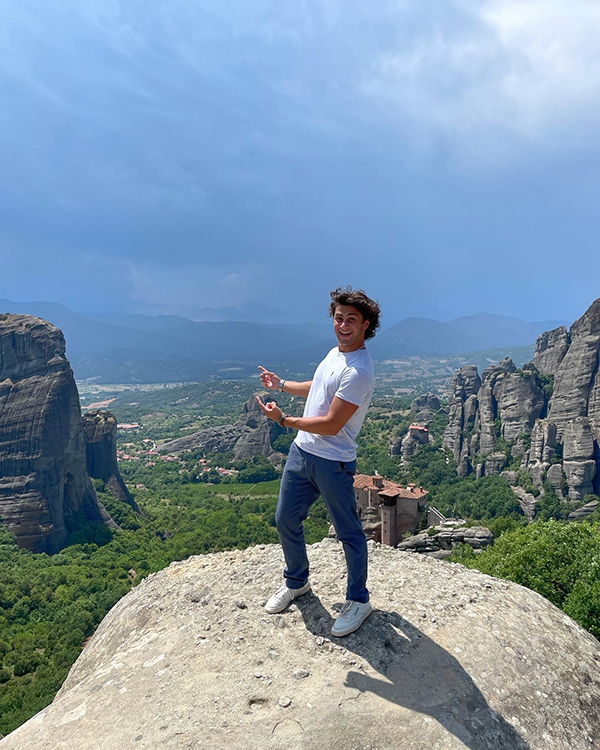 Top five memories of your time at Purdue:   
All of my time at the AEPi fraternity. I truly found a home away from home there and have made too many memories to count since freshman year.

My Study Abroad experiences in Italy and Greece 

Grand Prix week 

Chabad Friday night dinners

Places you have been as a Purdue student: 
Spent a summer in Greece studying wine 

A semester abroad in Italy and traveling Europe 

Representing my fraternity at two national conferences in Florida 

Interning with PepsiCo in Chicago
Favorite club/organization: Alpha Epsilon Pi Fraternity  
Favorite Student-led event/initiative: Ag Week  
Favorite Purdue event: Midnight Pancakes Breakfast  
Favorite place on campus/Favorite place to study: Lavazza in Marriot Hall  
Favorite thing about the College of Ag: How kind and helpful everyone is. It is what initially drew me to Purdue and it is still one of the many reasons I am proud to call myself a boilermaker. 
Favorite class: ENTR 200 - Intro to Entrepreneurship and Innovation. 
Favorite Teacher: Dr. Alon Kantor  
Three biggest accomplishments at Purdue: 
Serving as president of my fraternity

Successfully organizing a Holocaust remembrance walk attended by over a hundred people 

Receiving over $10,000 in grants while serving as treasurer of my club, to sponsor a trip to New York
Something about you that is not listed on your resume: I am a beekeeper and have held lessons for community members on the basics of beekeeping and the importance of bees in our ecosystem.  
Future Plans: I have not accepted employment as of July 2023, and do not have any company in particular I am looking to end up at.  
Advice for lower classmen? Accept every experience and opportunity that comes your way. Try new things, escape your comfort zone, and never say no. You'll be surprised how much you learn about others, the world, and yourself in the places you'd never have expected to find yourself. 4 years is not a lot of time, but you have the ability to make them some of the most exciting years of your life.  
Biggest takeaway from Purdue? Opportunities are everywhere. If you are ambitious, work hard, and know where to look you can accomplish anything.