It takes a lot of hard work to become an expert in computer science. Becoming an authority in life science is also quite rigorous. Mastering both requires a special talent, which is why Majid Kazemian, Assistant Professor of Biochemistry and Computer Science, is such a unique member of the faculty at Purdue.
Computer science was Kazemian's first passion. He received his Bachelor of Science in Computer Hardware Engineering followed by his Master's degree in Machine Intelligence and Robotics. At that point, his interests veered toward bio-computing as he found solutions that emerged in life science could inspire developing new computational paradigms, such as neural network computing and genetic algorithms. He saw ways to use biological data as an application for testing computational algorithms.
Kazemian pursued his PhD in Computer Science while focusing on biology-oriented problems. He studied enhancers, part of the non-coding genome that controls gene expression. Upon completing his PhD, he joined the National Institute of Health (NIH) to expand his knowledge of the human cancer genome and immunology.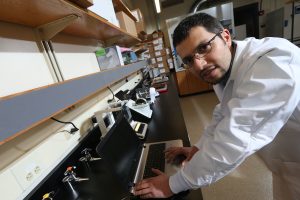 After three years at the NIH, Kazemian began applying for faculty positions at universities where there were opportunities to have both traditional (wet) and computational (dry) labs. Purdue was one of only a few schools that could provide both. In early 2017, he joined the university, splitting his time between computer science and life science. He is also a member of the Purdue Cancer Center.
With his research, Kazemian is hoping to study genome regulation, in particular variations in the non-coding part of the genome. "The goal of my work," said Kazemian, "is to find links between genome variation and cancer and immune disorders."  The Kazemian lab is now active on campus.
Projects currently active in his lab include one in which researchers are developing new genome-wide technology to capture enhancers in immune cells. Ongoing projects involve constantly analyzing genomics/epigenomics data from lymphoma and cancer patients to find pathways that contribute to the disease.
The lab is hiring post-docs, technicians, and graduate students who are interested in next-generation sequencing applications in human diseases and genome regulation. Exciting projects are available for both biologists and computational biologists.