Amanda Wuestefeld, Director of the Indiana Department of Natural Resources Division of Fish and Wildlife, will has been named as one of the College of Agriculture's 2021 Distinguished Agriculture Alumni award winners.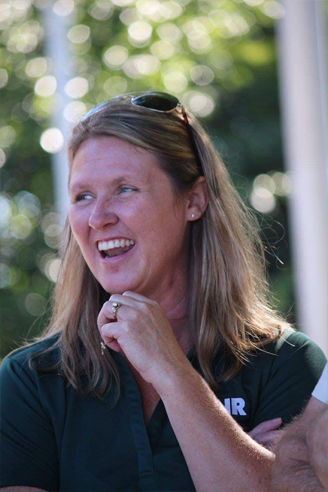 The Commiskey, Indiana, native, who completed her bachelor's degree in wildlife science in 1996, is the first woman to fill the director role for the Division of Fish and Wildlife. She was named to her current role in September 2019 after more than 25 years with the Indiana DNR.
The Distinguished Agriculture Alumni Award recognizes mid-career alumni who have a demonstrated record of outstanding accomplishments, have made significant contributions to his/her profession or society in general, and exhibit high potential for future professional growth.
"Amanda has earned career success to which most wildlife professionals can only aspire," said Dr. Bob Wagner, Purdue Forestry and Natural Resources department head. "She has been actively involved with wildlife conservation and management in Indiana throughout her successful career. As Indiana's first female Fish & Wildlife Director, she will have a large influence on the future of fish and wildlife conservation in the Hoosier state for many years to come."
After spending four summers as a seasonal interpretive naturalist with the Indiana Division of State Parks as an undergraduate, working with snakes and reptiles, helping rehabilitate birds of prey and mammals, managing education centers and presenting interpretative programs at the state parks, Wuestefeld began her career with the DNR as an information specialist in 1997. After two years in that role, she began an 11-year stint as an aquatic resources education coordinator, which saw her coordinate state-wide educational programming for more than 3,000 youth, while organizing and maintaining a volunteer network of instructors for the program.
In 2008, Wuestefeld was named Hoosier Outdoor Heritage Coordinator, a position she filled for eight years. She created and implemented new hunting recruitment programming from mentored hunts to school-based curricula to hands-on adult programming and club-based shooting programs. Wuestefeld also organized the Hoosier Outdoor Experience, Indiana's largest, hands-on outdoor recreation event, which featured activities ranging from canoeing to off-roading and horseback riding and also highlighted many more activities and grassroots partners, while giving attendees the change to learn about and appreciate the perse wildlife and natural beauty in Indiana.
From 2012 to 2010, Wuestefeld worked with local, state and federal partners to develop the Wildlife Action Plan for Indiana, a guide which looks at recovering and managing at-risk species and assesses wildlife habitats across the state. The plan aims to manage, conserve and enhance habitat and population stability for perse fish and wildlife resources, while enriching the quality of life for all Indiana residents.
For five years, Wuestefeld was the assistant director of the Division of Fish and Wildlife, a role which saw her oversee a $20 million budget, while managing the wildlife, fisheries and operations sectors, before assuming the role of Director in September 2019.
"Amanda has been actively involved with natural resources conservation in Indiana since her inception as a professional and will likely influence the direction of conservation work for years to come," the FNR awards evaluation committee said in recommending her for the 2020 FNR Distinguished Alumnus Award. "She has achieved through hard work, professional integrity, and a demonstrated ability to interact with both colleagues and stakeholders and has succeeded at all levels."
Wuestefeld's long track record of successful conservation initiatives and positive contributions to natural resources have been recognized by many groups over the years. Most recently, she earned the Purdue FNR Distinguished Alumnus Award in 2020.
In 2002, she received the Partners in the Environment's Significant Contributions Award from Keep Indianapolis Beautiful for her work in improving Indianapolis' aquatic resources education. She garnered the Joe Wright Recognition of Excellence Award from the Environmental Education Association of Indiana in both 2005 and 2008 for her work on aquatic resources and hunter recruitment. In 2009, The Indiana Bowhunter Association tabbed Wuestefeld as its DNR Employee of the Year for her hunter recruitment and education efforts.
In her time with the DNR, Wuestefeld has launched an online licensing system for the Division of Fish and Wildlife, developed a new pay scale for department biologists bringing Indiana's positions up to market value, spearheaded the development of a fishing outreach program at the Indiana State Fair, and raised more than $100,000 annually for the Hoosier Outdoor Experience.
Wuestefeld follows 2020 Distinguished Agricultural Alumni Award recipient Kristen Page, and is the fourth female in FNR to receive the honor since 1995. Leslie Holland-Bartels (PhD 1980) was the first, earning recognition in 2006, while Mary Beth Adams (BS 1980, MS 1982) was honored in 2016. A full list of Purdue FNR alumni awards honorees is here: Alumni Awards.
A Conversation with Wuestefeld
Growing up in Southern Indiana, playing out in the woods and hunting and fishing, etc., did you ever think you would be where you are today?
AW: I'm not sure whenever we were just kids goofing around what I thought. It wasn't until I was in high school thinking about and talking to my parents about what's next that I considered this path. Neither of my parents were college graduates, they worked in factories, and they always just told us, my brother and I, that whatever you do, you don't do it for money, you do it for the joy of going to work, so pick something that you enjoy. The one thing I knew that was always exciting and a happy point in my life was outdoors and the time with family outdoors, so that is kind of the path I took. I was lucky to know some folks within the DNR, so I could just ask them what about what that career looked like for them and how they got here. They were all really genuine and honest about the path they took.
The people I knew at the DNR all told me that the DNR is like a family and that it was a great place to grow up and learn and be a part of. Since that is how I saw the outdoors, I think that is kind of why I picked my path in natural resources, the DNR is where I wanted to be. To be able to spend over 25 years in an agency that really has become my family has been wonderful and I wouldn't have done that if I hadn't been pointed in the direction of Purdue University and Forestry and Natural Resources.
Talk about your experience with Purdue FNR.
AW: Once I was able to make it to Purdue and start to learn the field, that set me up perfectly. The piece about Purdue that really opened the biggest doors for me was that they had a co-op program when I was there. I was a sophomore whenever I went into the co-op program. I had already worked two summers with the DNR straight out of high school and then the summer between my freshman and sophomore year. I already had some experience, but the co-op program lined up perfectly. Because I had natural resource experience and DNR experience, it just opened that door right up. It's all about experience and who you know. That's what gets you places is experience, experience, experience, and then the people that you work with through those experiences. Three semesters of co-op gave me that needed experience to really decide what I wanted to do in the DNR, while continuing my school throughout that process and growing all along the way. It worked out nice because I had tons of connections in FNR and also in DNR and between the two they kept me busy until I had the opportunity to hire on full time.
What professors or experiences at Purdue helped shaped your career or do you still utilize in your job today?
AW: I think all of those hands-on classes were the most memorable as far as instruction.
I don't know how I actually ended up with so many different opportunities, but I worked for a grad student of Dr. Parker's, Shannon Brown (now Menard), doing plant work within our state park system to prove that we needed to hunt deer because deer were having an ecological impact within the state park systems because there was no hunting pressure within some of those large parks. We camped out all summer and toured the state parks system, running our transects and counting plants. I always say that if I had it to do over again, I might stick a little closer to that ecology side of things because that work with Dr. Parker and Shannon was really some of the most impactful and memorable experiences I had at Purdue.
You started as a seasonal hire for the DNR and look at you now.
AW: I actually was hired to clean toilets, but I never did that job. I think that is kind of the funnier part of it. I was doing gatehouse work. I think I did gatehouse work for two weekends in the beginning of the season and then the naturalist that was supposed to be coming from another state to do the summer programming didn't report to work. They were looking at who they already had and I was the one person that had declared that they wanted to be in natural resources. I literally had zero college experience and only high school biology and they asked if I wanted to be an interpreter for the summer. I don't even think I knew what that was, but I said sure, sounds great. I took the risk and I ended up doing that for three summers and learning to be a better public speaker by educating the public. It was that first opportunity as an interpretive naturalist that shaped my path.
Your career has included work in aquatic sciences, with hunters and in outdoor education as well as the creation of the wildlife action plan. How did that all-inclusive approach prepare you for your current role as director?
AW: I realized pretty quickly in my career that there are lots of ways to specialize within the field of natural resources and every one of us that is working in the field has something that we are the leader or the specialist in, and we need to be respectful of each other.
I think that anybody that is in a wildlife agency very long realizes that as much as we all would like to just be working on the ecology and wildlife management pieces of our jobs, we have to always be thinking about the people side of it. I tell my staff all of the time, as much as we'd like to think we work for the fish and the deer, it is the people of Indiana that write our paychecks, so while we think we make decisions for fish, wildlife and habitat, we are really making decisions for hunters and anglers, birdwatchers and others who just like to be out enjoying the landscape. That's really easy for us to forget as wildlife scientists, because we learn how to study wildlife but sometimes we fail to remember to integrate the public. I think my years of watching people and working with people and always having that science/biology part in the back of my head has given me some good insight and ability to lead and see things differently.
What are you most proud of in your time at the DNR?
AW: For me, it's all little moments that have added over my career that in the moment didn't seem like a big deal, but when you look back they are each special and add up to being important and impactful. Through every one of those experiences I met new people and learned new systems and I grew in some way. When I look back, I'm just always happy that people trusted me to lead whatever they thought was important at the moment.
I remember whenever I was working on putting together the fishing pond at the state fair, I didn't know anything about construction or building a pool that was essentially going to keep fish alive, but when I look back on it, it's something that is probably going to be at the fair 20, 40, 50 years. You go to the fairgrounds and to the DNR building and you see the fishing pond. As much as you love or hate it in the moment, looking back, it was a really cool thing to be a part of. I look at all of the volunteers from when I started and they still show up to volunteer today. There is a young man, TJ, who was deaf, but had cochlear implants, so he could hear but had a hard time communicating. He was a little kid, around eight years old, when he started volunteering out there. He and his dad would sign across the pond at each other. This little dude loved to fish and he would connect with people through fishing. He grew up around that pond every summer. He's 22 or 23 now and has graduated from college. When you look back on a project and see the impact it has on those people and the personal connections you make with them, those are things, and there are hundreds of them across my career, that make it meaningful.
The Outdoor Experience is another one of those moments. I hope what I bring to the table is that it is important for us to share our science, our work. The role of our agency is to maintain healthy fish and wildlife populations through good scientific management and that's a really hard thing to talk to the public about, so you have to show them in some way. Things like the Outdoor Experience and Fishing Pond and other really cool programs we do out at fish and wildlife areas across the state show the public how we do conservation.
A large chunk of your career was been spent working on the Wildlife Action Plan. How do you think that has helped shape the future of natural resources in Indiana?
AW: State Wildlife Action Plans are mandated and states can take whatever path they want. The simple path is to check the boxes and move on or you can invest in it and make an actual document that is going to try to guide conservation in your state. On round 1, we took the check the box path, because it was the first time and I don't think we really knew how to do it any differently, but we saw that it didn't really have any impact. So, when we did it the next time, when I was involved, the direction from the leadership was that we wanted this to be our plan and drive decisions in the Division. Honestly, when I look back, that was one of the most challenging times in my career. I was still doing outreach and education, but then I had to be able to switch in an instant and start thinking about significant research and the kinds of conservation we needed to be doing as an agency and how that impacted our own staff and our partners.
But, today, when we talk about what the plan has done for us, it has been the thing we've hung all of our strategic planning on. It is where we start. It has completely driven not only work on our own lands, but it's driving work on private lands too. We have been able to partner a lot closer with the Natural Resources Conservation Services, and we're going after Farm Bill money that we haven't historically been able to. We can put really good conservation on the landscape that's driven by a need that is coming out of this state wildlife action plan. To be able to watch that happen and physically take resources and move them in different ways so that we are truly being impactful to the plan, it is pretty cool to know that I had a piece of that plan and now it is driving the business of fish and wildlife in Indiana.
What are your goals for the future of the DNR?
AW: My goal is for us to better every day. It's to challenge my staff and for them to challenge me to really push the science of conservation, to push our approaches on outreach and work hard to develop staff that are able to integrate both in their daily work. My goal is figure out how as an agency to always be pushing the envelope so that we are providing the public with the best access to the highest quality fish and wildlife resources.
I still love to be outdoors, I still love to interact with the resource and the public, especially with my family, whether we are out mushroom hunting or ice fishing. I did that with my parents and we're doing that with my kids. I still go to work every day super excited whether I am interacting with the public or now really more with staff and partners. I want to be able to share that passion and I want my staff to do that as well. I think that is what set me up for where I'm at today.