The COVID-19 shutdown in 2020 threatened a more than 90-year old FNR tradition, but through the ingenuity, determination and perseverance of both instructors and students, the legacy of Summer Practicum continued, albeit with some modifications.
Summer Practicum or Summer Camp has been a part of the Purdue Forestry and Natural Resources experience since 1929 when it began as a way for forestry students to gain first-hand knowledge in the field.
Now, each year, FNR students travel to Iron River, Michigan, typically during the summer following their sophomore year, to participate in a five-week residential camp experience to earn six hours of course credit. The immersive course begins with students of all majors together focusing on land measurement, surveying and navigation, inventory of forests, wildlife and aquatic resources as well as integrated resource management. Students then separate into specific modules in aquatic sciences, forest ecosystems and wildlife management.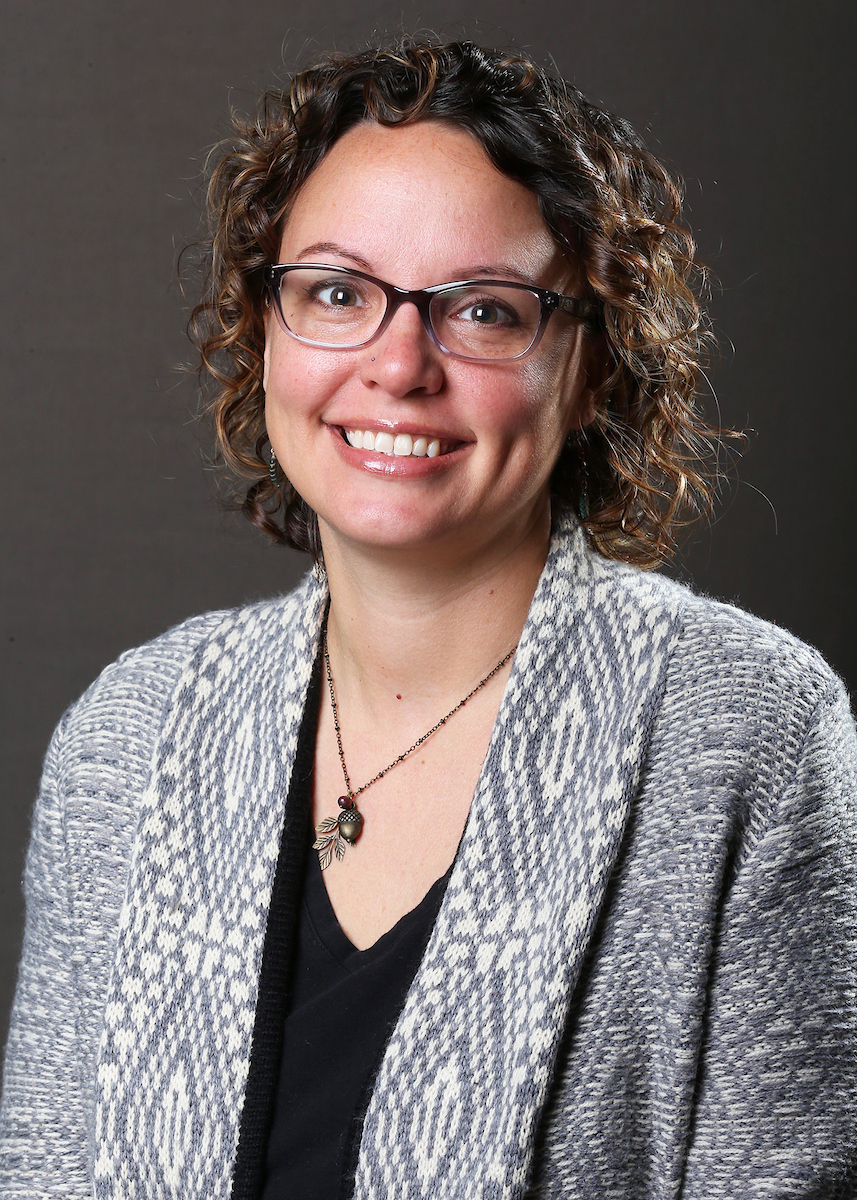 "Practicum is a baptism by fire where students go out, rain or shine, with insects and all of the different aspects of field work and experience being outside all day every day," explained Cortney Mycroft, who attended practicum herself as a student in 2001 and acted as practicum director from 2017 to 2021.
When the COVID-19 pandemic hit in the spring of 2020 and it became clear that traveling to Iron River would be impossible, Mycroft and the practicum planning committee resolved to giving students the educational experience of practicum in whatever format possible, using FNR properties near campus.
"A lot of programs would have allowed that class an excuse or exception to this requirement, but we believe in these learning objectives, we believe in the power of this practicum and we feel strongly about our students having the practicum experience in order to solidify what they have learned and pass forward that understanding to the rest of their college careers," Mycroft said. "We believe that it creates better professionals coming out of our department and we knew that we were going to do everything in our power to allow the students to have that experience, however it would look. We were not able to provide the residential camp experience because COVID was so fresh, but they still met those learning objectives.
"There is no way that we would have been able to swing having a practicum in 2020, unless we had buy-in from every single one of the instructors. There was no reward whatsoever for them doing so much extra in the fall, but they all jumped in and stepped up and said 'ok, here's what we need to do in order to stand up for these students.' All of the sacrifices that the instructors made in order to get 2020 off the ground at all just speaks to how important we think practicum is in general."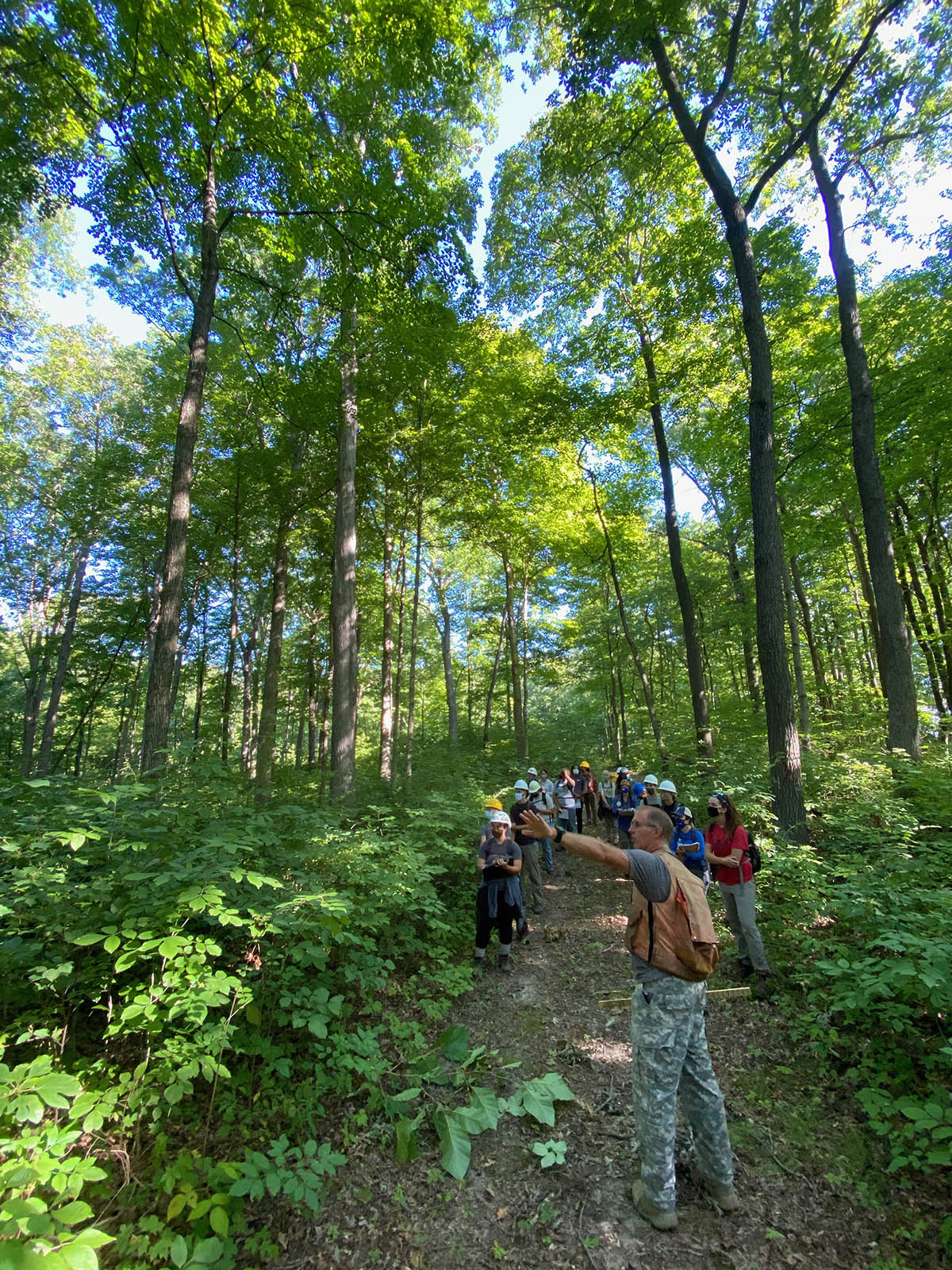 The practicum was moved to the fall semester, beginning the week before classes started in August and lasting through mid-October. Instructors and students gave up Friday afternoons and Saturdays in order to cram five weeks and six credit hours of dawn to dusk classwork and fieldwork into an already full and unique semester. Instructors had to pivot from their traditional lessons to adjust for a difference in topography between West Lafayette and the Upper Peninsula of Michigan, while also teaching their regularly scheduled fall courses, many in a new hybrid format. Students also faced an overloaded schedule with no October break, no free time on weekends and practicum work on top of their typical fall class slate.
The first week of practicum is typically spent learning compass work and navigation from extension forester Lenny Farlee. The areas used in the Upper Peninsula have established markers and trees that Farlee can revisit and refresh each year for the field exercises. Moving the skill work to Martell Forest for forestry and wildlife students and to campus for aquatic science students required establishing three new exercise courses to provide students with practice during land navigation and compass techniques.
Farlee incorporated the lake behind the Wright Center into one exercise, where students worked from shore
and from kayaks to triangulate their position on the lake and mark it on an aerial photo. Aquatic sciences students used their pacing and compass skills to map a section of Indian Creek on Martell Forest. Recruitment and outreach specialist Megan Gunn assisted with these exercises as Farlee was running concurrent exercises with forestry and wildlife students.
The practicum tradition of Find the Flag continued with the geographic location switched to Martell Forest. Students had to use an aerial photo marked with the location of eight trees spread across the forest and had to determine the scale and north orientation of their photo to plan a team route to each tree, then use the photo to navigate and gather the information on the flagging of each tree. In conjunction with Dr. Elizabeth Flaherty, Farlee had students on the wildlife teams place trail cameras at selected trees for use in practicum exercises in the coming weeks.
The change in venue and time of year also meant changes in species availability for small mammal trapping exercises for wildlife students. Professor of wildlife science Pat Zollner worked with farm manager Brian Beheler to identify locations at Martell Forest and the Purdue Wildlife Area that would provide the range of conditions to allow students to work with a diversity of different species. Undergraduate teaching assistant Reagan Muniz was tasked with updating Zollner's small mammal keys to create an Indiana version of files for students to work with.
Flaherty assisted Zollner with small mammal trapping, allowing for more grids to be set up and more students to trap at multiple locations during the shortened time frame.  
In a typical year at Iron River, a member of the Great Lakes Indian Fish and Wildlife Commission spends a few hours with students talking about working across cultures with the Anishinaabe and Ojibwe tribes. In 2020, the change in venue allowed one of FNR's own, Cami Griffith, a Sloan Scholar in Zollner's lab who is Lakota, to fill in and discuss how to succeed and be proactive in thinking about managing natural resources across cultures.
 "Obviously Cortney is the one who was massively imposed upon in a bajillion different ways for logistics, but we all scrambled and worked hard to make sure students were exposed to the field skills that they would normally get," Zollner recalled. "There were a lot of little things that were compromised, but the vast majority of everything happened in 2020 by sheer force of will and a lot of effort by a lot of people."
In 2021, practicum returned to the Upper Peninsula, but many COVID-19 restrictions were still in place creating unique challenges of housing and transportation. Many students deferred practicum from 2020 to 2021, nearly doubling the size of the course to 83.
"It would be a challenge on a good year to find housing for all of those students, but then also trying to keep students distanced and following all of the procedures Purdue had to keep our students safe made it an even bigger challenge," Mycroft shared. "Covenant Point was a great partner in this. They did a lot of shifting. Volunteers came and stayed the full five weeks instead of rotating in and out. They delayed the start of their summer programming by a week so that they could serve us and provide beds for us in places that we have never used before."
All students, instructors and staff were tested or vaccinated before coming to camp. Quarantine beds were ready to go if necessary, but fortunately there were no cases of COVID at practicum.
Adjustments were made to ensure everyone remained socially distanced indoors. A large tent was constructed outside the dining hall to make room for everyone to eat at the same time. Instructors had to teach multiple sessions in order to reach all of the students as a single large room with enough space for social distancing was not available. Outdoor activities had to be taught in multiple rotations in order to accommodate the large group and space restrictions.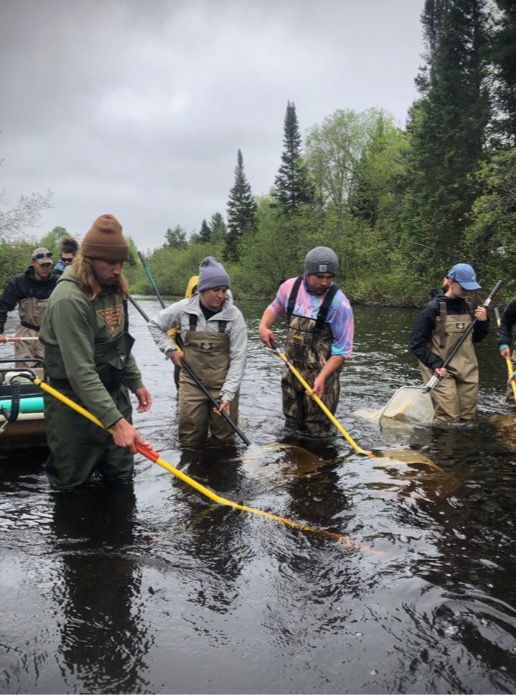 "We did have to have lectures outdoors in a tent, which wasn't a big deal except for once where heavy rainfall made it impossible for the students to hear me talk and it started to flood in around the chairs," clinical assistant professor Mitch Zischke said. "Much of our instructional activities around Covenant Point stayed the same and we were able to do most of our field trips to the Great Lakes, including a tour of a commercial fish processing plant and visit a USGS research station where displays had been prepared outdoors to adhere to COVID restrictions."
Decreased capacity in vans, coupled with the larger class doubled the number of vans that were needed. Group trips had to be divided and many activities were relocated from past years to places within walking distance of camp.
"We kept things local, but 2021 was pretty much spot on for the students getting all of the activities they would normally get," Zollner said. "It was a little harder and a little more spaced out and we had to be a little bit more intentional about things to stay safe, but we really didn't compromise things."
Farlee's Find the Flag course was moved from its traditional heavily bogged area, but the new location brought fresh wolf and bear tracks which excited students. Dr. Guofan Shao came up to camp early to split the class with Farlee, making the large group more manageable.
The traditional voluntary day trip to the Porcupine Mountains Wilderness State Park was split into two days in order to make sure everyone wanting to go had the opportunity.
"The first year using a new exercise area often has some unexpected surprises, but the students did very well and made rapid progress on the course," Farlee said. "Then I think we had two of the nicest weather days back to back that I can remember for the trip to the Porcupine Mountains. Some highlights were a peregrine falcon and eagle nest sighting at Lake of the Clouds.
"Student groups for both of our modified practicums were enthusiastic and committed to making this work. Enormous credits should go to them and to Cortney for pulling off these pandemic practicums."
Mycroft said some adjustments made during the last two practicums may become permanent, while others may return to normal in the future.
"This forced us to be innovative and think in a new direction to pivot and do better for our students," Mycroft said. "It made us look at what we have and our abilities. Over the past couple of years now, we have been able to say just because we did it for so many years, that doesn't mean it is the only way it can be done. We have increased our efficiency and some things have come out of this for the better. I think it has opened our eyes to some new ways that we can approach natural resource education."
Check out photos from 2021 Summer Practicum on Facebook. 
Story by Wendy Mayer, Communications Coordinator