Dr. Rod Williams' hellbender research, the Purdue rearing lab and more than 12 years of the lab's work are featured in a new documentary, Hellbender in the Blue, produced by Teardrop Pictures.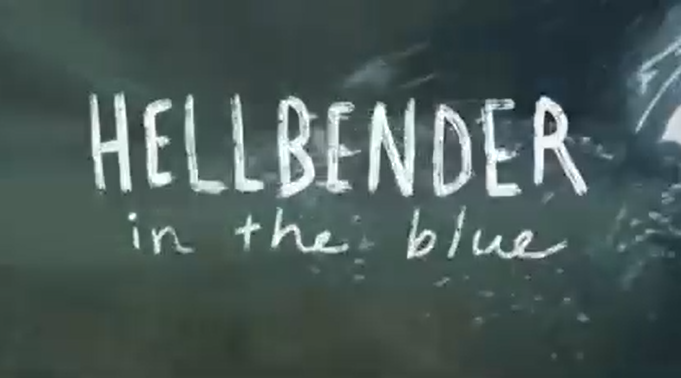 The film premiered on January 12 at the Kan-Kan Cinema and Brasserie in Indianapolis and is now available to purchase and stream through Vimeo on Demand. Hellbender in the Blue is also heading out on the festival tour, including the Indiana Humanities Waterways Film Tour.
The Indiana Humanities Waterways Film Tour is a nine-city tour featuring six short documentary films about Indiana's waterways. The films feature stories told by individuals from across the state and highlight their diverse relationships with water. Screenings are free and open to the public, although advance registration is requested. Select events will also include a panel featuring the filmmakers prior to the screening.
Thursday, March 31, 6 p.m. CT/7 ET; New Harmony Atheneum, 401 Arthur St., New Harmony, IN 47631
Tuesday, April 5, 6 p.m. ET; Jefferson County Public Library, 420 W. Main St., Madison, IN 47250
Thursday, April 7, 8 p.m. ET; Taggart Amphitheatre (outdoor screening), 1856 Burdsal Pkwy., Indianapolis, IN 46208
Tuesday, April 19, 6 p.m. ET; Fowler Theatre, 111 E. 5th

 St., Fowler, IN 47944

Wednesday, April 20, 6:30 p.m. ET; Strand Theatre, 221 S. Main St., Kendallville, IN 46755
Friday, April 29, 7 p.m. CT/8 p.m. ET; Marshall J. Gardner Center for the Arts, 540 S. Lake St., Gary, IN 46403
Wednesday, May 11, 6:30 p.m. ET; Harrison County Arts, 113 E. Beaver St., Corydon, IN 47112
Tuesday, May 17, 6:30 p.m. ET; Studebaker 112, 635 S. Lafayette Blvd., South Bend, IN 46601
Tuesday, June 22, 6:30 p.m. ET; Richmond Art Museum, 350 Hub Etchison Pkwy., Richmond, IN 47374
The soundtrack to Hellbender in the Blue is available on Spotify, care of Eric Salazar, also known as @theclarinetguy on Instagram.
Purdue Forestry and Natural Resources' involvement in the Hellbender in the Blue project began in April
2020, when Katelyn Calhoun, a documentary film maker with Teardrop Pictures, contacted Williams and research biologist/extension wildlife specialist Nick Burgmeier, regarding her desire to make a film about hellbenders in Indiana, as well the efforts Purdue, The Nature Conservancy and others have undertaken to protect/restore their populations and the efforts to remove dams from their habitat. The eventual goal is to make a more wide-ranging documentary about hellbenders throughout their range.
"We hope the film helps reach a broader audience to expand awareness of the project and encourages people to support efforts to protect hellbenders and Indiana's water resources," Burgmeier said.
Calhoun and her team came to the Blue River several times to take footage of the Williams' lab in action, from collecting eggs to returning juvenile salamanders to the wild, and also visited the hellbender rearing facility at the Purdue Aquaculture Research Lab. Williams, Burgmeier, and husbandry lab coordinator Shelby Royal were interviewed for the project.
The film summary states: "From New York to Appalachia, the two-foot long eastern hellbender salamander is an indicator species for our river health. The population has declined noticeably since the early 1980s. In the Blue River watershed of southern Indiana, communities from all over the state are working towards dam removal to improve the environment for our slimy friend and the water for us all."
"Sharing the story of the hellbender salamander and the groups working tirelessly to save this important species was nothing short of an honor," the Teardrop team said on the Hellbender Film Facebook page. "We are so glad to share this film with loads of folks this year and start conversations all over Indiana about the hellbender salamander."
Hellbender partners featured in the film include Purdue FNR, Evansville Zoological Society, The Association of Zoos and Aquariums, Clark Waldrum Conservation fund, Pittsburgh Zoo and PPG Aquarium, PPG Conservation and Sustainability Fund, and the AZA Amphibian Taxon Advisory Group's Small Grant Fund.
Learn more about hellbenders through these resources:
Help the Hellbender Facebook page
Ask the Expert: Learn All About Hellbenders and Take a Tour
Ask the Expert video: Help the Hellbender – Dr. Stephen Spear of The Wilds
Ask the Expert video: Live with Mesker Park Zoo and Botanical Gardens – Hellbenders
A Moment in the Wild video: Hellbender Hide 
A Moment in the Wild video: Release Moment of Hellbenders 
Help the Hellbender, North America's Giant Salamander
How Anglers and Paddlers Can Help the Hellbender video
The Nature of Teaching: Adaptations for Aquatic Amphibians
Healthy Water, Happy Home - Lesson Plan
Assists in First Natural Breeding of Eastern Hellbender in Captivity