The 2022 calendar year saw several FNR faculty, staff, students and alumni represent the department both locally and nationally through awards and media appearances. Research breakthroughs, presentations, media appearances, and publications will be presented in the second edition of the 2022 FNR Year in Review: The Research coming soon. 
FNR welcomed nine new faculty and staff members in late 2021 and 2022. Dr. Peter Euclide, Laura Fehling, Theresa Hudson, Ben McCallister, Rhonda Taylor, Abby Valachovic, and Stephen Volz have joined the FNR staff in the past year, while Dr. Morgan Furze and Dr. Dylan Wainwright joined the faculty in August 2022 with 25% FNR appointments. Furze has a majority appointment in the Department of Botany and Plant Pathology, while Wainwright's major appointment is in the Department of Biological Sciences.
FNR celebrated 53 graduates in the spring (47 undergraduate degrees, four master's degrees, and two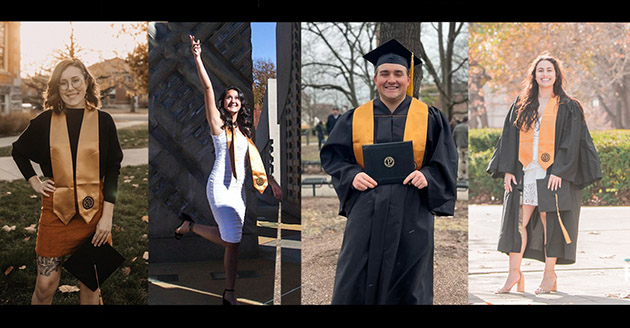 PhDs.) FNR boasted seven summer graduates (three undergraduates, two master's degrees, and two PhDs). In December, 29 students (19 undergraduates, five master's degrees, and five PhDs) joined the ranks of program and university alumni.
Drs. Brady Hardiman and Jingjing Liang were promoted to associate professor with tenure in April.
Dr. Marisol Sepulveda was named as co-chair of the PFAS Strategic Leadership team for the newly formed Institute for a Sustainable Future at Purdue. Dr. Tomas Höök is the co-chair for the Great Lakes Research Special Initiative and Dr. Jingjing Liang is the co-chair for the Biodiversity Research Community. 
Awards
Pat Zollner, professor of wildlife science, was named as a University Faculty Scholar. 
Urban forester Lindsey Purcell and his colleagues from the Pacific Northwest National Laboratory, SymTree Science and Elemental Enzyme were recognized with the Excellence in Technology Transfer Award presented by the 2022 Federal Laboratory Consortium for Technology Transfer for their work on and development of a tree micro-injector.
Dr. Eva Haviarova was selected as one of 16 Women Ambassadors Creating the Future of Wood Science worldwide by the Society of Wood Science and Technology. 
The interdisciplinary faculty and staff behind the Purdue Landscape Report, which provides science-based, timely information regarding Midwest landscapes to commercial growers, garden centers, landscapers, arborists and the general public, was been named as the recipient of the Purdue Agriculture TEAM Award, which was created in 1995 to recognize interdisciplinary team achievements of faculty and staff.
Dr. Elizabeth Flaherty was honored with the Student Choice Award for Outstanding Club/Organization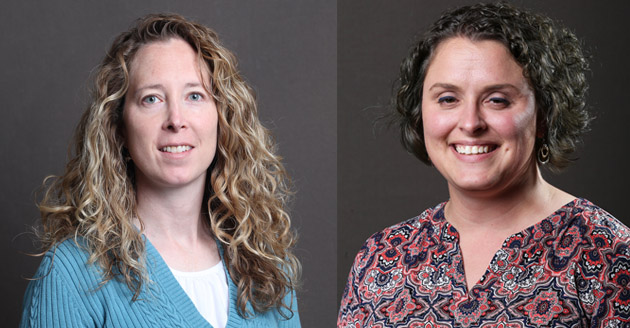 Advisor at the College of Agriculture's Spring Awards banquet in April. Flaherty also received the John T. Taylor Excellence in Teaching Innovation Award, while academic advisor Julie Pluimer received the Outstanding Service to Students Award at the College of Agriculture's Faculty and Staff Teaching Awards ceremony in November.
Flaherty also was honored with the E.B. Knight Journal Award from the North American College and Teachers of Agriculture for her collaboration with Purdue animal science's Jacey Wickenhauser, Paul Ebner and Elizabeth Karcher. The group was honored with the Outstanding Manuscript Award for the article: "Intercultural Competence: Fostering Student Skill Development During Emergency Remote Learning" which was published in the NACTA Journal 2021 Volume 65.
In May, Dr. Shaneka Lawson received the Forest Service Cultural Diversity Award for her accomplishments that engage diverse abilities, skills, backgrounds, and cultures, and promote inclusion and cultural transformation. In October, she received the Women of Color Outstanding Achievement Award in STEM as a Technology Rising Star, from the Career Communications Group. In November, she was honored with the REM Presidential Safety Award for her significant accomplishments in improving safety at Purdue. Lawson also won the Forest Service Photo Contest for the Under the Microscope Category and her submitted image will now be available for use as an official Forest Service background by all USFS employees.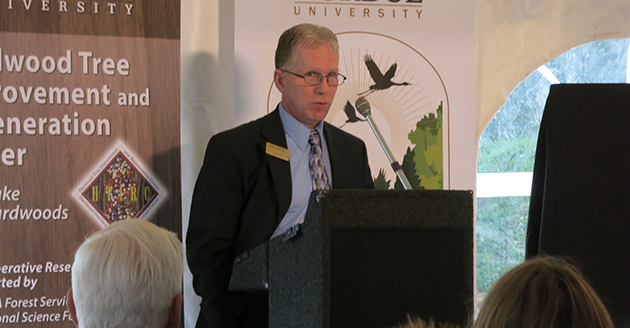 Dr. Rob Swihart was presented the Joseph Grinnell Award for outstanding and sustained contributions to education in mammalogy by the American Society of Mammalogists in October. Swihart also received a Teaching Award of Merit Certificate from the North American College and Teachers of Agriculture in June.
Dr. Rod Williams and the Help the Hellbender team received the Bayou Bill Conservation Award from the  Hoosier Outdoor Writers Association in October.
Departmental Awards
FNR named its Outstanding Students for 2021-22: freshman Leah Griffin, sophomore Ruby Sanders,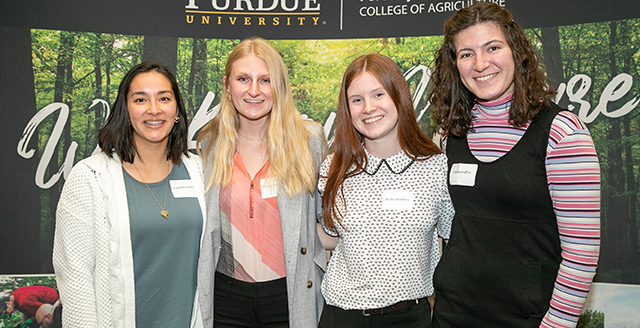 junior Madison Kresse and senior Lina Bernabe.
FNR celebrated all of its alumni award winners, poster contest winners, scholarship and student award recipients at its annual banquet on April 18. 
Purdue FNR announced its 2022 service award winners. Dr. Doug Jacobs received the William L. Hoover Faculty Service Award, while PhD student Les Warren received the Exemplary Graduate Student Service Award. Theresa Baker garnered the Outstanding Clerical/Service Staff Member Award, while Charlotte Owings was tabbed as the Outstanding Administrative/Professional Staff Award honoree.
Scott Johnson, who has worked for the last 35 years as a nongame mammologist, wildlife science program manager and wildlife science supervisor for the Indiana Department of Natural Resources, was named as the Chase S. Osborn Award for Wildlife Conservation 2022 Lifetime Achievement Award recipient.
Alumni Awards
Steve Creech was named as a College of Agriculture Certificate of Distinction Award honoree and was honored at the Purdue Ag Alumni Fish Fry in April.
Patrick Ruhl, a 2014 master's degree and 2018 PhD alumnus, was named as the 2022 Early Career
Award recipient of the Chase S. Osborn Award for Wildlife Conservation.
Seth Harden, a 2010 forestry alumnus and current Upper Wabash River Project Director for The Nature Conservancy, was honored as FNR's 2022 Outstanding Young Alumnus.
Petra Bohall Wood, a 1981 forestry alumna, received FNR's Distinguished Alumna Award for 2022. Wood is currently an assistant unit leader for wildlife with the West Virginia Cooperative Fish and Wildlife Research Unit as well as an adjunct professor at West Virginia University in the Division of Forestry and Natural Resources.
Glenn Juday was tabbed with FNR's Lifetime Achievement Award for his more than 40-year career in academia and research, most recently as a professor at the University of Alaska-Fairbanks before his retirement in 2015.
Tom Lang, a 2004 fisheries and aquatic sciences alumnus, was honored by the American Fisheries Society with its 2022 Meritorious Service Award at the AFS annual meeting in Spokane, Washington.
Three foresters with exemplary careers, including FNR alums Burney Fischer and Joe Schuerman Jr., were recognized with the John F. Datena Distinguished Forester Award at the recent Indiana Forestry & Woodland Owners Association annual conference.
Student Awards
Junior wildlife majors Evan Kinnevan and Jade Stuber were honored by the Rocky Mountain Elk Foundation with the 2022 Wildlife Leadership Awards.
Master's degree student Erin Christian was recognized by the Indiana Lakes Management Society with one of its 2022-23 scholarships.
PhD student Mary Strickland was awarded a Margaret A. Davidson Graduate Fellowship from NOAA's Office for Coastal Management's Natural Estuarine Research Reserve System. The two-year fellowship partners Strickland with the Narragansett Bay National Estuarine Research Reserve in Rhode Island. She explains her research in the YouTube video: Graduate Fellow is Acting to Help Communities Now, Rather Than Later.
PhD student Jue Mo won the Materials Innovation Award in the 11th Governor Cup industrial design
competition of Guangdong Province in China her product: MOORE: An Interlocking Hardwood CLT Coffee Table.
The Purdue student chapter of The Wildlife Society Quiz Bowl team finished third nationally at the TWS Conference in Spokane, Washington, in November. Several students, faculty, and staff members also gave either verbal or poster presentations at the event, while all in attendance were able to network and take in research and education opportunities.
In the Media
The FNR Extension specialists were recognized for their efforts to continue to spread the message of natural resources during COVID-19.
Dr. Rob Swihart spoke about squirrel behavior and the 1822 squirrel stampede in the Indianapolis Star's article "Call it nutty but Hamilton County will celebrate the Great Squirrel Stampede."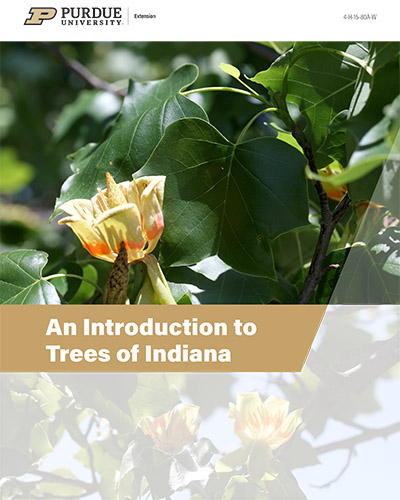 Extension forester Lenny Farlee and urban forester Lindsey Purcell assisted in updating the Fifty Trees of Indiana resource. The new publication, "An Introduction to Trees of Indiana" features additional trees and also updates information on the original species. The update was a collaborative effort of FNR, Indiana 4-H Youth Development and the Indiana Department of Natural Resources. 
Dr. Barny Dunning discussed birds that winter in Indiana in "How do birds that stay north survive Indiana's winter?" He also spoke about the hummingbird migration.
Dr. Jeff Dukes organized a faculty panel discussing climate justice issues specific to the Midwest as part of the Martin Luther King Week events on campus. In March, Dukes was a part of the Carbon Sense podcast's first episode: The State of Carbon.
Illinois-Indiana Sea Grant pollution prevention specialist Sarah Zack talked about Microplastics: What are they and why you should care" on the Science from the Experts series. 
Dr. Stuart Carlton and Amy Shambach wrote an article "Voices from the Industry: Aquaculture Producers in the Midwestern United States" in Choices Magazine, a publication of the Agricultural and Applied Economics Association.
Several FNR faculty and staff members were among those highlighted for their work on invasive species issues in the article "Join the Team to Halt Harmful Species" in Envision Magazine.
The work that Dr. Bryan Pijanowski and members of his lab at the Center for Global Soundscapes are doing studying sound in Mongolia and how it affects the practices of local herders was featured in this MNB World News story beginning at the 2:42 mark.
Pijanowski was part of the Canadian Geographic article "Bioacoustics: What Nature's Sounds Can Tell Us About the Health of Our World."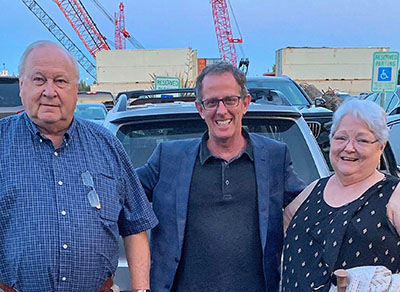 Professor Emeritus Harvey Holt, who joined the FNR faculty in 1975 and retired in 2009, reminisced about his time in West Lafayette and shared an update on what he is doing now in Tales from FNR.
Purdue Extension urban forestry specialist Ben McCallister spoke about the gingko tree in this Purdue Exponent article.
Extension specialist for sustainable communities Kara Salazar and a team from Purdue Extension and Illinois-Indiana Sea Grant were highlighted for their part in a project that addresses water equity in marginalized neighborhoods.
Pat Zollner, professor of wildlife science, talked about the Indiana red bat in an edition of Unexpected Plants and Animals of Indiana.
Purdue Extension wildlife specialist Brian MacGowan shared about timber rattlesnakes in an edition of Unexpected Plants and Animals of Indiana.
Purdue Extension wildlife specialist Jarred Brooke shared about his affinity for Northern bobwhite quail in an edition of Unexpected Plants and Animals of Indiana.
Help the Hellbender project coordinator Nick Burgmeier speak about hellbenders and the Williams' lab research on the On Wildlife podcast. The Williams Lab also was featured on the "So Much Pingle" podcast, episode 67: Release the Benders, which highlighted the group's research and hellbender releases into the wild. 
Alumni in the News
Alumna Jessica Outcalt and Hardwood Ecosystem researcher Kamal Islam were featured in the video "Forestry for the Birds" produced by The Nature Conservancy of Indiana. A tool developed to guide landowners in utilizing forest management strategies to help declining bird populations was featured here. Outcalt has introduced several species through the Birders Dozen in the Indiana Woodland Steward newsletter: Worm-eating warbler, Baltimore Oriole, American woodcock and red-headed woodpecker.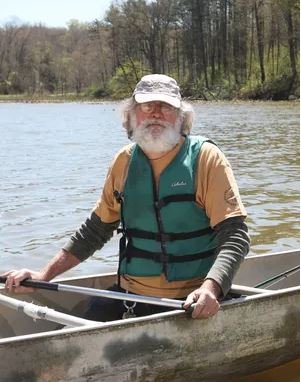 1982 wildlife alumnus Al Parker was featured in the Times Recorder story "Aces of Trades: Al Parker is dedicated to preserving wildlife, nature" for his work in wildlife conservation. Parker, who worked for 25 years with the Indiana Department of Natural Resources, is currently an associate professor at Zane State College.
Dr. Henry Quesada, a 2001 and 2004 master's and PhD alumnus was named as Agriculture and Natural Resources program leader with Purdue Extension.
FNR remembered Dr. Russell E. Mumford, the first student to be awarded a Ph.D. in wildlife at Purdue (1961), who passed away on January 26, 2022, at the age of 99. A three-time FNR alumnus, also earning his bachelor's in 1948 and master's in 1952, Mumford served as a department faculty member for many years, beginning as an instructor in 1958.
Soraida Garcia, a 2021 master's degree alumna in ecological sciences and engineering, shared her experiences as an underrepresented minority student in a magazine article titled "Making the Change," which was published in the March/April 2022 issue of The Wildlife Professional.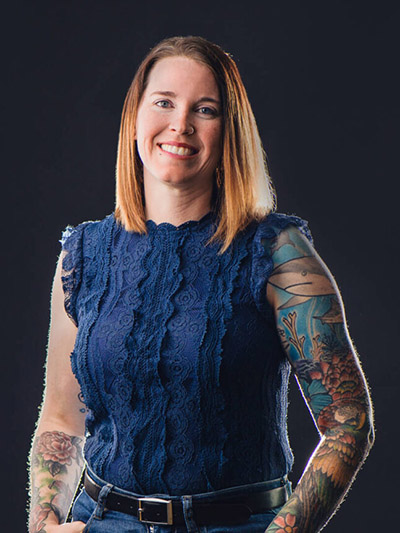 Brittany Blackford, a 2015 wildlife and fisheries and aquatics sciences alumna, shared about how her study abroad trips with Drs. Rueben Goforth and Barny Dunning impacted her life and her choice of body art in the story "A Tattoo Sleeve Full of Purdue Memories."
Gina (Arbas) Darnell, a 1976 alumna, was featured in the Chesterton Tribune article "Chesterton's Exemplary Tree Program is a Town Asset" for her impact on the city of Chesterton, which has been named an Arbor Day Tree USA city 26 years in a row.
2018 Ph.D. alumna Laura D'Acunto was featured by the Department of the Interior in its People of the Interior series.
Nathan Lutz, a 2017 interdisciplinary agriculture alumnus, never gave up the urge to complete what he had started at Purdue despite becoming an Indiana conservation officer his senior year. After seven years working for the state, Lutz has transitioned to a role as operations manager for Resource Environmental Solutions.
2015 wildlife and film and video studies dual degree alumna Olivia Andrus produced a short film that discusses the decline of the Florida panther population and the genetic rescue program developed to try to save the species from extinction. Learn what else Andrus has been up to and where she is going next.
Professor emeritus Mike Hunt's work in restoring homes in the Greater Lafayette community was featured in the article "Centennial Neighborhood's Big Bet on Itself" by Dave Bangert. Hunt earned his Ph.D. from Purdue FNR in the midst of his 56-year career as a Purdue Wood Research Lab faculty or staff member.
Students in the News
The Advanced Mammalogy students went behind the scenes to learn about museum collections and museum exhibits on a trip to the Field Museum in Chicago.
The basic chainsaw safety class, taught by Brian Beheler, Don Carlson and Clayton Emerson was featured in this photo gallery.
Drs. Mike Saunders and Mike Jenkins led members of the FNR 53600 Ecology of Disturbance course on a trip to the Great Smoky Mountains to experience lessons from their class firsthand from natural resource professionals, including how disturbance shapes the composition and structure of communities and landscapes across major terrestrial biomes, and how these disturbances affect ecologically-based management of forest and grassland ecosystems.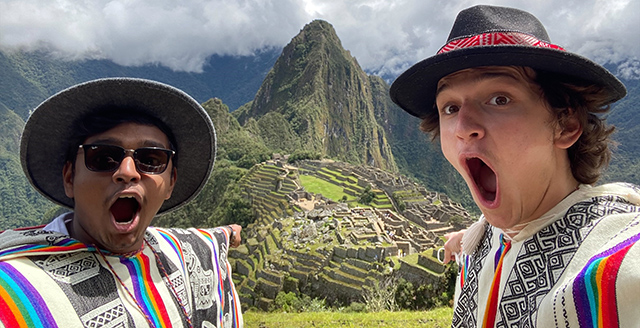 Freshman aquatic sciences major Jack Dempsey shared about his study abroad trip and related "International Engagement and Community Development in Peru" course.
The Costa Rica study abroad trip, led by Drs. Barny Dunning and Reuben Goforth, taught students biodiversity through hands-on experiences in tropical dry rainforest, Pacific dry forest, Pacific rock reef and Pacific mangrove ecosystems.
We took a look back at all the action from Herps Week in this video from FNR Summer Practicum 2022. Nicolet College posted this story about wildlife students from Practicum spending time with Jon Steigerwaldt and Roger Dorsey to learn about the ecosystem on the university's campus.
Several FNR undergraduate and graduate students shared about their experiences studying abroad or in summer internships or other employment opportunities or field research in the FNR Field Report series.
Students in the Marine Biology Practicum class (FNR 378000) spent 11 days before the fall semester began, gaining hands-on training at the Seahorse Key Marine Lab in Florida.
Students in Purdue Extension wildlife specialist Jarred Brooke's FNR 465 History And Role Of Hunting In North American Wildlife Conservation course traveled to Lake Village, Ind., to explore the LaSalle Fish and Wildlife Area and helped band wood ducks, gaining knowledge about managing a property for wildlife as well as hands-on experience working with waterfowl.
Senior aquatic sciences major Audrèe Neely was featured in the story Finding the Right Major, which spoke of how she found her way to a concentration in marine and freshwater biology.
The Purdue Bass Fishing Club, including the club's president and wildlife major Tim Radtke, was featured in the Purdue Exponent article "All About That Bass."
First-generation college students Jonathan Shimizu, Phoebe Soldi and Audree Nealy were featured during Purdue's First Generation Celebration Week.
One constant throughout his time at Purdue for senior aquatic sciences major Steven Kelly has been music, namely his participation in the Purdue Glee Club, an audition-only, all-male chorus, which is one of the oldest clubs on campus.
Dr. Dan Cassens, a professor emeritus in the Department of Forestry and Natural Resources following a more than 40-year career at Purdue, enlists the help of FNR students for both seasonal work and longer-term work on his Christmas tree farm and within his small lumber business. Learn how Cassens Trees provides a learning ground for FNR student workers in this story.
Freshman aquatic sciences major Noah Haas was featured in Lateral Lines Indiana, the American Fisheries Society fall newsletter. Haas was recognized for his work as a Hutton Scholar with a district biologist in Elkhart County last summer.